John Butler looks at Saturday's opposition
 ON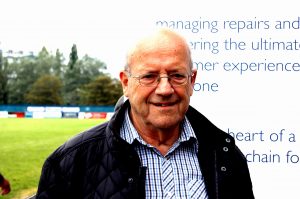 the back of two exciting home wins, the real challenge now for Coventry is to transfer that form to their away travelling as they move into East Yorkshire to take on Hull Ionians on Saturday.
The fine win over Plymouth Albion saw Cov edge back to seventh place in National League One, whilst a 38-17 defeat at Fylde left Ionians hovering just one place above the relegation zone in 13th spot.
With three wins from their opening eight matches, one suspects Cov's next opponents will be more than a little unhappy after what had been a promising  start to the season. Their wins have come over Esher at home, 32-29, when they all but frittered away an early 17-point lead in a close finish, and previously at Macclesfield and at home against the rather unpredictable Darlington Mowden Park.
Hull Ionians were promoted back to level 3 at the beginning of last season, clearly appearing to be better equipped than their previous one year stay.
The club was formed in 1989 following the merger of the Hull & East Riding and Ionians clubs.  Their very pleasant and rural surroundings of Brantingham Park were opened in September 1995. They still run four senior sides, a major colts, juniors and mini section, with ladies and girls rugby also featuring on their regular agenda as well.
Hull Ionians' squad for this season saw relatively small movement out. A name certainly known to Cov's followers is prop forward Rikki Stout, who spent some time at the Butts Park Arena a couple of seasons back.
Scrum-half Isaac Green again heads his club's points chart with 40-plus, whilst wingers Sam Wilson and Dan Tai Sen Choy, ex-Wharfedale, have each claimed four tries. Director of rugby is Alex Crockett, who has moved up from the head coach role.
Coventry's hosts are not one of the better supported clubs in the division in terms of numbers. Before Saturday's game, their season's average stands at just 229 per game, although a large following from Butts Park should certainly boost that and possibly create a best home gate of the season at Brantingham Park.
The history of fixtures between Cov and their Yorkshire hosts is certainly very new, only occurring since Hull Ionians first reached National League One. Coventry will travel north with a 100 % record in fixtures so far. Season 2013/14  brought a 41-12 win away on the opening day of the season, the return at the Butts Park bringing an even more emphatic 67 -14 scoreline.
Last season fixtures were renewed, Cov edging a 21-16 win in much closer circumstances in the north before doubling up with a 2619 success at home.
So, the challenge would seem to be pretty clear. Every incentive to seek out that elusive first away win of the season, whilst maintaining their unbeaten record overall against the Yorkshire side.
Cov and their followers should, however, be well buoyed up after the exciting wins produced over the past two weeks. Hull Ionians, on their own ground, will certainly provide a very different challenge for the Blue and Whites to overcome.