SECOND row forward Nile Dacres has been a model of consistency in Coventry's unbeaten start to the National League One season – something which will have come as no surprise to the club's supporters after his man-of-the-match performance for Plymouth Albion when Cov visited in February.
The Birmingham-born 26-year-old was already firmly on director of rugby Rowland Winter's radar with the switch to Butts Park agreed before his dominant role in Albion's 33-24 win, and with a number of familiar faces from previous clubs and his involvement with England Counties also at Cov, Dacres has no regrets at moving back to the Midlands.
"I settled in pretty quickly," said Dacres. "It was kind of an easy transition for me because I knew a few of the boys here that I've played with in the past and also I was moving closer to home.
"I must have caught Rowland's eye last season, he spoke to my agent and when we met I was happy with what he was saying and the ambition at the club.
"I'm definitely glad that I made the move, especially with the results we've had so far with eleven wins from eleven.
"There's a good spirit among the group and so far we've achieved what we set out to do. We are where we want to be, and we showed a lot of character and desire last weekend when we defended our line for however long it was, 15 to 20 phases, to get the win.
"We've had some bad luck with injuries, but that's why you need a big squad and the people who have come in are doing the job."
Dacres, who is just as much at home on the blind side of the back row, has taken on the role of calling Cov's line-out which, until a few blips last weekend, had been operating at a success rate any team would be proud of.
"It's something I've just grown into over the years and taken a bit of responsibility for," he said, "and I'm enjoying that part of the game.
"I've played quite a bit of rugby in the back row, I enjoy it and I suppose it does give you a bit more freedom than in the second row, but at the end of the day it's what's best to get the team going forward and you have to do the work in whatever position you are playing."
Dacres was 13 when he started playing rugby at King Edward V1 Five Ways School, going on to be a part of the under-16 team which was the most successful side in the school's history.
He played club rugby at Five Ways Old Edwardians and was in Worcester's EPDG while at sixth form college before going into the Warriors' Academy.
While at Worcester he had loan spells at Stourbridge and Rotherham before spending a season in the Championship with Birmingham Moseley and then joining Plymouth Albion where he 53 appearances over the last two seasons.
Title rivals Albion are Cov's next opponents, coming to Butts Park Arena on November 25, and Dacres is looking forward to renewing old acquaintances at the start of a difficult run of games going towards the midway point of the season.
"I made some great friends when I was down there and had a brilliant time," said Dacres. "It's going to be a bigger game for me personally and it will be a big test.
"They're a hard team to beat and they've got some great supporters, it will be good to catch up after the game, and I'm sure there'll be a few maybe not so friendly ones coming up to watch the game!
"We've been saying over the last couple of weeks that this block on the fixture list up to Christmas is a big one. We are playing a few teams that are high up in the table – Plymouth, Ampthill and Darlington Mowden Park – as well as Rosslyn Park and Moseley, and we want to make a big push. If we can perform each week as we know we can, then hopefully we can put ourselves in a strong position for the rest of the season."
A return to the Championship is a definite target for Dacres.
"I'd definitely like to be back playing there and I'll just push as hard as I can and keep pushing myself.
"I think every player has aspirations to move up, and although you can't predict the future, of course I have ambitions to play in the Premiership – I've just got to keep doing my best, pushing myself, and just keep going.
"Touch wood, I've been pretty healthy – obviously you get a few little bits and bobs along the way, but so far I've had no serious injuries and I'm hoping it stays like that."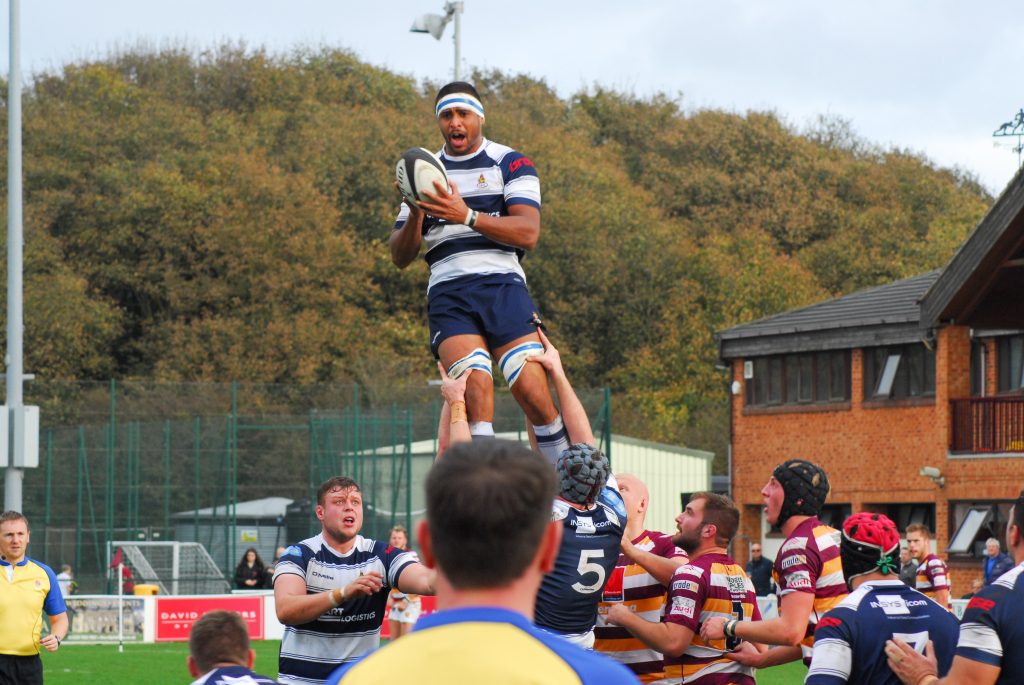 Picture by Nick Meredith