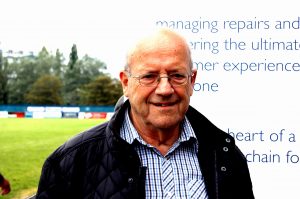 John Butler looks ahead to Saturday's game against Fylde at Butts Park Arena, kick-off 3pm.
THE word Fylde means ' low lying ground between two estuaries'; anyone who has had the good fortune to travel to their excellent facility, including the playing pitch, based on the Fylde peninsula will certainly associate with that.
The club dates back to 1919, when a group of Manchester businessmen met to discuss 'would it be rugby or football'? The toss of the coin decreed rugby and the rest, as they say, is history.
In May 1920, the Woodlands site was first used for rugby, but during the war years was lost when taken over by the Army for war purposes. After hostilities ended, 13 acres of ground became known as the Woodlands Memorial ground in 1946, named in honour of those members who had made the ultimate sacrifice.
Now 95 years on from its original inception, the Fylde club still has close links with county rugby in Lancashire. Many well-known names have been associated with the club, from their earliest secretary, Arthur Bell who served for over 30 years to Malcolm Phillips, the ex-England centre who has been a regular visitor here with his club at Butts Park.
Probably the best known name to be associated is William Blackledge Beaumont – 'Bill', the former England captain and British and Irish Lion who is now chairman of the International Rugby Board and no doubt a very busy man! His appointment to that role has come since Fylde were last with us and we must not miss the opportunity of wishing Bill all the good fortune and success possible in such a daunting role.
After what was for them a poor start to the season, where they lost their opening four matches, Fylde have now won the last two, so will travel in good heart. Following defeats to Birmingham Moseley, Macclesfield, Blackheath and Hartpury College, have come two home wins over Esher and then, last weekend, Plymouth Albion. The win over Albion came literally with the last kick of the game, fly-half Greg Smith landing a penalty to secure a nail biting 37-34 win, which according to the Rugby Paper sent Fylde into raptures!
Fixtures between Coventry and Fylde can be traced right back to season 1954/55 and in formative years, the fixture coincided with the opening day of the season.
With the odd year when we did not meet, rivalry continued right up to the inception of league rugby in 1987/88. Differing league status meant that Cov and Fylde only then met spasmodically over the next 14 seasons. One of those was in the old National Cup competition in 1979/80.
Fast forward then to season 1992/93 when we met at league level for the first time. Even after that, again because of league status, there were no matches at all between 1999 and 2012.
Our two clubs have met a total of 21 times before today in league matches. Currently Cov lead 11-10 in victories. Last season, Fylde had much the better of affairs winning both matches, while the season before we gained our last victory here, and a big one at that, by 62-31.