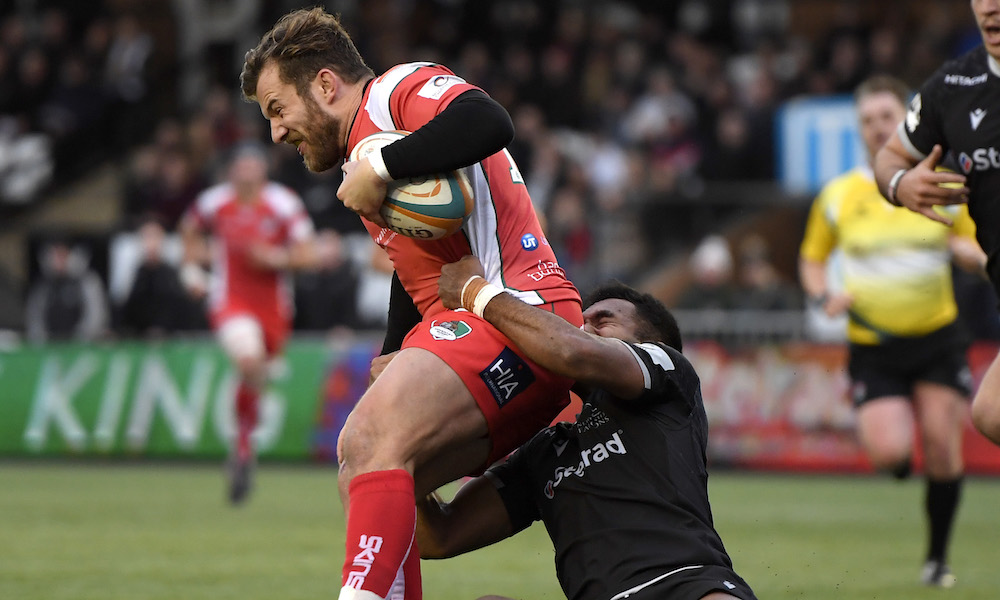 Coventry Rugby were given a lesson in finishing at Kingston Park by a Newcastle Falcons outfit that consolidated the hosts' place at the top of the Greene King IPA Championship table going into the November break.
In the opening minutes the teams matched each other blow-for-blow, making the most of the calm weather and perfect underfoot conditions. Falcons had the first attack, Joel Hodgson pulling the strings at 10 and Josh Matavesi and Logovi'i Mulipola just two to get the ball in their hands early.
Coventry's centre of attention – literally as well as metaphorically – was Rory Jennings, who made the first line break, with the rest of the team shifting the focus of play from left to right and back again.
Hodgson broke the deadlock with a 12th-minute penalty, reward for direct attacking play begun with a long lineout throw to the rampaging Matavesi.
Newcastle's defence was also strong, but when the hosts infringed at a breakdown on the 10-metre line Cov were able to kick themselves into a dangerous position. They made good inroads, too, David Halaifonua coming off the right wing to make an extra man on the other side, and Senitiki Nayalo hitting a good line off a Ryan Burrows pop-pass.
But the Falcons held, and with a couple of turnovers they not just cleared the danger but had a lineout inside the Coventry 22.
And as with their first visit to the red zone they made the opportunity count, Sinoti Sinoti turning on the afterburners to round the visitors' midfield and send Adam Radwan over, despite Max Trimble's desperate tackle attempt.
SInoti was back at it again a couple of minutes later, this time his footwork and acceleration causing havoc. But a Michael Young chip was ill-advised, not least because it gave James Stokes the chance to run. Trimble broke well up the left touchline, sent a kick into space, and a score looked on, only for Gary Graham's awareness putting the number 8 into the position to sweep up the ball.
With Newcastle intent on playing from everywhere and Coventry looking to keep the home defence honest, too, the action was relentless. The running from both teams had intent, but there was plenty of robust defence as well, not least from Halaifonua, who put in a massive tackle on George Wacokecoke.
But when the Tongan's next attempt was ruled high on Sinoti it gave Falcons the opportunity to kick deep, and they showed their clinical finishing a second time, George McGuigan driven over.
It had been four scores from four visits to the 22 from the Falcons, so it was to their credit Coventry remained positive, kicking a penalty deep for a lineout on the home 22. But again Falcons' defence came good, forcing a turnover from which Hodgson kicked deep.
Stokes scrambled, but with Newcastle getting the ball back the pack put phase after phase together to inch closer to the line. Two penalties were sent to the corner, but this time it was Coventry's turn to hold firm, and the teams headed into the sheds with Newcastle leading 18-0.
Coventry needed an early score to have a chance of getting anything from the game, but within three minutes of the restart they were both a man down and seven points further adrift.
Tom Kessell's yellow card for a dangerous tackle appeared harsh, especially as the runner was well on his way to the ground as he was being lined him up. Still referee Fergus Kirby's decision was final, and with the scrum-half off the field Falcons came irresistibly forward, Graham the try scorer.
McGuigan's second on 50 minutes brought the Falcons' bonus point, and even with Coventry back to full strength they could not resist the hosts, who got their fifth three minutes later via Matavesi.
Coventry may have been guilty of a couple of turnovers in the second half, but Newcastle's pack had come out with a noticeable step up in performance at both scrum and lineout time to give their team superiority in possession and territory, so much so that it took until the hour mark for the visitors to get themselves into scoring position.
A pair of penalties were kicked to the corner and Cov went through the phases, but Newcastle's defence held once again and turned over the ball to clear.
But Cov kept coming, Pete White spotting a dog-legged defence to turn on the afterburners into the home 22. Hodgson managed to pull the scrum-half down, and with Trimble unable to hold onto the offload Falcons had been gifted rather than earned their escape.
However the visitors' ambition was finally rewarded in their next attack, White hitting a good line off Jennings after Rob Knox's powerful run had put Falcons onto the back foot.
White was certainly the livewire presence catching the eye, and a run following an interception on halfway took a desperate attempt from Radwan to stop it and force a fumble in the process.
Coventry finally had points, but it was the Falcons who finished with a flourish, Sonatane Takulua's chip through creating a final try for Gareth Owen.
NEWCASTLE FALCONS
15 Tom Arscott; 14 Adam Radwan, 13 George Wacokecoke, 12 Josh Matavesi, 11 Sinoti Sinoti; 10 Joel Hodgson, 9 Michael Young (co-capt); 1 Logovi'i Mulipola, 2 George McGuigan (co-capt), 3 Mark Tampin, 4 Sebastian de Chaves, 5 Darren Barry, 6 Will Welch, 7 John Hardie, 8 Gary Graham
16 Jamie Blamire, 17 Trevor Davison, 18 Rodney Ah You, 19 Greg Peterson, 20 Callum Chick, 21 Sonatane Takulua, 22 Tim Swiel, 23 Gareth Owen
Tries – Adam Radwan, George McGuigan (2), Gary Graham, Josh Matavesi, Gareth Owen. Cons – Joel Hodgson (4). Pens – Joel Hodgson (2)
COVENTRY RUGBY
15 James Stokes; 14 David Halaifonua, 13 Heath Stevens, 12 Rory Jennings, 11 Max Trimble; 10 Will Maisey, 9 Tom Kessell; 1 James Gibbons, 2 Joe Buckle, 3 Gareth Denman, 4 Nile Dacres, 5 James Voss, 6 Senitiki Nayalo, 7 Adam Peters, 8 Ryan Burrows (capt)
16 Henry Walker, 17 Toby Trinder, 18 Phil Boulton, 19 Alex Woolford, 20 Ben Nutley, 21 Pete White, 22 Tony Fenner, 23 Rob Knox
Try – Pete White. Con – Rory Jennings.
Yellow card – Tom Kessell
REFEREE Fergus Kirby