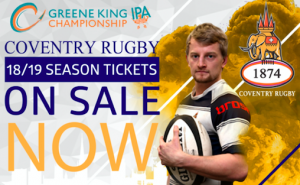 Coventry Rugby are delighted with the fantastic response it had to its 'Early Bird' offer on Season Memberships, with that offer coming to a close yesterday.
The team's amazing achievement in winning the National One title in style has inspired lots of our fans, new and existing, to sign up for the new 2018/19 Championship season.
With three months to go until the start of the league season, Coventry Rugby are proud to announce that we have exceeded last year's total by a massive 50%.
The office at Butts Park Arena has been lively for the last few weeks and it's clear that the Club's intentions for next season has reflected upon our great supporters, and with a number of impressive signings to enhance the squad, the club are set to announce more new arrivals in the coming weeks.
We hope that many more will join our fight and take up a Season Membership for September, with the package offering great value, includes all friendlies and is a minimum 20% saving on the online price.
Prices are as follows:

Adult Seated: £216

Adult Standing: £180

Concession Seated: £168

Concession Standing: £156
If you haven't already purchased yours, or know someone who would like to, then please secure your Season Membership today and come join us at the Butts for the best sporting atmosphere in the City.
In addition, brand-new for the 2018/19 season – a perfect opportunity to get your kids and the grandkids involved in their home Club. We are now offering a 'Cov Kids' and 'Cov Juniors Club', now available at our brand-new Coventry Kids Village at all home matches next season, there's something for all ages.
The cost of this membership is £25and will include the following benefits:

Membership card
Entry to all Coventry Rugby matches for the 2018/19 season which includes 3 pre-season matches, 11 league matches, and the 3 Cup matches in the regional league section
Branded T-Shirt
Complimentary entry to the "Meet the Players" pre-season event
Birthday Card signed by the Coventry squad
Christmas Card signed by the Coventry squad
10% discount on children's club merchandise items
10% discount on room hire at Coventry Rugby for birthday parties
Discount on rugby camps with Coventry Rugby for the "Kids Club" and rugby skills section for the "Junior Club"

Please note* as a result of the introduction of these new club memberships, Coventry Rugby will be introducing a nominal match day entry price of £2 for children who are not members. This applies to children between 3 and 16 years of age.