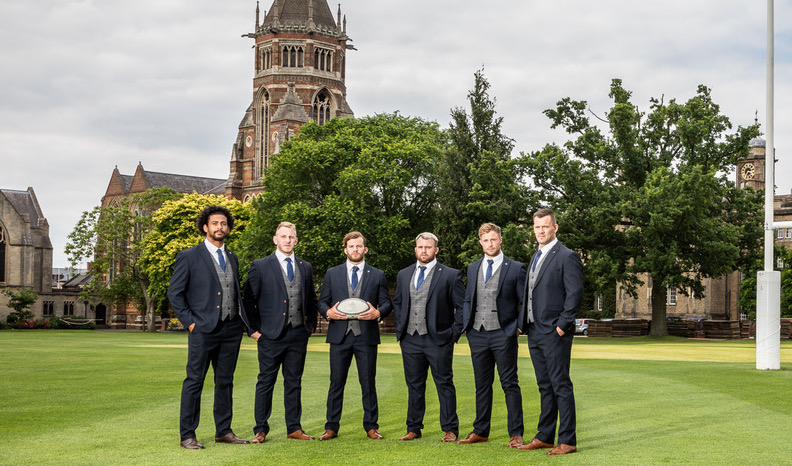 Coventry Rugby players sported a new dapper look when they made a visit to the birthplace of the sport to try their new off-pitch outfits.
Players from the club's first team posed on the hallowed pitch at Rugby School, where the game was first invented nearly 200 years ago, in new suits provided by Rugby formalwear outfitter Albie & Lonnie's.
Albie & Lonnie's is the official formalwear partner for Coventry Rugby following a deal agreed earlier this year. The award-winning outfitter, based in the heart of Rugby, Warwickshire, is providing suits for all first team players and match officials for the club.
They included Ben Nutley, who used Albie & Lonnie's for his own wedding day. He said: "I had a great experience with Albie & Lonnie's. They helped us all out and we looked great on my wedding day – well, I think so anyway – so it's great to be working with them again.
"As rugby players we don't wear suits that often so it's great to get the chance to wear such nice suits. We saw a couple of clubs last year who wore suits and they looked very good while we were in chinos and a polo shirt so it's definitely going to step us up.
"It sets standards off the field as well as on it – if you look good, you feel good. We've got our new sponsor for our kit and with Albie & Lonnies we'll be looking good off the field as well as on it and hopefully our performances can back that up too."
Ben was joined by fellow first team players James Stokes, Nile Dacres, Ryan Burrows, Gareth Denman and Heath Stevens for the photoshoot at Rugby School, along with some of Albie & Lonnie's own models.
Dave Hall, founder of Albie & Lonnie's, said: "The partnership with Coventry Rugby is a great way of showcasing exactly what we do at Albie & Lonnie's. We see ourselves as offering high quality, designer suits in line with the epitome of the quintessential British gentleman – where better to show this off than on a Rugby pitch. We look forward to seeing the guys looking dapper in their suits before and after matches and backing them on the pitch too."
To find out more about Albie & Lonnie's check out their new website at albieandlonnies.co.uk