COVENTRY Rugby extends Director of Rugby's contract and strengthens the back office with the appointment of a CEO.
CHAIRMAN Jon Sharp is delighted to confirm that Director of Rugby, Rowland Winter has committed to the club for the next three seasons and that Philip Crossman has been appointed to the new role of Chief Executive.
Winter's new contract runs until the end of the 2019-20 season. "It is almost too obvious a statement to say that the club has made significant strides forward since Rowland joined us just over a year ago," said Sharp (pictured)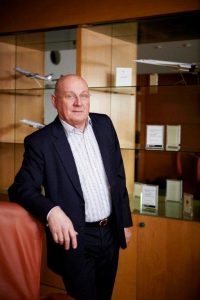 .
"Not only has he recruited well, but he has created the structure needed to give us a real shot at returning to the Championship and, building on that, the fundamentals to sustain us there.
"This close season's new recruits tell a story – these are quality signings who want to come and play at Cov.  They look at the player support that Rowland has put in place – physio, conditioning, rehab, and top class coaching staff, all with international experience – plus they see our ambition and they think, "Cov's the place for me".
"Rowland himself has a strong ambition to be working in the Championship within the next few years and we on the board want him to be doing that with us.
"We continue to support him in every way we can – we have agreed to fund the construction of a gym on site and have been bringing the physiotherapy rooms up to Championship standard – so to have Rowland commit for three years gives us the confidence to continue to invest to achieve our goal."
The role of Chief Executive is designed to co-ordinate the two parts of Coventry Rugby's operations, the rugby and the business sides, and to take the whole club to a fully professional level designed to compete with the very best Championship outfits.
"Philip Crossman was appointed to this role in mid-May," said Sharp. "Phil was born in Chapelfields, went to Woodlands School, and for most of his life has lived in Coventry.
"Phil recently retired after four years as Managing Director of Honda UK for whom he had worked in senior roles for a total of 17 years.  He also worked at Peugeot and Nissan after serving an apprenticeship at Triumph Motors, so he is a proper 'motor city' lad with a wealth of senior management experience that will be applied to develop Coventry Rugby into a powerful force on and off the pitch, working to co-ordinate the efforts of Rowland and Phil Maynard.
"I believe that it is important that all aspects of the club develop in parallel, and now we have secured all the land at Butts Park Arena we are in the position to push forward on all fronts."