Tom Little's review of last weekend's National League One action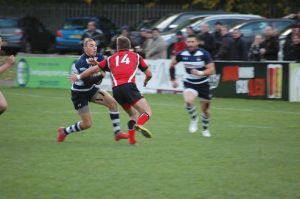 Birmingham Moseley         47        19       Loughborough Students        attendance          751
Blackheath                           13           7      Old Albanian                                                           641
Coventry Rugby                  19          17      Blaydon                                     highest                 994
Esher                                    40          32      Cambridge                                                               468
Fylde                                     13          11      Ampthill & District                                                585
Hartpury College                37          27      Rosslyn Park                                                           300
Hull Ionians                         18          24       Plymouth Albion                      lowest                 228
Macclesfield                        43          16       Darlington Mowden Park                                   342
A THIRD of the season is over after Week 10, which saw the top four all win but only Hartpury College and Birmingham Moseley able to get the try bonus point. Just one away winner this week, Plymouth Albion at Hull Ionians, but the battle to escape the relegation zone is mounting after bottom side Macclesfield had a bigger than expected win whilst both Ionians and Blaydon were within a few minutes of getting surprise victories. The performance of the bottom three brings them within seven points of safety.
Leaders Hartpury College maintained their 100% record with a hard-fought victory at home over a resilient Rosslyn Park side who went into an early 10-0 lead .The home backs started to take over the initiative with their searing breaks, coupled with the finishing of leading try scorer,, Harlequins  winger Jonas Mikalcius, whose hat-trick took him to 12 tries. A late surge by Park almost gave them a try bonus, but College hung on for a win which keeps them eight points ahead of Moseley.
A close first half as Birmingham Moseley allowed themselves to be rattled by the off-loading game of Loughborough Students, but the power and experience of the home pack gradually prevailed as they earned their bonus point with seven tries.
Blackheath missed a try bonus point in another hard-fought game against Old Albanian, who were well marshalled by player/coach James Shanahan. All the scoring was done in the first half, despite there being even more errors in the second. It still needed a last-ditch tackle by the home side to deny Old Albanian at least a draw. Blackheath are still third, but Old Albanian drop two places to tenth despite a losing bonus point.
Plymouth Albion also fell short of a try bonus point at Hull Ionians. Again, this was a closely-fought encounter which saw a last minute penalty try, for a collapsed scrum, give Albion the win. The result keeps Albion in fourth place, but once again Hull Ionians let a seemingly winning position evaporate. A losing bonus point keeps them in 14th place but n ow within two points of safety.
As at Coventry, an added-time score saw Fylde beat Ampthill & District. After a virtually unheard of scoreless first half, the visitors went into the lead before two Fylde tries put them back in charge. Ampthill retook the lead with a penalty before another late penalty snatched it for Fylde. This win puts Fylde up one place to ninth but drops Ampthill below Coventry to sixth.
Despite Cambridge having the second-highest number of try bonus points after Hartpury, and again achieving one at Esher, it was still not enough to win the game. Esher trailed 20-15 at half-time before taking control in the second half, but two late Cambridge tries earned the visitors their point. This win takes Esher up to seventh place while Cambridge drop down two to 11th.
It was celebration time in Cheshire as Macclesfield had an emphatic bonus-point win over Darlington Mowden Park. The home side were 17-0 up by half-time as their more clinical finishing put Park to the sword. Park have been on the end of some recent poor results and are now back in tenth place, now only four points ahead of Macclesfield whose win has moved them off the bottom.
A LOOK AT OTHER LEAGUES EFFECTING NL1
A few notes on National League 2 North and South which are also reached a third of the way through their season.
NL2 North – leaders Caldy are on 42 points, closely followed by Sale on 40 and Leicester Lions on 37.
NL2 South – Chinnor lead on 46 points from Old Elthamians and Bishops Stortford, both on 42 points.
Championship – not such good news for promoted Richmond, who are still winless and pointless after eight games and are now 15 points adrift at the bottom.
There was an interesting comment from Hartpury College that they would look at the league table at Christmas when, if still ahead, they would need to look carefully at their future both off and on the field, especially with what has happened to Richmond. Does this mean they would consider refusing promotion?