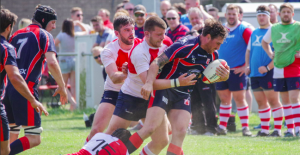 Coventry Rugby's Development Academy has seen several players represent different sides over the last month, in particular, Sam McNulty and James Neal, who represented Warwickshire in the Bill Beaumont County Championship Division 2.
Both McNulty and Neal played a key role in all of Warwickshire's games, including a final appearance at Twickenham.
Unfortunately for the Red and Whites, Durham ran out 46-12 winners at HQ and despite a promising start to the game, with Warwickshire searching for their first title since 2002, it was not their day at a sunny Twickenham Stadium.
Warwickshire's journey to Twickenham started with a win over 29-5 win over Somerset to begin their campaign. This was followed by a convincing 27-12 win over North Midlands to set up a final pool game decider to see who would get to Twickenham. The Red and White's defeated Hampshire 31-24 in a nail-bitter at Webb Ellis Road to finalise their place in the final.
Despite defeat against Durham, McNulty admits that the side were grateful to play their part in a final showcase at Twickenham.
He said: "We tried not to focus on the end goal which was Twickenham and typically took every game as it came.
"The closer it got the harder it was, but we had to grind some results against strong opposition in Somerset, North Midlands and Hampshire which really united us as a group.
"Being able to start matches and implement the way I play in all of those games including Twickenham was a privilege, not many get to so I'm very grateful for that."
McNulty was selected to represent the Warwickshire Senior side for the first time after earning several caps for the Under-20's side and scored his first try against Somerset in the first game.
Neal, who played for Coventry's senior squad in National League One last season also played and scored for Warwickshire during their run.
He said: "It was a great experience to be involved and I think every player wants to play at Twickenham at least once in their careers, I am grateful to County Rugby for giving me that chance."
The 22-year-old Is looking forward to next season with Coventry Rugby and despite tasting defeat at HQ, Neal remains determined to use it to motivate him moving forward.
He added: "I am always motivated to work hard and earn a place in the first team as it's a very special club to me.
"Having played in the County campaign this year, it will add to my game time and learning experiences on the pitch which I will take into the coming season."