THE race to end the season as Coventry's top try scorer is going down to the wire with winger Max Trimble mounting a strong late challenge after running in four in the last two games.
A spectacular hat-trick at Old Albanian and another one in last weekend's win over Darlington Mowden Park have taken Trimble's total to nine, just one behind Tom Howe, with Saturday's trip to Loughborough Students to come.
And should it happen, it would be quite an achievement for the 25-year-old in his first season at National League level – and one in which he admits he didn't even expect to figure in the side when he arrived at Butts Park last summer.
"To be honest, I came into the season under the impression that I'd be out on loan and I was just hoping to go to a decent club," said Trimble, who this time last year was playing for Abu Dhabi Harlequins.
"So to stay at Cov and also be in the side is brilliant, and to be scoring tries and winning games is a bonus.
"I'd like to modestly say no, I haven't thought about it, but really I'd love to do it. I think if I got that in my first season and beat someone of Tom's calibre I'd be pretty proud.
"I know it depends on the number of games you play and even the opposition you face, but I think it would put me in good stead for next season.
"That's why as a team we wanted to get these last few wins so we can go into next season with a winning mentality, so if I can score tries  it will be good for me as well in that respect. It's all about the mental game at the minute – we've got the armoury, we just need to know how to use it.
"I got two against Loughborough at the start of the season, so if I can get two more against them this time I'd be very happy. This will be my first time playing on an artificial pitch, so we'll see what happens."
Trimble's performance last week earned him the man-of-the-match award from match sponsors IDP, but he says there were plenty of contenders and he was even lucky to score his score when he kicked ahead and the bounce went his way.
"It was definitely a team performance and I think there were some forwards who stood out, Olly Povoas in particular put in a big shift, and those boys gave us the platform to play.
"You don't get these wins without everyone putting in a performance, and I got a fairly lucky try on the back of it.
"Their defender went for the ball, it rolled a little bit further than he thought and then bounced up for me. I could try to claim some technique on that, but any other day it could have gone the other way and into his hands, so I'll just take my luck where I get it.
"I was a footballer before I played rugby and kicking the ball comes naturally to me, so if I look up and a defender is there, sometimes that's the first reaction. I've been practicing a bit in training, doing it at full pace which doesn't come easy, but I think if you keep practicing and keep doing it in games under pressure situations it starts to become a natural thing, and on the firmer ground it can be pretty useful."
Trimble has been managing a shoulder issue which kept him out of the side for a considerable spell before Christmas and has restricted him to 13 appearances.
"It's holding up, I strap it for every game which helps, and I'm doing the rehab to strengthen it," he said.
"I'm booked in to discuss my scan with the doctor in a couple of weeks, and if I can last out this last game and work on it through pre-season it should all be good for next year.
"All I can do is prepare myself for next season as well as I can – with some boys coming in the shirt is always going to be up for grabs and there will always be someone breathing down my neck, so I've just got to keep putting in the work and trying to get better.
"I'm more confident now – I don't know whether that's come from playing well or just from having game time. I never used to believe in match fitness because I was always playing a few games and then getting injured, but now having put a string of games together has put confidence in me and I'm looking forward to every game.
"Getting a new contract and knowing the club wants me here next season is brilliant and spurs me on, because next season the team is going to be better and we're going to be pushing for more than we've achieved this season which I'm really excited about."
Saturday? With Howe and Owain James (nine tries) not figuring in the side, Trimble will be looking over his shoulder at Rob Knox and – if fit – Scott Tolmie, who are both on eight tries. But, as he said, "As long as the side is winning……"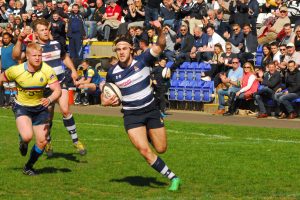 Picture by Nick Meredith