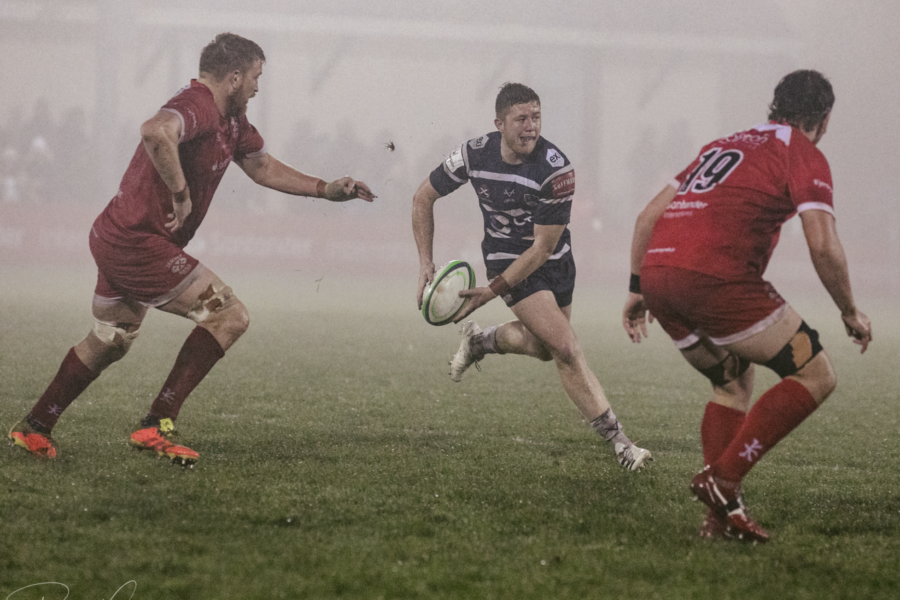 A tale of two halves for Coventry forcing a 21 point come back in the second-half after Jersey were fast and free to score in the first.
A few last-minute changes had to be made to Coventry's line-up, forcing Rob Knox and Will Owen to replace Sam Aspland-Robinson and Tom Griffiths at 15 and 12 – the first time Knox would be positioned at fullback this season.
Jersey Reds kicked off Saturday's see-saw competition and were in top gear from the whistle. The action unfoldedfrom a Reds attacking line out, to which Jersey sent a grubber-kick down from Coventry's 22. The race to the ball was won by winger Will Brown who slid over the try line for the victory. Although no conversion, the 5 points not even 5 minutes into the game was enough to assert Jersey's early dominance on the field.
The next ten minutes saw Rob Knox land a penalty from halfway after the home side's opening try. Jersey's Steve Longwell was yellow-carded for dangerous entry to a breakdown and although the three points provided some hope, they would be the only points scored by Coventry in that half.
The next try was as sloppy as the mud on the ground but nonetheless handled well by the Reds who were making the most of every opportunity presented.
Unfolding from a scrum inside Cov's 22, the ball was shifted down the line to find space after a few attempted drives to break past the 5m line. Jersey's hooker Eoghan Clarke dashed the ball through his legs to Ryan Olowofela who sent another attempted grubber-kick downfield. The ball was repossessed by Phil Boulton and dashed to Joe Richardson but unfortunately, the final pass to Rob Stevenson proved too high to collect and instead, bounced into the in-goal area where Will Brown beat Steveson and pounced on the ball for his second try. No conversion from this attempt either, but the two tries placed the Reds ahead with a healthy lead of 10-3 and only 11 minutes on the clock.
It seemed that the Reds had a better handle on the increasingly tricky conditions whilst Coventry still got to grips with the sliding mud, sleeting rain and worsening visibility from the thick fog. This would force Coventry into making a mistake of their own and result in Jersey receiving a penalty try for collapsing a maul and Max Williams being sent to the sin-bin. This inflated Jersey's lead 17 points to 3 with very little rebuttal from Coventry insight.
The two remaining tries were scored in the 29th and 38th minutes of the game. The first of which came from Max Argyle charging off the back of a dominant scrum to feed Brown for his hat-trick score of the afternoon. The penultimate score and the remainder of the first half was wrapped up by Eoghan Clarke who was successful from close range after a few phases. This try also saw the first successful conversion of the afternoon from Samuel Leeming.
HT: 29-03
Looking to refresh the energy on the field, DoR Rowland Winter made some changes within five minutes of the restart. This saw Luc Jeannot replace Joe Richardson, Joe Snow for Josh Barton, Nile Dacres for Jon Kpoku and Phil Boulton for Will Hurd.
The Reds found themselves under pressure as the second half progressed and the penalty count against them mounted. After multiple offences and a team warning, Jersey's James Flynn was yellow-carded for persistent offending in the 55th minute of the game. One man down proved enough for Coventry to capitalise on, and Will Hurd barged over for Cov's first try of the game. Rob Knox nailed the conversion to get Coventry into double digits; 10 points on the board.
10 minutes on resulted in each side losing a player apiece after Luc Jeannot and Max Argyle were sent off for separate technical offences. Now a 14 on 14, it was Coventry who managed to edge the advantage going on to strike twice in quick succession. Aaron Hinkley claimed another close-range drive and Tony Fenner successfully converted the points to make it 29-17.
The Cov Dog now barking, a final counter-attack was launched and saw an excellent break by Evan Mitchell, delightfully finished by Joe Snow. The pair weaved through a number of men in Red and demonstrated real grit, determination and passion right up until the final whistle. This resulted in the final score being a more respectable 29-24 and also achieved a losing bonus point.
Director of Rugby Rowland Winter thought the team "definitely struggled in the first half" and was worried by the halftime score. Winter challenged the team to come out and be more accurate in the second half and show some fight. Winter believed Cov did just that, achieving a great turnaround and although admitting it was too little too late, Winter reassures fans that the team will learn those lessons from the first half.
Next week brings another challenge and another away game against Doncaster Knights. Coventry returns to Butts Park on Boxing Day, you can buy your tickets here.
Jersey Reds vs Coventry Rugby
Coventry Rugby
T: Hurd, 56. Hinkley, 75. Snow, 77.
C: Knox, 56. Fenner, 75, 77.
P: Knox, 8.
Y: Williams, 26. Jeannot, 69.
15. Rob Knox(63′), 14. Rob Stevenson (70′), 13. Andy Forsyth, 12. Will Owen, 11. Louis James(55′), 10. Tony Fenner, 9. Josh Barton(43′); 1. Dan Richardson(40′ 70′), 2. Joe Richardson(63′), 3. Phil Boulton (C)(43′), 4. Max Williams, 5. Jonathan Kpoku(43′), 6. Adam Peters, 7. Aaron Hinkley, 8. Fred Betteridge (63′).
Replacements:
16. Seb Blake(63′), 17. Luc Jeannot(40′), 18. Will Hurd(43′), 19. Nile Dacres (43′), 20. Tom Ball(63′), 21. Joe Snow (43′), 22. Evan Mitchell(63′), 23. Tom Stanton (55′).
Jersey Reds
T: Brown, 2, 11, 29. Clarke, 38.
C: Leeming, 38.
P: 26′.
Y: Longwell, 7. Argyle, 75.
15. Brendan Owen, 14. Ryan Olowofela, 13. Dan Barnes(66′), 12. Jordan Holgate, 11. Will Brown, 10. Sam Leeming, 09, James Elliott (60′); 01. James Flynn (55′ 67′), 02. Eoghan Clarke (66′), 03. Steve Longwell(55′), 04. Sean O'Connor (63′), 05. Macauley Cook, 06. Alex Humphrey(60′ 67′), 07. Lewis Wayne (C), 08. Max Argyle (9′ 18′).
Replacements
16. Harry Doolan(66′), 17. Roy Godfrey(60′ 67′), 18. Luke Yendle(9′ 18′ 55′), 19. Tom Everard(63′), 20. Max Ayling, 21. James Mitchell(60′), 22. Jack Roberts(66′), 23. Harry Simmons.
Referee Dan Jones.