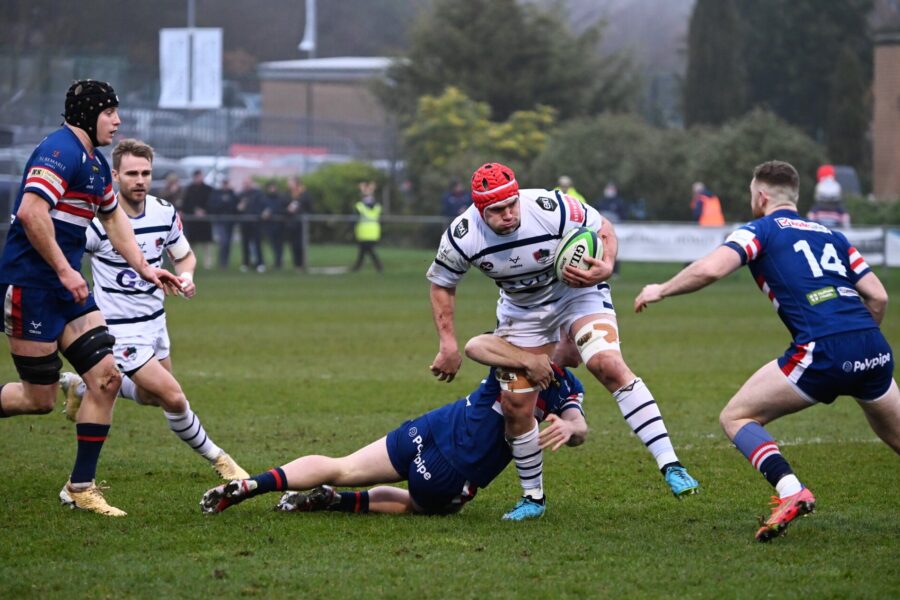 Coventry were unable to find their groove in this week's foggy encounter at Castle Park.
DoR Rowland Winter believes the team "got the result we deserved" against Doncaster Knights in Championship Round 12, noting that the number of errors and lack of accuracy had a part to play in the shortcoming performance.
Prior to kick-off, another last-minute change to the Coventry lineup took place. Fred Betteridge moved to the bench and Ryan Burrows resumed his captaincy at number 8. An influential figure in the Coventry outfit, Burrows had been missing in action over the last month or so due to injury.
Doncaster Knights kicked the game off and a battle for dominance in the opening ten minute ensued. Not long later, it was in fact Coventry who got the first points of the game after being awarded a penalty for the Knights collapsing a driving maul. Tony Fenner opted to kick and subsequently secured three points 12 minutes into the action.
With the Knights determined to get one win against Coventry this season, it wasn't long before they responded. Functioning well in their attacking strides, Coventry struggled to clear the donny pack from their own 22. After the ball shifted to the left, Maliq Holden quickstepped around the remaining Blue-and-Whites and fed to Harry Davey who dove over the line for the glory. Although the conversion was unsuccessful, it was enough to land the host ahead with 5 points to 3.
Coventry found themselves on the right side of another penalty due to the Knights being spotted offside, and another three points from Fenner followed. Not long after, ill discipline reared its ugly head and this time Coventry would be on the wrong side of it. Accumulative infringements caught the referees attention and Jonathan Kpoku would be at the end of the ref's tether receiving a yellow card for coming in at the side of a maul.
Now down to 14 men, the Knights managed to capitalise on their advantage with four minutes left on the sin-bin timer. In a quick procession from another penalty, Doncaster's John Kelly tapped and crashed over the try line directly under the posts. A successful conversion from this try saw the Knights leave the half with twice as many points as Coventry's score.
HT: 12 – 6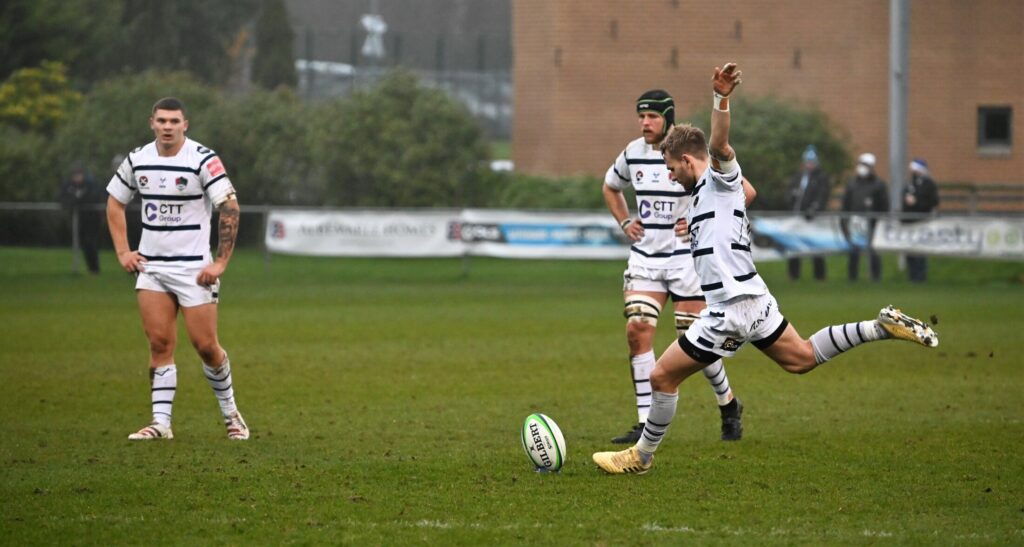 The second half came full circle, and Tony Fenner was at the end of another kick ten minutes after resuming play. Fenner struck the ball well to secure the third and final penalty of the afternoon. The events that proceeded afterwards took an eerily familiar turn, as Aaron Hinkley was sent to the sin-bin soon after the penalty – identical to the timeline in the first half.
This time, Doncaster were quicker to respond toCoventry's deficit and secured another try and conversion a minute later.
With an hour on the clock and the Knights 10 points ahead, the Blue-and-White's were reduced down to 13 men as Andy Forsyth sent to the sin-bin with the ref citing a deliberate knock-on.
Now with two blue-and-white shirts missing from the field, the Knights unsurprisingly put more points on the board and subsequently secure their bonus point. Jack Spittle darting towards the try line delivered a deadly pass to Mark Best who completed the score. Having had plenty of practice that afternoon, Alex Dolly nailed the conversion and placed the Knights further ahead, 26-9.
Doncaster went on to score one final try in the 80th minute with no added extras finalising the scoreline to be 31-9. Winter admitted that Coventry had been "outclassed" by a team that was far more accurate and looks to drive that within Coventry pack. "We have to make sure now that we haven't just got a foundation of good character, we've got to back it up with some good accuracy".
The next test for Coventry will take place on Boxing Day against Ampthill at the Butts Park Arena. Having lost against the side in Round 2 entirely from penalties and without Ampthill once entering Coventry's 22, Winter confesses that the team have been looking forward to this fixture for a long time "and hopefully back on our pitch and a couple more boys back from injuries, we should be in a better spot next week".
You can purchase your tickets to the Boxing Day Bash here.
Knights XV | 15 Harry Davey; 14 Jack Spittle, 13 Joe Margetts, 12 Mark Best, 11 Maliq Holden; 10 Billy McBryde, 9 Alex Dolly; 1 Conor Davidson, 2 George Edgson, 3 Gaz Denman, 4 John Kelly, 5 Danny Drake, 6 Guido Volpi, 7 Sam Hudson, 8 Thom Smith (c).
Replacements | 16 George Roberts, 17 Ben Carlile, 18 Andrew Foster, 19 George Oram, 20 Jack Davies, 21 Lloyd Wheeldon, 22 Sam Olver, 23 Fraser Strachan.
Tries: Davey, 14. Kelly, Volpi, 33. Best, 63. Roberts, 80.
Conversions: Dolly, 33, 57, 63.
Coventry XV | 15 Rob Knox; 14 Rob Stevenson, 13 Andy Forsyth, 12 Tom Griffiths, 11 Louis James; 10 Tony Fenner, 9 Joe Snow; 1 Toby Trinder, 2 Joe Richardson, 3 Phil Boulton (c), 4 Nile Dacres, 5 Jonathan Kpoku, 6 Adam Peters, 7 Aaron Hinkley, 8 Ryan Burrows.
Replacements | 16 Seb Blake, 17 Luc Jeannot, 18 Will Hurd, 19 Fred Betteridge, 20 Tom Ball, 21 Josh Barton, 22 Tom Curtis, 23 Tom Stanton.
Pens: Fenner, 12, 16, 51.
Yellow cards: Kpoku, 27. Hinkley, 56. Forsyth, 60.
Referee: Alex Thomas