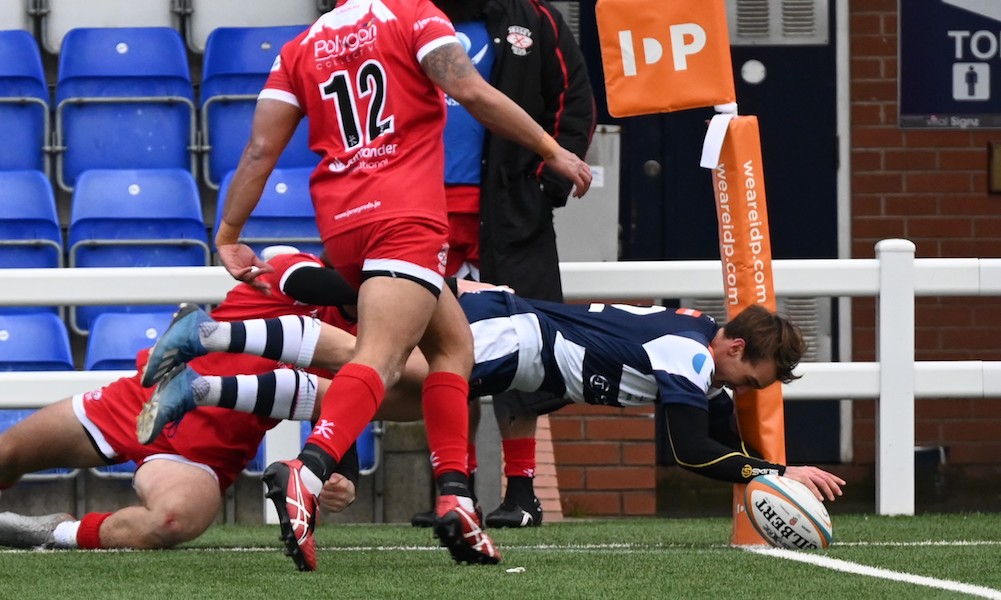 In temperatures more akin to the Alpine World Championships than a 'normal' preseason, Coventry and Jersey served up again which ended up with a margin as fine as a downhill slalom.
The 67 points scored in total was only a shade more than the total number of players used over the course of the 80 minutes, and both sets of coaches will take away good things and bad on both sides of the ball.
From a Coventry perspective there was the outstanding character shown to recover from a an early 14-nil deficit to come back and out-match the visitors on the scoreboard.
But there were also a few too many points conceded which could have been preventable, and with back-to-back games against Saracens coming up over the next fortnight this will no doubt be one of the work-ons in training.
Jersey took an early control, scoring two early tries through Brendan Owen and Ryan Hutler. The first rewarded a good angle of attacking running from centre Owen to cut straight through the defence and go over the whitewash, Hutler stepping out of the attempted tackle to do likewise.
But Coventry fought back well, with two tries of their own before the end of the first quarter. Nic Dolly was on the end of a strong line out drive, and fellow debutant Tom Ball, who had earlier showed his dangerous running, broke through to score by the uprights.
The teams shared a try each in the second quarter, two, Jersey's Tim Grey crashing over from close range and Dolly doing likewise on the stroke of half-time.
The second half opened in a similar way to the first, with replacement fly half Bader Pretorius stepping out of a tackle to score.
At the other end of the field Cov showed great patience to retain possession and pull in enough Jersey defenders to create the space around the fringes for Rob Knox to spot a small gap and open his account.
This was quickly followed by the try of the match. Playing with a penalty advantage, Cov put the ball through their hands. Phil Boulton threw a basketball pass out of a tackle to Ben Nutley, he drew the defender perfectly before sending Tom Emery away down the left touchline. The England Sevens speedster feinted inside to hold the final defender, before turning on the afterburners and dive over in the corner.
Cov were in front for the first time, only for Joshua Bainbridge to put Jersey in front again. But the game was sealed by Knox, who timed his defensive run perfectly to grab an interception and racing from halfway.
TEAMS
COVENTRY RUGBY
15 Louis Brown; 14 Rob Stevenson, 13 Andy Forsyth, 12 Will Owen, 11 Callum Sirker; 10 Dan Lewis, 9 Pete White
1 Toby Trinder, 2 Nic Dolly, 3 Alex Gibson, 4 Nile Dacres, 5 Cameron Jordan, 6 Adam Peters, 7 Tom Ball, 8 Ryan Burrows (capt)
Replacements
Suva Ma'asi, Sam McNulty, Luc Jeannot, Phil Boulton, James Harper, Alex Woolford, Sam Lewis, Ben Nutley, Mario Pichardie, Joe Snow, Kieran Wilkinson, Evan Mitchell, Tom Emery, Tob Knox, Louis James, Joe Brock
Scorers
Tries – Dolly (2), Ball, Knox (2), Emery. Cons – Wilkinson, Mitchell
JERSEY REDS
15 Tom Williams; 14 Ryan Hutler, 13 Brendan Owen, 12 Dan Barnes, 11 Lesley Klim; 10 Brendan Cope, 9 James Elliott; 1 Dan Richardson, 2 Antonio Harris, 3 Ciaran Parker, 4 Zak Farrance, 5 Sean O'Connor (capt), 6 Max Argyle, 7 Tim Grey, 8 Kyle Hatherell
Replacements
Tom Williams, Kurt Heatherley, George Spencer, Apakuki Ma'afu, Bader Pretorius, Cameron Nordi-Kelemeti, Roy Godfrey, Jack MacFarlane, Ziana Alexis, Jack Higgins, Rory Bartle, Joshua Bainbridge
Scorers
Tries – Owen, Hutler, Grey, Pretorius, Bainbridge. Cons – Cope (3), Pretorius
REFEREE Alex Thomas