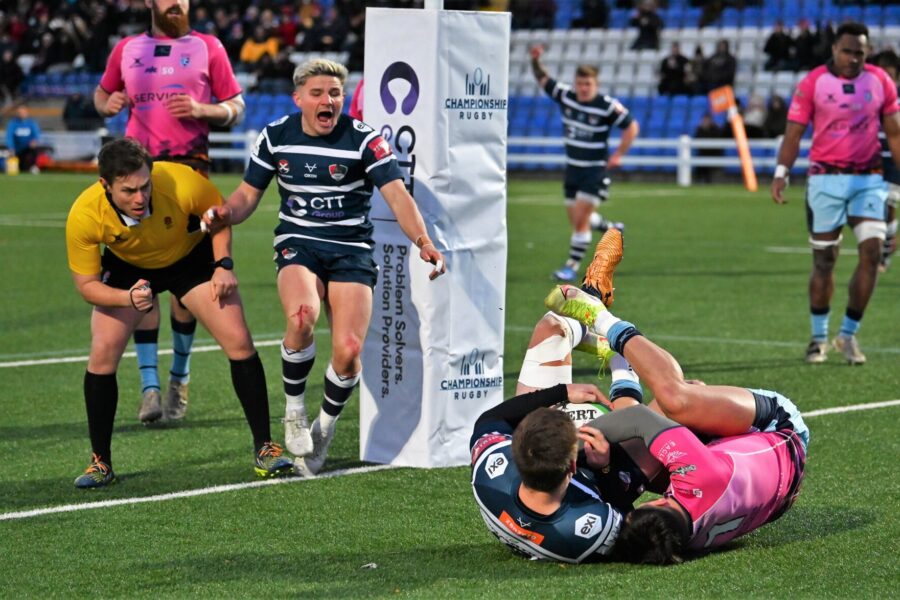 Coventry Rugby weathered a Bedford Blues storm on Saturday afternoon to win by one point at Butts Park Arena.
Coventry walked out on home turf looking to bounce back from the Round 9 defeat that Director of Rugby Rowland Winter branded a "total embarrassment". Although Winter admitted to Saturday's performance against Bedford Blues not being perfect, "the 'Cov Dog' was there, the character was there… our want and desire to win the game [was there]" – and that's a great start.
The afternoon got off to a shaky start when Seinitki Nayalo was no longer able to fulfil starting duties at number 8. It would have been Nayalo's first game back from injury but instead, it was Fred Betteridge who ran out in place of the Fijian.
Although Coventry conceded a try in the opening ten minutes of the game after Bedford Blues used the possession from a penalty to send Hooker Jack Huges over the line, the ambition of the blue-and-whites was clear. Former Coventry fly-half Will Maisey added the extras to place the visiting team 7 points in the lead.
Coventry responded ten minutes later when scrum-half Josh Barton raced through the space after a few attempted drives. The conversion was unsuccessful, but the five points proved enough to level the playing field.
Coventry now applying ample pressure in their attacking strides, it was visitor's No.8, Oli Stedman, to be the first in a sequence of players to be sent to the sin-bin that afternoon. The game would go on to be a 14-14 game with the referee not shy to hand the out yellow cards, Adam Peters joined Stedman just five minutes later.
HT: 5-7.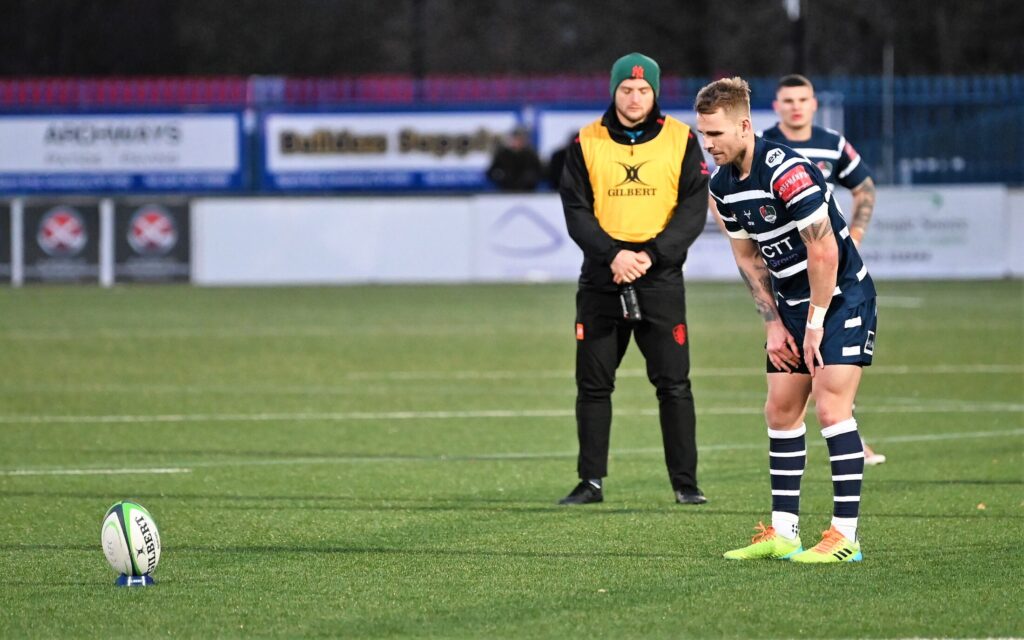 The penalty count showed no signs of slowing down in the second half but it was Coventry who benefited from the next infringement. Just 3 minutes after resuming play, Tony Fenner – the Man of the Match that afternoon, added three points to the scoreboard.
Coventry dominated the early exchanges and managed to extend their lead with another try. Having been just 2 meters from the try line, Josh Barton passed the ball back from a ruck to find the space. With a quick pass from Andy Forsyth, Dragons loanee Tom Griffiths bound through the space and over the line. Tony Fenner slotted the ball through the posts to allow Coventry to sit more comfortably at 15-7.
Disaster then struck and the hearts of the Coventry faithful sank as Louis James and replacement scrum-half Joe Snow were sent off withinjust 60 seconds of each other due to a pair of deliberate knock-ons.
Although Rob Knox was now on in replacement of Louis James, Cov was still down to 13 men as try-scorer Tom Griffiths received a yellow card for a dangerous tackle in the 75th minute. Winter didn't shy away from labelling two of these cards as "harsh" but was thankful to get away with it.
Bedford finally managed to take advantage when replacement scrum-half Connor Tupai pinned the ball over the line with 3 minutes left. Will Maisey upgraded.
Against a free-flowing and fast scoring team, to hold the scoreline as close as it was in the closing quarter and down two men was a particularly impressive feat for Coventry. "In the last 20 minutes when we were down to 13 men, I don't think I've been prouder of this group" Winter commented.
FT: 15-14
Another challenge lies ahead for Coventry next week against Jersey who places third in the league table. "We know what the recipe is" Winter reassured fans with a reminder of last years triumph against the Red's. "[T]oday we haven't put everything right, we made a good start but we need to keep our feet on the ground… get over there next week and try and repeat ths performance".
Coventry close out the year on Boxing Day who are set to face Amphtill – KO 1.30 pm, Butts Park Arena. You can buy your tickets here.
Coventry Rugby vs Bedford Blues
Coventry Rugby
T: Barton, 20. Griffiths, 47.
C: Fenner, 48.
P: Fenner, 43.
Y: Peters, 35. James, 59. Snow, 61. Griffiths, 75.
15. Louis Brown, 14. Samuel Aspland-Robinson, 13. Andy Forsyth, 12. Tom Griffiths, 11. Louis James (71′), 10. Tony Fenner, 9. Josh Barton (57′); 1. Toby Trinder (57′), 2. Jordan Poole (53′), 3. Phil Boulton (C) (57′), 4. Max Williams (57′), 5. Jon Kpoku, 6. Adam Peters, 7. Aaron Hinkley, 8. Fred Betteridge
Replacements:
16. Joe Richardson (53′), 17. Luc Jeannot (57′), 18. Will Hurd (57′), 19. Nile Dacres (57′), 20. Thomas Ball, 21. Joe Snow (57′), 22. Evan Mitchell, 23. Rob Knox (71′).
Bedford Blues:
T: Huges, 11. Tupai, 77.
C: Maisey, 12, 78.
Y: Stedman, 30.
15. Rich Lane (C), 14. Pat Tapley (64′), 13. Jamie Elliott, 12. Ethan Grayson (64′), 11. Dean Adamson, 10. Will Maisey, 9. Alex Day (50′); 1. Joey Conway (50′), 2. Jack Hughes (70′), 3. Osman Dimen (50′), 4. Luke Frost, 5. Alex Woolford, 6. Oli Stedman (71′), 7. Joe Atkinson (67′), 8. Tui Uru
Replacements
16. Josh Pieterse (70′), 17. Corrie Barrett (50′), 18. Ed Prowse (50′), 19. Robin Williams (71′), 20. Bailey Ransom (67′), 21. Connor Tupai (50′), 22. Louis Grimoldby (64′), 23. Matt Worley (64′)
Referee Jack Makepeace Attendance 2,047.
Thank you to the Match Sponsor – Sapphire Louvres.