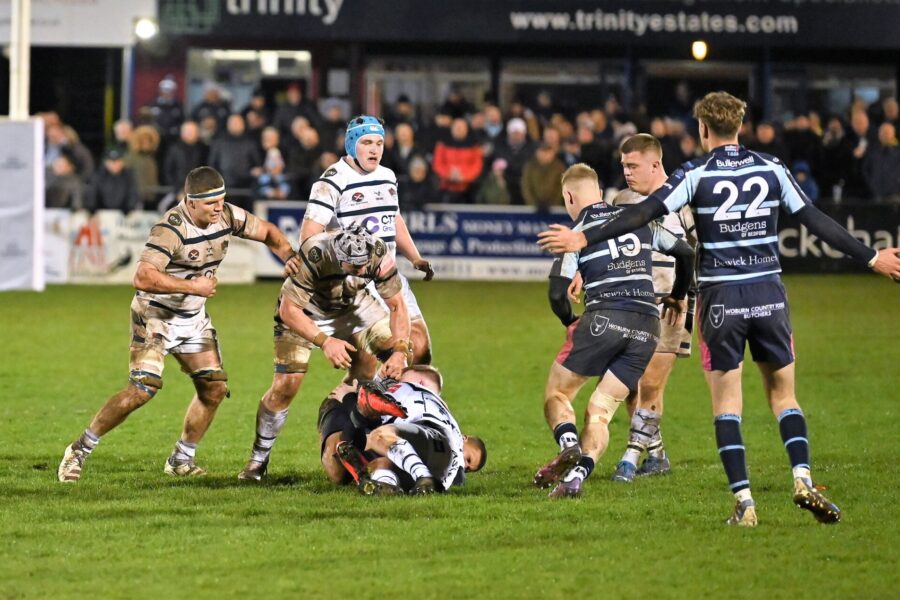 A golden performance at Goldington Road results in a long awaited 'away win' for Coventry.
Although a slower pace than usual, it was another tight game for the two teams which resembled the one-point defeat Coventry claimed against Bedford Blues in Round 10 of the Championship.
The game opened with Bedford's advantage after Coventry were pinged for not rolling away providing the hosts with an early opportunity to claim territory in our 22. The line out was taken well but Coventry's defence stood strong and cleared with a box kick.
Coventry's advantage came soon after with a free-kick at the scrum. The ball was spread wide and eventually pushed back by the Blues but a high kick regained territory. Another penalty at the ruck allowed Coventry to kick to the corner and use the driving maul well from the line out, but after more ill-discipline, the first points came in the form of a penalty try and Luke Frost off to the sin bin.
The hosts went straight on the attack and made great inroads to get them just 2m out. This was shut down due to Bedford being penalised for holding on and Coventry to clear once again.
Bedford chipped through and regained territory – with more meters made from our resulting exit kick. The Blues then play with a penalty advantage from offside which eventually sees them have their chance off the tee. Louis Grimoldby slotted the penalty to help close the gap to 3-7.
Coventry made great inroads of their own having dominated the first-half possession but unfortunately, we're unable to convert these opportunities into points.
30 minutes now on the clock – Bedford maintained strong defensive pressure and overturned possession on halfway. This sent Dean Adamson charging downfield and over the line to place his team in the lead 10 points to 7 afterGrimoldby's conversion.
This concluded the first-half action after some kick-tennis soaked the majority of the final few minutes – HT: 10-7.
A medical time-out halted the game before a minute of the second-half even struck and uncontested scrums chat ensued. Eventually, the officials ruled that Coventry's men could stay on the field allowing the game to continue – even if the stoppage had slightly halted the flow of the game and the tempo usually seen in a fixture between the two teams.
Coventry struck first again in the second half as Jordon Poole crashed over from a driving maul in the 43rd minute of the game – Fenner adding the extras.
Just before the hour mark, Bedford regains possession and regather which sees them claim their second try from the hands ofMatt Worley… the conversion sails wide.
Not long later, Coventry gets a penalty around 30m. Being only one point behind, Coventry opt to kick and Fenner slots the ball through the posts; resulting ina long-awaited win on the road – final score 15-17.