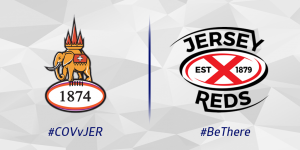 By John Butler
Coventry supporters have waited eight long years for the day to come and the return of Championship rugby to Butts Park Arena.
The arrival of Jersey Reds on Saturday will finally bring that wait to an end, with excitement building all the time in anticipation of what the next eight months will bring.
From a Coventry perspective, the build up has been encouraging. Victories for the squad over arch rivals Birmingham Moseley, Leinster Development & finally Wasps Development have seen anticipation and confidence grow steadily, before the serious action begins this weekend.
The big win over city rivals Wasps was just the tonic and boost the large Butts Park crowd were seeking; local bragging rights in the first fixture between the clubs since Wasps arrival in the city.
Director of Rugby Rowland Winter and his coaching team will know only too well that the tough, physical business is only just about to begin. Each Division in the English league system is a big step up and the increase in physicality of the Championship will soon become very evident.
Probably the biggest challenge Jersey have continually had to face is the large turnover of players by season. The Premiership have called with increasing regularity, but despite that, an improvement in league position has been achieved each year. A fifth finish has been achieved in both of the last two seasons, building on the sixth & eleventh in the previous two.
Consequently, Jersey have again seen a large turnover of players close season at St Peters.
Under their Head Coach Harvey Biljon, once again the belief is they will be looking to build success around a big, competitive pack of forwards. They have however recruited strongly, with quite a significant South African bearing.
One name in the Jersey named squad for the season is prop forward Harry Morley. Briefly at the Butts Park last season, before departing for Cambridge.
Looking back at previous meetings, Cov have twice been invited over to the Channel Islands in recent seasons, Jersey winning each of those.
Some supporters may be surprised to learn however there was a one-off meeting way back 63 years ago, when Cov accepted an invitation to play in what was part of Jersey's 75thanniversary celebrations. A 39 points to nil win for Cov that day.
League wise, as Jersey climbed the league pyramid, the only two meetings to date were in National League One in season 2011-12, Jersey winning both, 3-29 at home, 13 -37 at the Butts Park.
The challenges for Cov Rugby 2018/19 are just about to begin. The squad are ready, the support base raring to go as well.
It is to be hoped the excellent sized crowd achieved for the Wasps game to roar Coventry on, can at the very least, be matched.
Exciting times.