A VIRUS in the squad has forced Coventry to make a string of late changes for today's home game against Rosslyn Park.
An outbreak of stultus aprilis has swept through the camp following Thursday night's training session, ruling out Tom Poole, Rob Knox and Sam Grasso from the selected 20.
With second row resources fully stretched, Poole will be replaced by team manager Tony Gulliver who, fortunately, was never de-registered when he retired from the game.
With Tom Wheatcroft a doubt, Winter has opted to use Matt Price at centre for his power and ability to create gaps, replacing Knox, while a decade after winning his England caps, Nick Walshe is taking up a changed role of player-coach and  will cover scrum-half on the bench.
"It's not the sort of preparation we wanted for a big game like this, but the way everyone has responded speaks volumes," said Winter.
"Gully is a Coventry clubman through and through, and didn't hesitate to put his hand up when he knew we were in need. He's a tough customer and he won't let anyone down.
"It's the same with Pricey – he has played at tight head and in the back row before when we've asked him, so I am sure he will take this in his stride and give Park something to think about.
"Walshey might appear out of shape, but he has always kept his fitness at a high level and anyone who has watched the hands-on way he coaches and takes part in the drills will be in no doubt that he can do the job.
"It's the sort of thing that probably only happens once a year, and we will rise above it."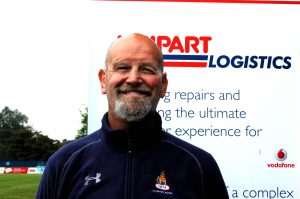 Clubman: Tony Gulliver