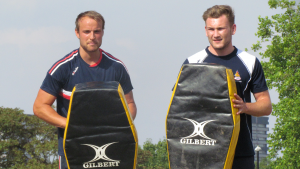 Coventry Rugby winger Joe Lane insists new Development Academy coach Ross Stewart has made a big impact on pre-season training in recent weeks since joining the club.
The 19-year-old believes that Stewart, who joined Coventry from National League One side Cambridge, is playing a key part in helping the squad to close the gap on first team rugby.
He said: "He's been really good. We've had some sessions with him now and he's really encouraging
"It's difficult with some development sessions because focus is on being over there with the first team training, but we have to focus over here but he's very good at bridging that gap.
"We aren't just talking about how we want to be over there, we are looking at what we can do now to close that gap up and some of the boys are not far off.
"We are fighting for places and there is a genuine contention and we are all on a constant learning curve from his, he's a class coach so that's good."
Both the first team and development squads have been training together during pre-season and despite the heat, Lane believes the development squad have been keeping up to pace with some of the star names.
He said: "It's crazy. I still think that I am a schoolboy to be honest so to be playing amongst the likes of Sammy Tuitupou and David Halaifonua, its surreal and you learn so much from each session," said Lane.
"Even when you're stood on the side trying to get your breathe back you're watching those lads and picking up so much more than what you would by watching YouTube or sitting in a class listening to a teacher. It's unreal."
Coventry's Development Academy will come up against Bishop's Stortford, Nuneaton and Cambridge during their pre-season fixtures and with training in full flow, Lane admits that training has been going well.
He added: "Really good, I think the boys are grafting hard. The heat is testing us all with the ground being hard and we're all sweating with all the running we are doing.
"It's bringing us together more, a lot of the lads drag each other through and motivating each other.
"We are just currently doing kicking with Jake Sharp. We've been learning about new techniques and soaking up all of his experience."
https://youtu.be/IdzajVjElNE