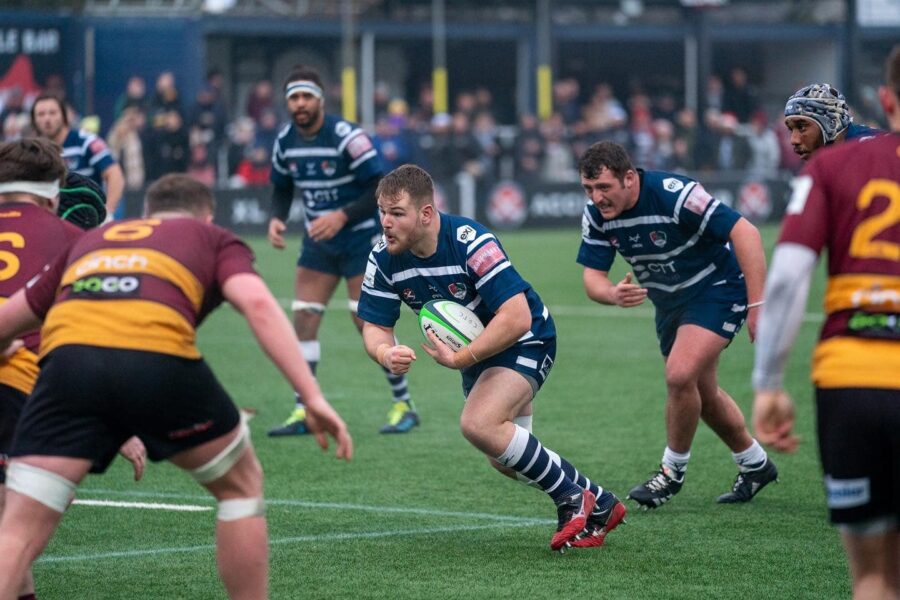 A faithful servant to the club is set to reach a milestone that is made even more impressive when you consider his age, position and injury woes. Not to mention his Coventry career has run parallel with achieving his University degree and two loan club spells.
25 year old versatile prop Luc Jeannot; is due to make his 50th senior appearance for the club off the bench tonight at Goldington Road. Having joined Coventry back in the National One winning 2017/18 campaign, Jeannot has progressed and developed greatly from youngster with potential to senior regular.
Luc came in to the squad here at Butts Park whilst still a student at Birmingham University, where he obtained a degree in English Literature. He married his studies alongside his training, which is a testament to the young players dedication and willingness to learn and improve.
Loan spells to National League sides Leicester Lions and Chinnor RFC allowed the front row forward to gain valuable match experience, scrummaging at Men's level and testing his skills against top quality opposition before stepping in to the Championship arena, to which he took to seamlessly.
"I've been at Coventry a while now, and to reach 50 caps for the club is an achievement that I'm definitely proud of. I've dealt with some real ups and downs across my time at the club with injuries so to be able to stay healthy and reach this means a lot to me."
Significant injuries to Luc's shoulder and ankle have been the only factor preventing him from reaching this milestone much sooner, but perhaps makes the achievement even greater for the young man. Jeannot will be part of a Coventry side searching for a heavily sought after away victory in Bedfordshire at 7.45pm this evening.
Whether you are able to attend tonight's game or not, why not reach out to Luc on social media to share your appreciation for his service to the club thus far? Hopefully a great occasion can me made even sweeter with a win… Come on Cov!