THE one ever-present in Coventry Rugby's starting side this season, James Stokes celebrated signing a two-year contract extension with a spectacular 80-metre interception try in last week's win over Old Albanian – his 12th in a campaign that just gets better.
The try saw the 26-year-old edge back in front of hooker Scott Tolmie in a friendly competition to be Cov's top scorer which the full-back says is definitely secondary to his desire to help Cov secure promotion and, for him, a second spell in the Championship.
"It's always nice to score, but you just want the team to win more than anything else," said Stokes who, in his second season at Butts Park, has committed his future to the club until 2020.
"When we are putting 40 or 50 points on a team then you start thinking 'I want to be on the score sheet as well' and it can be a bit frustrating, but obviously the need to win the game comes first and you can worry later about scoring tries yourself.
"A lot of people thought I was smiling all the way to the line on Saturday, but that was not my smile, that was me wading through thick mud and grimacing.
"Every time Tolmie scores, or nearly scores, you might see me put my head in my hands – you've heard about the house rivalry we've got but, to be fair, I only want the best for Scott. There's a little bit of competition, but nothing too major."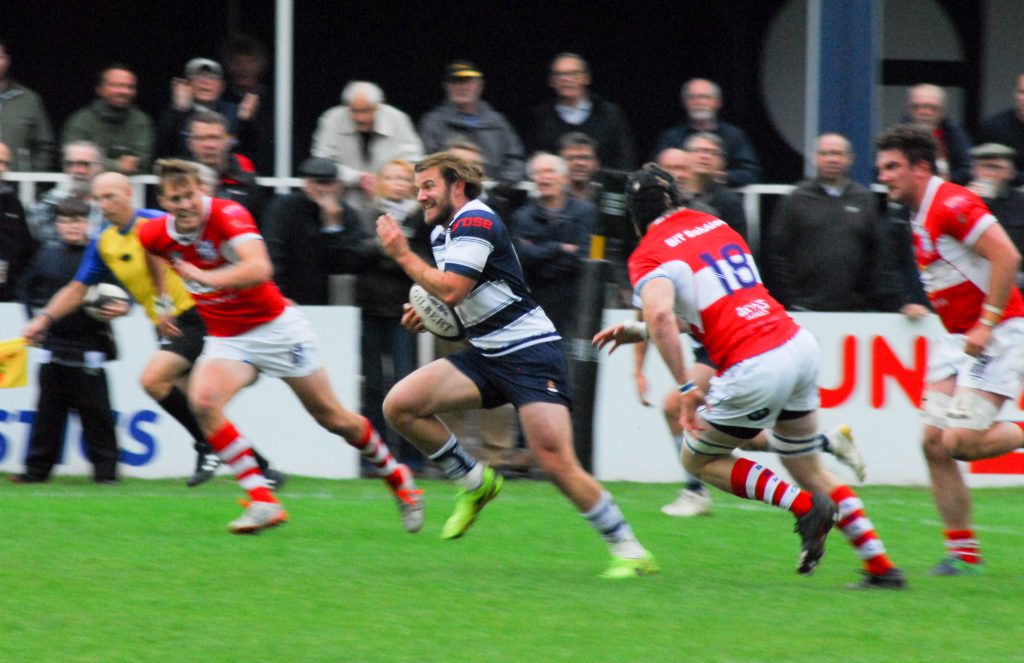 Stokes has started all 16 games this term and believes the way the season is structured makes it possible to play in every match if avoiding injury.
"I don't think it's been intentional, I think there was one game where I was meant to drop to the bench or miss out completely, but injuries and such meant that I played," he said.
"I'm happy playing every single game, and the way the league is structured and with postponements you can keep fresh. I like playing!
"The breaks help if you've got any niggles or anything like that. Touch wood, I haven't had any issues – to be honest, earlier in my career I had a bit of a phase of struggling with injuries, but in my last two years at Cambridge I got out of that, I've managed to stay injury-free and hopefully it will stay that way for the rest of the season.
"We work quite closely with the strength & conditioning and physio teams, they keep tabs on us at every single session and if we're carrying anything they will adjust our training, which is really good.
"I spent a bit of time at Nottingham, their S&C and physio departments were awesome, but it was more treat rather than prevent. What we've got at Coventry is definitely the best I've come across and I'm not sure many Championship clubs have got the same standard."
The attacking performance of Cov's back three has been an exciting highlight with Stokes enjoying a close understanding with wingers Max Trimble, in particular, and Rob Knox.
"Rowland Winter said something about The Three Amigos," said Stokes.
"Max and I have known each other since we were about 12-years-old and are best mates. His mum is probably my second mum – and the same with his dad a well! – so I spend a lot of time at their house over holiday times and we share a house together now.
"We play very alike and we understand what the other wants, so in terms of counter-attacking we both know exactly where we want to try to get to – it's half the battle in that situation if you know where your support is going to be without ever hearing or seeing them, that's perfect.
"We just work hard on the training pitch to do that along with Knoxy who is one of a kind.
"I'm very excited by the new contract and I can't wait for that to get started. I'm very happy with the way things are going.
"The fitness and medical side is definitely one of the reasons why I'm staying, obviously as well as the ambition of the club and its history, and also the support – you don't get fans like ours anywhere else in National One and even the Championship, it's pretty unique.
"If we go up I feel I'm better prepared for the Championship now. I was probably too young when I first gave it a crack, and the Nottingham side I was trying to break into was challenging for the Premiership and got to the Championship semi-finals.
"I've probably gone the harder route but it's good that I've come to appreciate rugby and that it's about enjoying it.
"It's definitely a lot better than last season. We can't really complain with 16 from 16, we've just got to keep going and keep working hard off the pitch, and on top of the eight games that we won at the back end of last season it's a pretty good record to be proud of. We're definitely very happy with that as a squad.
"It's very enjoyable – you can't really complain when you win every single game, and we see plenty of ball in the back three which is always nice.
"The atmosphere in the squad is great. The team room is a fun place to be around, there's no cliques or anything like that, everyone integrates and there's a lot of banter flying around – though not always good banter! – with the likes of Brett Daynes and Knoxy, and Phil Boulton with his dry sense of humour.
"The guys who have come from the Premiership or the Championship have all bonded in and offer an experienced voice when you're on the training ground or playing, they give good quality advice and they're good to be around.
"I'd say the experience we have there is the big difference from last season.
"Luke Narraway has come in and completely transformed our defence, just by the way we play it makes our defending a lot more effective, and Sam Tuitupou and Phil Nilsen are just experienced heads and the ones you hear when it gets tough, they reassure and give you more confidence. They've definitely made a massive impact."
Can Cov go through the whole season unbeaten?
"We take every game as it comes, but if we're on our game there is no team in the league that can beat us. If we're going to be beaten, we'll beat ourselves. We can definitely do the 100 per cent, it's just up to us."
The saying goes that an army marches on its stomach, and as an extra string to his bow Stokes is also contributing to the team's preparation by planning and providing pre-match meals.
"It's something I'm interested in," he said. "A lot of rugby players struggle with pre-game meals, which is not ideal, and it seems to be well-received so far.
"It's something I might develop in the future, I'll keep it there as an idea for a business I can perhaps take forward at some time."