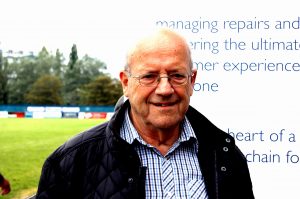 COVENTRY make one of their longer trips this weekend to take on Blaydon at Crow Trees – a venue which has certainly not been a happy hunting ground for previous Cov squads.
Saturday's meeting will be the seventh on the ground, and the nearest a Coventry squad has come to winning there was a 17-17 draw back in the 2011/12 season when, in fact, both matches between the two were drawn.
Like Birmingham Moseley, who preceded them to Crow Trees last weekend, Cov are travelling north at a particularly challenging time. Moseley were certainly hampered by having five players engaged in the England Counties squad, a factor which appears to have caused some consternation and discussion although, in fairness, it should be mentioned Blaydon themselves were a couple short for the same reason.
Blaydon, after a poor start to the season, have certainly come good on their home groun, with successive wins over Moseley, Esher and Blackheath. Darlington Mowden Park were last to win on the ground, a game which drew a crowd of 620, way above the Blaydon average of 263 and a figure nearer to which Cov are likely to experience.
Last week's win over Moseley saw speedy wing Dan Marshall, from Newcastle Falcons, play a big part and as Blaydon, not for the first time, continue their battle to avoid relegation, Coventry can fully expect another tough encounter. No question, Blaydon will believe they can escape the drop and this will present a real challenge to the Coventry squad.
At present 14th and one point ahead of Hull Ionians, who are currently in the second relegation spot, Blaydon are also likely to be fired up by the knowledge that their East Yorkshire rivals face a daunting trip to Plymouth. A week later, Blaydon themselves travel to Hull for a game which is bound to have a big bearing on who is likely to join Macclesfield in relegation.
Blaydon, who do not play in the actual town of the same name, have been at their Crow Trees headquarters since 1951, when the old Racecourse ground was sold off to the North Eastern Electricity Board. Your writer has some advantage in building up local knowledge, in that second son Mike had several seasons at the club as player and team manager in the late 1990's.
Like Cov, Blaydon each year host a Beer Festival, in addition to their famed car boot sales. Several administrators at the club have served long and faithfully, one previous secretary being in situ for some 50 years. Current secretary/fixture secretary Jim Huxley has served for well over 30 years.
Coventry will travel north fully in the knowledge that the core strength of the Blaydon side is still based very much around their pack of experienced forwards. Robbie Kalbraier, Chris Wearmouth – a try scorer at the BPA earlier in the season – Jason Smithson and Keith Laughlin are all likely to be in the squad. Laughlin it was who captained England Counties to their win last weekend.
Top points scorers to date for Blaydon are Brett Connon with 64 and long-serving Andy Baggett on 58, the top try scorer being Matt Thompson on nine.
Coventry are currently in sixth place after their hard-earned win over Hull Ionians. The squad, save for the four players who represented England Counties, have been able to enjoy a week's break from match activity and hopefully will be refreshed for what is bound to be a challenging encounter.
With news of next season's squad already coming through, a positive finish – including that first win on Blaydon soil – would certainly go a long way from a confidence point of view.
Kick off at Crow Trees is 2.30pm.