LAST weekend's visit of Blackheath was something of a family occasion for second row forward George Oram, who had his introduction to National League rugby at the Kent club four seasons ago.
The 24-year-old's father was at Butts Park on Saturday as team manager of the Heathens with his brother lining up in the three-quarters against Coventry Development.
But any sympathies towards the visitors stopped there as Oram put in a strong 80-minute shift in the senior game to help Cov to an impressive 37-10 win as they extended their winning start to the season.
"My old man runs the 2nds and my brother was playing inside centre for them, so quite a few made the trip up," said Oram who joined Cov from rivals Birmingham Moseley in the summer. "I managed to catch the first 40 or 50 minutes of the game and watching my brother playing is always good.
"I started out at Blackheath really, I spent a good two or three seasons with them and really enjoyed my time there, but I was happy to get the win on Saturday.
"They're a really good side and someone's unbeaten record had to go, and I'm glad it was theirs in the end."
Oram has renewed the second row partnership with Nile Dacres, also a summer mover from Plymouth Albion, which proved very effective for England Counties last season and admits that it has helped him to settle at his new club.
"I played with Nile against Scotland and Ireland and I really enjoyed it," he said. "He's a phenomenal player, and when you play alongside someone like that it always brings on your own game as well.
"I think we complement each other, we've got two different games – I'm a bit more of a lump – but we work really well together and he's somebody I enjoy playing with.
"He's a brilliant line-out caller, it's something he's very strong at and you can see his influence on that from the success it has had in the last few weeks."
Oram left Blackheath to step up to the Championship with Rotherham, playing 18 games in the 2015-16 season before being released and joining Birmingham Moseley.
"What happened at Rotherham was one of those things, only five or six of the lads were retained out of a 35-man squad and there was nothing I could do about that," he said. "I enjoyed it there, it was a great season for me, and I learnt a lot and left there a better player.
"It improved me as a player and that's what I want to do year on year. If I'm doing that I'll be happy.
"I've always said my aim is to play at the best level of rugby I can, for as long as I can, so if it means I can get back in the Championship and be playing there, I'll grab that with both hands.
"We're having a stab at that this season, but there are a lot of good teams in this league and it's going to be a long season.
"Before I went to Rotherham I had a season at Blackheath when I had 26 starts before I was injured, I think I played 26 games in 27 weeks, including Christmas.
"It's a relentless league, but that's what's fun about it – you don't have much down time, but you're running around each Saturday and that's what I want to be doing.
"It is a cut-throat league and you realise the importance of bonus points and things like that. But the good thing about only one team going up is that across the 30 games it should even out so that the best team goes up. If on average across the season we're the best team in the league, then we'll go up, and if we don't and fall short it's probably because we didn't deserve to go up. There's no excuses about semi-finals or finals and losing your bottle on the day.
"I also really enjoyed my time at Moseley and working with Kevin Maggs and obviously Louis Deacon, who I'm continuing to work with at Cov. It was just circumstances again, it is what it is, and for me it's about where the best opportunity for rugby is and this season, after speaking to Rowland Winter, it was at Coventry.
"So far that's coming true. The intensity here and how everyone has bought in and come together as a group is phenomenal and it's showing on the pitch. We had a blip at Old Albanians, but on the whole you've seen a lot of how we've come together and enjoy being in each other's company.
"Against Blackheath our set piece was again a strength, which is good from my point of view, and defensively I think we were awesome. To only give up one try early on and keep them out for the rest of the game, especially a team like Blackheath that scores tries and plays a lot of rugby, was outstanding.
"You could say their try was a bit lucky but they still had to score it – it was one of those things, but from that point on I think or defence was pretty rock solid so I'm sure Naz (defence coach Luke Narraway) will be happy.
"He's been brilliant. The boys respect him and he's got some great ideas – it's pretty simple, he's not trying to over-complicate things or reinvent the wheel, it's just a few basic principles and when you get a buy-in from all the players, which at the moment we're getting, it comes through on a Saturday.
"Training has been really focused, every week we're building and doing things to get better than we were the week before, and that's the environment I want to be in.
"The coaches complement each other very well. Phil Boulton talks all the time about trying to challenge the coaches – if we play as well as we can on the Saturday, we'll challenge them to come up with things that make it difficult for us.
"After the OAs game it was quite clear that we hadn't been up for it and it made it easy for the coaches, we knew we had to do some work on the breakdown and things like that.
"Our week is focused on the little work-ons from the week before and little things about the team coming up that we will be trying to exploit, and everything is really structured.
"It's about building week on week. We can't get too far ahead of ourselves, if we don't have a good week we don't get too down about it and we just need to stay level-headed, building on the things you can work on and perfecting the things you're good at."
Oram is also sure that Cov's supporters will play a major part.
"The support is fantastic. The noise they make is incredible – I've not been at a club where there's been as much support.
"Seeing the fans there at training on Thursday nights is something I've not seen before, and it was incredible to go to Hull on the opening day and outnumber the home fans – that really does make a difference. Some places you go to it's difficult because you have to create your own atmosphere, but with our fans it makes it easier."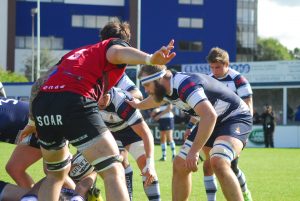 George Oram in the thick of it against Moseley. Picture by Nick Meredith