John Butler looks ahead to Saturday's visit to Ampthill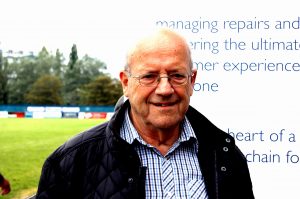 COVENTRY supporters familiar with the rural surroundings at Ampthill will already know a wooded walk awaits them again this Saturday. Hopefully, and to borrow the words from the children's song, they will not be in for a big surprise!
Ampthill's main pitch is situated a gentle walk away from their clubhouse. The original facilities at Dillingham Park were purchased in 1958, although records apparently indicate that there is evidence of rugby being played elsewhere in the District from around 1881.
Ampthill & District Rugby Union Football Club Ltd was incorporated in 1959 as a company limited by guarantee, the club rightly being proud of their status as they have grown through the years and the leagues with their first team reaching level 3 status for the beginning of last season.
With loan assistance along the way, over the years more ground was purchased and the current clubhouse was built in 1980 before being extended in 1993.
Ampthill & District, in keeping with their community involvement, run sides right through the system from seniors, women's and girls' rugby to a large junior and mini section, beginning with Under-6s.
Last season, their first in National League One, Ampthill finished a very creditable third. Their director of rugby is Mark Lavery with, under him, a very well-known figure in the rugby world in head coach Paul Turner, the former Welsh international fly-half who has also had links with Rugby Lions.
Ampthill's links with Cov are actually quite strong. Will Maisey had a season with them in 2015/16, before returning to the Butts Park, whilst three of the current squad have also played in the Blue & White jersey.
Most experienced of them is lock forward Ben Gulliver, son of Tony. Ben has travelled the world of rugby pretty widely, finally arriving at Dillingham Park via Bedford Blues.
The two wingers recently in the squad have also played for Cov. Peter Weightman spent last season at BPA, making 19 appearances, whilst on the left Nigel (Sam) Baker was also here briefly, making three appearances.
Back row forward Darrel Dyer moved in the opposite direction in the summer and has been an ever-present for Cov this term, whilst Coventry supporters will also probably recall that James Pritchard had a pretty big hand in the Blue & Whites' defeat in Bedfordshire last season whilst being dual registered with Bedford Blues.
Ampthill, in the first ever fixture between the clubs, won the corresponding match 25-19 last season, but Cov gained revenge in an exciting encounter in April at BPA by 31-25.
Following last weekend's games, Cov now lie fifth having overtaken Ampthill who currently are sixth with six wins and four defeats. Blackheath and the rather inconsistent Darlington Mowden Park have both won at Dillingham Park while home wins for Ampthill have come against Rosslyn Park, Birmingham Moseley and Esher.
Fly-half Joe Tarrant is current top scorer with 49 points, followed by utility back Steffan Jones on 45, with Nigel (Sam) Baker having run in seven tries.
From a Coventry perspective, four wins on trot should see the squad travel in good heart as they seek a second away win of the season. Plenty though to have pondered during the week following the rather inconclusive home win over Blaydon.
With the clocks now turned back and no match floodlights at Dillingham Park, kick-off is 2.15pm.