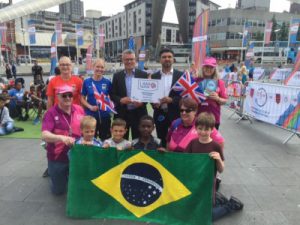 Coventry is set to bask in Team GB's Olympic glory at an event next week.
The city will welcome home some of Team GB's Rio heroes on Saturday, August 27, at the Ricoh Arena from 9:30 – 3pm – where sports fans can expect to meet some of Team GB's 2016 medallists and competitors.The free-to-attend festival, called I Am Team GB, has been billed as the biggest ever sports day in the country and is hoping to capitalise on Rio 2016 excitement.The Ricoh Arena is one of three national sports arenas and the only Midlands location to host the nationwide event, along with grassroots clubs and the sets of Coronation Street and Emmerdale. Olympic medal winners will head to the Jaguar Exhibition Hall to greet and give expert advice to fans.
As well as attracting gold medallists to the event – which is being run in conjunction with The National Lottery and ITV – 16 different sports will be on offer in a bid to drive up the city's participation in sport.Visitors will be able to try taster sessions in football, rugby, netball, gymnastics, tennis, wheels for all cycling, badminton, street cricket, exercise & fitness classes, golf, equestrian, trampolining and a 10 metre climbing wall. England Netball and Wasps Netball will offer demonstrations and coaching sessions, while The Lawn Tennis Association, Inspiring community tennis along with Coventry North Warwickshire and Berkswell Tennis Club will provide mini tennis sessions.Pop up badminton will be provided by Coventry Sports Foundation and the Positive Youth Foundation will host street cricket.
Andy Gibb, managing director at the Ricoh Arena, said: "Sport is a powerful force that brings communities together and it's events like this that can inspire the next generation of athletes."Team GB's achievements at Rio 2016 have been phenomenal and to have climbed to second place in the medal table after scoring five golds in one day is no mean feat."These victories have a fantastic impact on people – especially young – creating a real buzz of excitement and positivity, so we're hoping to continue this euphoria at Coventry's I Am Team GB event."We don't know yet which athletes will be joining us but there have been so many inspiring stories already and this is as much about getting involved as it is meeting your heroes."Major Coventry sporting clubs have also joined the drive to get the city active – including Coventry City's charity organisation, Sky Blues in the Community, who will offer visitors the opportunity to test their speed on the football speed shot and give fans the chance to take aim ahead of Coventry City's home game at 3pm the same day. Guy Rippon, director at Sky Blues in the Community, said: "This is a great opportunity for people to get involved and will allow us to showcase some of our community projects, including In It Together – which is encouraging more females to become active."
I Am Team GB follows Coventry's Summer of Sport – an extensive line-up of sporting events which has been running since August 6 in a bid to get city families active.Cllr Kamran Caan, Coventry City Councils Cabinet member for public health and sport said "I really hope local residents take up the opportunity to get involved in I Am Team GB – it will be a great way to get involved in local sporting activities or to try something new."We've been clear in our sports strategy that we want to attract major sporting events to Coventry so I'm delighted that we have been chosen to welcome home some of the athletes from the Olympics in Rio. It's been an amazing summer of sport in the city and I hope people have been inspired to get involved."Events have included Coventry Sports Week which encouraged nearly 6,000 people to play sport in the city centre and the city's official Team GB Fanzone, which is providing live screenings of the Olympics coverage in Millennium Place until August 21 and has attracted more than 10,000 fans so far.