Coventry 50
Sale FC 0
FULL-BACK James Stokes (pictured)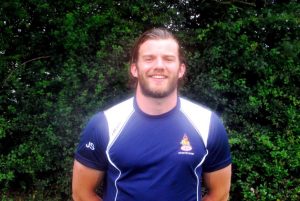 claimed a first half hat-trick to set up an eight-try win for Coventry over a Sale side that narrowly missed out on promotion to National League One last season.
The visitors, travelling with a depleted squad due to injuries, enjoyed a good opening ten minutes and started the second half in a similarly purposeful manner.
But they never really threatened to penetrate a strong home defence, and Cov were always in control with their set piece working well and the backs enjoying the opportunities it created.
Stokes opened the scoring with an unconverted try from a quickly-taken penalty after ten minutes, and he crossed for his second five minutes later when put into space by Tony Fenner who added the conversion.
Sale lost Gaz Rawlings to a yellow card on the half hour for a high tackle on Olly Povoas, Cov kicking the resultant penalty into the left corner and then driving over for Phil Nilsen to claim the try with Fenner converting before the excellent Sam Tuitupou put Stokes over for his hat-trick try on 40 minutes for a 24-0 lead at the break.
Rob Knox stretched over in the left corner for the fifth try midway through the third quarter as Cov returned a clearance kick with interest, and centre partners Alex Grove and Heath Stevens – the latter joining a forward drive – added two  more before Stokes signed off with his fourth try in stoppage time, Will Maisey converting the last three scores.
Coventry: tries Stokes 4 (10, 18, 40, 80), Nilsen (32), Knox (50), Grove (58), Stevens (63); conversions Fenner 2 (19, 32), Maisey 3 (59, 64, 80).
Coventry: Stokes; Matoto, Grove, Tuitupou (Stevens 40), Knox; Fenner (Maisey 51), Brazier (White 51); Titchard-jones (Litchfield 57, Titchard-jones 72), Nilsen (Tolmie 36, Oghre 61), Litchfield (Boulton 27), Dacres (Oram 49), Poole (Gray 64), Makaafi (Povoas 61), Povoas (Preece h-t), Narraway (Tolmie 64).
Sale: Simpson; Stelmaszek, Moorhouse, James, Connolly; Johnson, Bradley; Birchall, Dolly, Kelly, Davies, Griffiths, Rawlings, O'Neill, Barron. Replacements: Blanchard, Keep, Rawcliffe, Owen, Sturgess.
Coventry 57
Broadstreet 24
A LARGELY Coventry Development Academy side proved too strong for city neighbours Broadstreet, who were promoted back to National League Two at the end of last season.
Trailing 28-7 at half-time, Street came back out firing and scored three unanswered tries to cut the gap to four points after 56 minutes.
But the final quarter belonged to the home side who added five more tries in an impressive performance bristling with promise to ease well clear by the final whistle.
Ben Palmer sliced through the Street cover for Cov's opening try after three minutes, Cliffie Hodgson converting, but Street were back on terms on nine minutes when they broke quckly and Scott Truslove went over between the posts for Lee Chapman to convert.
Cov went in front again two minutes later when Palmer sent Tom Price charging through a gap for the second home try, Hodgson again converting, and the home side steadily tightened their hold to add further tries through Harry Morley and Kwaku Asiedu, both converted, before the break.
Tries from Andy Murray, Nick Thatcher and Tom Walker, one converted by Chapman, brought Street right back into contention in third quarter as Cov somewhat lost their way.
But a well-taken Louis Roach try sparked a storming finish by Cov which led to further tries from Mike Ryan, Gabriel Oghre, Palmer and Connor Adams, two converted by Palmer, to round off a fine squad display.
Coventry: tries Palmer 2 (3, 77), T Price (11), Morley (35), Asiedu (39), Roach (61), Ryan (65), Oghre (69), Adams (80); conversions Hodgson 4 (3, 13, 35, 40), Palmer 2 (78, 80). Broadstreet: S Truslove (9), Murray (41), Thatcher (50), Walker (56); conversions Chapman 2 (10, 57).
Coventry: Hodgson (Grimmar 63); Neal (Titchener 32), Lane (Roach 51), Wheatcroft (Adams 80), Asiedu; Palmer, Adams (Payne 68); Byrne (Oghre 57), M Price (Priestley h-t, Clark 68), Morley (Ackuaku 49), Gray (Tin 57), Hibbs, Ryan, McNulty T Price (Priestley 76).
Broadstreet: Grimes; Mayne, Murray, Chapman, S Truslove; Harmen, Thatcher; Dodd, Harcourt, Hanley, Snowden, Worthington, Moloti, Zutic, Rhodes. Replacements: L Truslove, Walsh, Ainsley, Nott, O'Neill, Tyrrell, Walker, Stride.