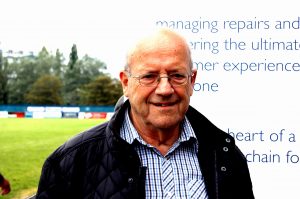 HULL Ionians pay their third visit to Butts Park Arena on Saturday for only the sixth meeting between the two clubs with Coventry currently leading 5-0 on wins.
Games against Ionians only go back to the 2013-14 season when Ionians were promoted to National League One for the first time.
The reverse fixture, at the end of October, secure their first away win of the season, 40-21.
Hull Ionians club were formed in 1989 following the merger of the previous Hull & East Riding and Ionians clubs. Their very convivial surroundings at Brantingham Park, a few miles from the centre of Hull, are rural and pleasant, with several pitches at their disposal.
Hull & East Riding were officially formed in 1901, although there is historical evidence of their existence going back to around 1875, backed up by the fact that W.H.H. Hutchinson represented Hull when he played for England that year. The sequence of events over those 26 or so years, however, is not apparently very clear. Meantime, the Ionians club was formed somewhat later in 1926.
Hull Ionians are now in their second season back in National League One. They previously were at level two in 2013-14, before being relegated back to National Two North and then gaining instant promotion back for the beginning of last season.
Director of rugby is Alex Crockett, who moved up to take on that role at the beginning of this season having previously been head coach. Three players with a Coventry link have played in the Hull Ionians jersey this season – prop Rikki Stout, who began last season at Butts Park before a spell at Broadstreet and then a move back to his native Yorkshire; flanker George Oliver, who left Cov at the end of  last season and made a number of appearances for Ionians earlier this season while dual registered from Rotherham Titans; and scrum-half Sam Boxhall who was at Butts Park pre-season..
After finishing 12th last season, Ionians find themselves in a battle to move away from the relegation places. Currently, after their defeat at home last week to Fylde, they are 15th, just one place above bottom side Macclesfield.
Their five have come against Loughborough Students, Rosslyn Park, Esher and Darlington Mowden Park, all at home, and away at Macclesfield. Interestingly, their rearranged home game with Macclesfield is next Saturday with the outcome of that one likely to be vital to both clubs.
Top points scorer to date is fly-half Lee Millar on 76, closely followed by half-back partner Isaac Green with 69. Two wingers feature in the top three try scorers, Sam Wilson on the left has 11, Dan Choy on the right has six, while hooker Ali Thomson has registered seven touchdowns.