CENTRE Heath Stevens was in at the start of Coventry Rugby's National League One odyssey, and after reaching 100 appearances for the Blue & Whites last weekend he is enjoying the prospect of being there at the finish.
The 25-year-old's century – completed later than hoped after he broke his leg in October – has been spread over two spells at Butts Park, but the experience gained at Premiership and Championship levels in his three and a half seasons away is proving an invaluable asset in Cov's title push.
That continued with Saturday's 40-10 win over Cambridge where Stevens led the team onto the field to mark his 100th league game.
"It was a nice occasion and I'm pretty proud to have done it," he said.
"It's probably taken a little longer to come than it should have – the leg break earlier in the season postponed it a while – but the weather was nice, which is always a bonus at this time of year, and it was all the better with a good result against a decent Cambridge side.
"When I came back I knew roughly where I was in terms of games played and it's always been in the back of my mind, but I wasn't worrying about it and if it came, it came.
"Fortunately, it did, and it was a home game as well which made it all the more special an occasion.
"I was 17 when I played for Cov the first time, we had pre-season games at Merthyr Tydfil and Pontypridd the next day – it seems like a lifetime ago now, and my hairline suggests that, but it's actually gone really quickly as well.
"When I look back at it, the time's gone so fast."
After three seasons at Cov, Stevens moved on to Plymouth Albion and then Worcester Warriors with spells at Nottingham, London Welsh and Jersey Reds to follow before his return to Cov midway through last season.
"I do think I'm a better player now than when I left," he said. "I've had some good experience with playing and training alongside high-quality players, and the quality of the coaching I've had has certainly helped my game.
"As I've got older I've matured as a player and taken on a bit more of a leadership role within that, and I think I've definitely benefitted from really pushing myself.
"It's been really nice to come back and establish myself as a leader within the team now."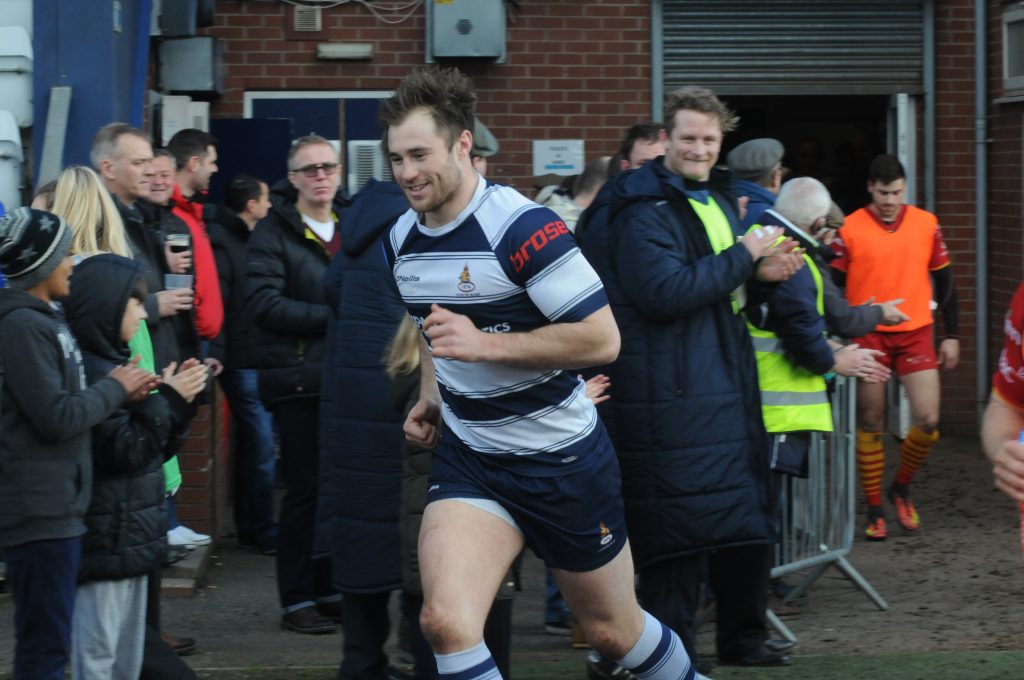 Picture: Nick Meredith
Stevens can also appreciate the way the club has moved forward since he first arrived.
"Last time I was here everyone came together on a £75 or £50-a-game thing and we actually did quite well, but a lot has changed since then – Coventry has come through the dark days and there is light at the end of the tunnel.
"We've made no bones about believing that the club's place is back in the Championship and pushing on from there further down the line.
"Cov definitely has the infrastructure and the sustainability now to be a Championship side again. It's been a long time coming, but that's probably been the best thing to allow the club to find its feet.
"The club has got a viable product there which is important. You see a lot of Championship clubs who are really struggling and close to their financial limits, but Cov seem to have a product now that will stand the test of time.
"A strong fan base is vital as well, and Cov's attendances are right up there with the Championship teams. It's great that the fans have stayed loyal to us.
"If we go up it's going to be a lot harder next season, we're not going to be winning every single week, but we know our fans will stick with us."
Stevens broke his leg in the Thursday night training run before Cov's home game against Bishop's Stortford and, after initial fears that he would miss the rest of the season, surprised with the speed of his return.
"It was quite a freak accident, I fell over and immediately knew something was quite serious," he said. "The medical team and the staff at the club were excellent and I was looked after very well at Warwick Hospital.
"I had the operation on the Saturday, and the whole process from surgery to return to play has been excellent which has been down partly to the medical staff at the club, how good they've been with me, and also the understanding of Rowland (Winter) and Nick (Walshe) who have been very accommodating and put their trust in me.
"I was able to rehab and work away from the club and do things apart from rugby, which also meant that I've refreshed my mind a bit.
"The only thing I'd ever really known was rugby, and I've actually got a few other things now off the field – I made sure I got the most out of my time off.
"I've been fortunate to play for, and be involved with some big clubs, and when you do that you pick up more professional habits and in doing so you know what works for you and you get yourself back to playing as quickly as you can. You know how your body works.
"I worked hard at my rehab, but I also enjoyed my down time and refreshed pretty well, and I feel that I'm ready to fire again and get the job wrapped up.
"I had a six-inch spiral fracture of the fibula, down to my ankle and I had that plated. There were also bits of ligament damage around the ankle, but because it was immobilised for the first two to three weeks it meant the ligaments could heal.
"Then I was in an air boot for six weeks and everything healed up quite well. Once you are up on your feet you actually then need to put load through the inside of the bone to get that nice and strong which comes from rehab.
"The plate can be permanent. If I find it irritates me down the line, then I can have it taken out, but at the moment it seems to be fine and to have done the trick.
"At first it felt pretty odd, as if I was dragging along a bit of a spare part, but as I've got my muscle definition back on the foot, ankle and calf everything has come back to normal."
How did he feel on his first game back, coming off the bench at Loughborough Students two weeks ago?
"Another thing the club was really good with was managing my return to training and to contact. I'm not really someone who gets nervous before a game, I just wanted to get it done and out of the way, and build from there.
"When I came off last Saturday after 50 minutes I felt that I still had minutes left in my legs and felt quite fit.
"It was certainly nice to be playing again and to get a good win building up to the big game this weekend against Darlington Mowden Park."