CENTRE Heath Stevens is back in the Coventry Rugby squad for tomorrow's trip to Loughborough Students just 14 weeks after breaking his leg in a freak training accident.
The 25-year-old, who will be making his 99th appearance for the club if he comes on, is named on the bench as one of four changes from the 20 who overcame Fylde last week.
Stevens (pictured)was Injured in the final training session before Cov's home game against Caldy at the start of November with initial fears that he would miss the rest of the season.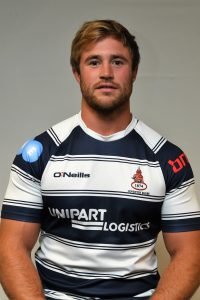 "Heath's return is testament to the time, effort and professionalism he has put into his rehab and into his rugby overall," said director of rugby, Rowland Winter. "He has worked incredibly hard.
"He has been a stand-out at training in the last couple of weeks and looks sharper than ever – he's a great player to have involved again at this key point of the season."
Also back after being rested last week are centre Anthony Matoto, flanker Jack Preece and Nile Dacres, who moves into the back row in place of Latu Makaafi, rested for this game along with Will Maisey.
Tony Fenner moves from centre to fly-half in place of Maisey, while captain Phil Boulton and James Stokes return to the starting XV for, respectively, Luc Jeannot – who goes to the bench on rotation – and Tom Emery.
"Latu has had a long run of games and this is a chance for us to see how Nile goes at 6 where he played a fair bit at his previous clubs," said Winter.
"It will be the first time that Will hasn't worn a Coventry shirt since his return to the club last season, he's had no time off really because of Tony's injury in September and injuries to the centres, so we want to rest him up this week and make sure we look after him, and also give an opportunity to Tony in his favoured position at 10 after the great job he's done filling in every position."
Loughborough are sitting one place above the relegation zone and were beaten 36-0 at Butts Park in October, but they go into the game on the back of a big win over Rosslyn Park in their last home game and a draw last week at third-placed Ampthill.
"They're always a tricky team to play against, especially away from home," said Winter, whose Coventry squad are 16 points clear at the top of National League One with ten games to go.
"They are full of energy, with plenty of talent and skill, and coupled with the confidence they will have from some improved results and their involvement with Leicester Tigers, it will be a real test for us.
"Again, we will need to be switched on and fully focused on getting our own game right on their 3G pitch."
Kick-off is 3pm.
Fly-half Ben Palmer returns from injury for Coventry Development, who play Ampthill 2nd in a rearranged Zoo Sports Shield game at Broadstreet (12.30pm) which will also mark the delayed debut of Fiji centre Ravai Fatiaki.
Centre Sam Tuitupou will return to full training next week after injury, and following a good consultant's report and x-ray, Tom Poole is training again and progressing towards a return to playing at the end of February.
COVENTRY: 15 James Stokes, 14 Rob Knox, 13 Alex Grove, 12 Anthony Matoto, 11 MaxTrimble, 10 Tony Fenner, 9 Dave Brazier, 1 Andy Brown, 2 Scott Tolmie, 3 Phil Boulton (captain), 4 Tom Jubb, 5 George Oram, 6 Nile Dacres, 7 Jack Preece, 8 Luke Narraway.
Replacements: 16 Phil Nilsen, 17 Luc Jeannot, 18 Brett Daynes, 19 Pete White, 20 Heath Stevens.
COVENTRY DEVELOPMENT: 15 Tom Emery, 14 Louis Roach, 13 Kwaku Asiedu, 12 Ravai Fatiaki, 11 James Neal, 10 Ben Palmer, 9 Connor Adams, 1 Nathanael Titchard-jones, 2 Willie Priestley, 3 Jimmy Litchfield, 4 Cameron Gray, 5 Kailus Hutchinson, 6 Tom Price, 7 Sam McNulty, 8 Paddy Ryan.
Replacements: 16 Kai Owen, 17 Matt Price, 18 Jack Higgins, 19 Mike Ryan, 20 Myles Hibbs, 21 Sam Payne, 22 Isaac McNulty, 23 Joe Lane, 24 Max Titchener, 15 Victory Chamwada.
Tom Little previews the rest of this weekend's National League One programme
Bishop's Stortford                    v             Birmingham Moseley                              kick off 14.00
Caldy                                          v             Rosslyn Park                                                            14.00
Cambridge                                 v            Ampthill & District                                                  14.00
Darlington Mowden Park        v            Blackheath                                                               14.00
Esher                                            v            Old Albanian
Fylde                                             v           Hull Ionians
Loughborough Students            v           Coventry Rugby
Old Elthamians                             v           Plymouth Albion                                                    14.00
HERE'S hoping that round 22 will see better weather, allowing for bigger scores than last week. There are some difficult games for the four teams trying to avoid relegation, including Loughborough Students who are still only five points above the cut off as they have to meet leaders Coventry Rugby in the East Midlands.
Second-placed Darlington Mowden Park, who are now 16 points behind Coventry, put their unbeaten home record on the line against fifth-placed Blackheath. Although Blackheath are 12 points behind their hosts and having played two games more, they are capable of upsetting any team in this league. At home DMP will be favourites for the win to enable them keep pressure on Coventry.
Cambridge, after a narrow loss away to Rosslyn Park, are at home to face an Ampthill & District side that, although in third place, were poor in drawing with Loughborough Students last week. This game will go to the side who want it most, and with Cambridge still not safe they need the win to keep them out of the relegation zone.
Plymouth Albion, in fourth place, will be hoping that Ampthill slip up as a win could take them into third, but in travelling to Old Elthamians they face a difficult task. OEs put up a good show in holding DMP to five points last week and will be disappointed not to have won, so they will be confident of lowering the colours of a fancied Albion side. A win for OE will keep pressure on Blackheath just above them.
Mid-table sides Bishop's Stortford, in seventh, and Birmingham Moseley, eighth, meet with BS slight home favourites for the win. However, the Moseley pack has been showing signs of life recently and if they can transfer possession into points, then they might spring a surprise, although at home BS will be slight favourites.
Two more mid-table sides, tenth-placed Caldy and Rosslyn Park, one above them, meet on the Wirral. Park have won their last four home games, but their away form has been patchy, whilst Caldy have put up good performances in losing narrowly to DMP and Plymouth Albion. At home, an experienced Caldy side should be favourites to win what is expected to be a close contest. A win for Caldy could take them into the top half.
Old Albanian, in 15th place and 12 points from safety, have to travel to 12th-placed Esher, who are still not completely safe. Esher can be inconsistent but have the ability to raise their game, especially at home, but they should be firm favourites for a home win. Another loss for OA would surely seal their fate.
E
Perhaps the most intriguing game pits bottom side Fylde at home to 14th-placed Hull Ionians. Fylde are a massive 22 points from safety and surely another loss for them in this game will leave too much to do. Ionians are only five points behind Loughborough Students, but although they have been winning bonus points they are finding wins very elusive. This is a difficult game to predict, but Fylde may defy the odds.