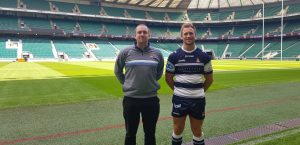 Coventry Rugby first XV captain Heath Stevens was at Twickenham Stadium yesterday for the launch of the 10th edition of the Greene King IPA Championship ahead of the start of the 2018/19 season, watch what he got up to.
Played over 22 rounds, Sky Sports will continue to broadcast the Championship this season, along with streamed games on England Rugby channels and chairman of the league Geoff Irvine said that support was vital, while also speaking of his excitement ahead of the new campaign.
He added: "I think the partnership we've managed to form with our sponsors has been very important as well as the coverage we receive from Sky Sports. I think innovations such as live streaming has been very successful and look forward to more of it this year. That speaks volumes of the worth of the Championship."
In a repeat of last season's format, the winner of the league will be promoted to the Premiership, with play-offs no longer applied at the end of the campaign.
The launch at Twickenham Stadium was attended by directors of rugby, as well as club captains and representatives from all 12 sides.
"It's been a very special 10 years for the Championship and going into the 10th season we have a very exciting season ahead of us," said RFU director of professional rugby Nigel Melville.
Greene King IPA are the title partner of the Greene King IPA Championship, cementing its position as a key supporter of rugby at all levels of the game.
https://www.youtube.com/watch?v=QUoseQUYcb4&feature=youtu.be