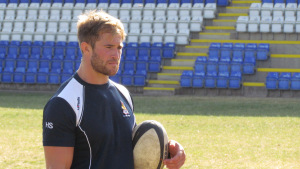 Coventry Rugby are entering week five of their pre-season schedule and first team Captain Heath Stevens admits the longer break has allowed players to come back revitalised.
"It has been good, obviously the longer break we had made everyone come back refreshed which is good, it's the first time that I've ever had longer than four weeks off, so it has been nice," said Stevens.
"With the sessions being condensed it allows you to be more intense, but in that you can't afford to miss a session or afford to have an off session as such.
"It has been really good, everyone has bought into what we are trying to create here and how we want to run."
The Blue and Whites were due to face Bishop's Stortford on August 7 with a mixture of senior and development squad players but due to concern over the hosts pitch the game has been moved to Friday 10 August.
Because of the fixture change, Coventry's senior sides first test of pre-season will be Birmingham Moseley on august 11, and the 25-year-old admitted that he has enjoyed the heat during pre-season.
He said: "Yes it has, obviously we know the pitch isn't in the best of states and this rain is going to help it a lot.
"The rain is going to help the joints, there are a lot of big boys in there struggling with the hard ground. I actually enjoy the heat, I would rather that than the rain, but any rain or water will help the pitch as it's a bit of a dust bowl.
Despite the heatwave and freak weather conditions, Stevens believes the side are preparing themselves well for their first pre-season encounter.
He said: "As best as we can, we have been in for the last five weeks now and it's like I've said we have all worked hard, everyone's excited for the games.
"This block of pre-season now is all about getting what we have worked on in the last few weeks right and then putting that into place in the games."
Coventry hosted a Family Fun Day event and launched their new kit on Saturday and the versatile centre believes the club can pull in more fans this season.
He added: "It was good, it's great to interact with all of the fans and hopefully we are able to pick up some more fans, some younger fans with the kids and its nice for the fans to be able to meet the new players and see the guys from last year. It's always good to get the guys involved with it.
"They are good kits, the home kit is really nice, it's a nice new style and a bit of a change with the away kit with the gold and the red but I am excited to get the shirt on now."
https://youtu.be/IfeMx3QtVbM