by John Butler
MAGNIFICENT Coventry march on!
A final score line which truly did reflect Cov's total supremacy throughout over a game but totally outplayed Fylde unit.
This was, by a very, very long way, the biggest victory any Coventry squad has achieved at the pleasant surroundings of the Woodlands. The margin of victory as well came within just two points of beating the club away league record (73-8) achieved last season.
Fylde, as their bottom of the table standing suggests, have certainly enjoyed better times, their young squad clearly finding life tough, but the manner in which Cov went about their task, right from the outset, was totally commendable.
Such was the all-round superiority of the of the Butts Park men, any one of several could have justifiably been named man of the man. Ultimately, the honour went to hooker Scott Tolmie, one of two to earn a try hat-trick.
The home cause was not helped by a penalty count of 14-4 against them, plus two yellow cards, such was the intensity and ferocity of attacking facing them
What will have pleased director of rugby Rowland Winter probably most of all was the seamless way a number of the younger squad members warmed to their task when introduced into the action, at one point in the second half, Academy players filling three of the front five forwards slots. A real confidence booster for the way and manner the squad has continued to pull together, even with key, long term injuries affecting numbers
A ten-try hammering which began after just three minutes. That could have come even earlier, Nile Dacres kicking through after Fylde lost possession on 39 seconds but just being beaten to the touchdown.
Not to be denied, Cov were soon in front when a flowing move to the left saw Tom Emery given space, the young winger outpacing all of Fylde's efforts to halt him. Will Maisey, who for him did not have one of his better kicking afternoons, failed from wide out.
Fylde were briefly in the Cov half, but already were finding possession hard to hold on to and with the penalty count already building, a kick into the home 22 was the prelude to the second try.
Although Fylde were to hold up pretty well in the set scums, the line-outs and driving play which followed was already going Cov's way, hooker Tolmie on the end of a driving wave with Maisey converting for 12-0 on 12 minutes.
A further 25-metre forward drive followed and Cov, even this early, were in total command. It was no surprise when Jack Preece was driven over after 16 minutes, Maisey wide with the conversion attempt.
With Fylde several times losing possession, Cov simply continued to turn the screw and Heath Stevens, captain of the day, forced his way over, Maisey converting.
The one-way traffic continued with Cov running in two more tries before the break. Firstly, Tolmie was driven over again, then on 35 minutes a lovely flowing multi-handling move saw Anthony Matoto finish superbly on the right, two Maisey conversions leaving Cov 38 points clear and out of sight.
With Cov electing in the second half to give valuable game time to others in the match squad, Fylde for their part came out looking determined to try to salvage some pride. Their cause was not helped by No.8 David Fairbrother receiving a yellow card for a high tackle just before half time.
Initially, any respite Fylde might have been seeking receded with Tom Emery claiming his second, and Cov's seventh of the game, Ben Palmer – on for Maisey – just failing from wide out.
The 47th minute saw something of a Fylde milestone, as they reached Cov's 22 for the first time. Impressive running from full-back Tom Carleton, son of the former England winger, taking him close. A massive Cov scrum, however, then cleared any danger.
Fylde, to their credit were still attempting to play their traditional running game, but possession being lost was to prove to be their biggest fault throughout.
With the penalty count now at 10-1 to Cov, prop Jake Pope became the second home player to receive a yellow card, this time for a no-arm tackle.
With Cov continuing to be totally dominant, Tolmie completed his try hat-trick, again being driven over by his pack colleagues, with Palmer converting well.
Straight from the kick-off, back came irresistible Cov, James Stokes setting Emery free on halfway with a lovely inside pass. From there the pacey winger steamed away brilliantly for arguably the try of the match and his hat-trick, Palmer converting.
Moments later came try number ten, and the third within four minutes, Stevens crossing again from a move which also had beginnings in the Cov half.
Palmer converted again, with the margin now 64 -0.
Fylde continued to battle bravely, Coventry also seeking a further score and coming close at least twice, but ten tries, plus seven conversions were to prove to be the final statistics.
For the Coventry faithful travelling support, who once again considerably boosted a home gate, another fine afternoon.
With all the top sides winning, National League One is already seeing something of a breakaway by those clubs, Cov continuing to hold their three-point cushion at the top with their record showing seven straight wins to add to the eight at the end of last season.
Coventry: tries Emery 3 (3, 43, 61), Tolmie 3 (11, 30, 59), Stevens 2 (24, 63), Preece (16), Matoto (33); conversions Maisey 4 (12, 17, 25, 34), Palmer 3 (60, 62, 64).
Fylde: Carleton (Smith 68); Hadfield, Wilkinson, Brookes, Grimes; Smith (Carlton h-t), Dolly; Pope, Burtonwood, Lewis (Irving 54), Ashcroft (Corrie 54), Parkinson, Vernon, McCarthy (Harrison h-t), Fairbrother.
Coventry: Stokes; Matoto, Stevens (Maisey 64), Tuitupou (Neal 49), Emery; Maisey (Palmer h-t), Brazier; Titchard-jones (Litchfield 73), Tolmie (Narraway 68), Litchfield (Jeannot 54), Dacres, Gray, Makaafi (Oghre 34), Preece, Daynes. Replacements: Oghre, Jeannot, Narraway, Palmer, Neal.
Referee: Jamie Leahy.
Attendance: 506.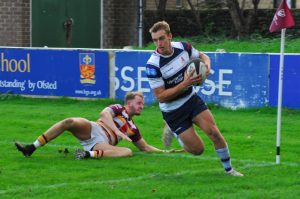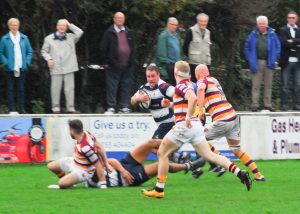 Hat-tricks: Tom Emery and Scott Tolmie