WINGER Rob Knox is closing in on a notable personal double for Coventry Rugby, but the only thing on his mind at the moment is playing his part in the club's push for the National League One title.
The 26-year-old is in his fourth full season with Cov after joining from Barkers Butts midway through the 2013-14 campaign, and he chalked up his 92nd league appearance for the Blue & Whites at Loughborough Students last weekend.
With 46 tries to his name – behind only Kurt Johnson and Andy Smallwood on Cov's all-time list – and with nine games to go, it could mean a century and half-century before the end of the season.
"That would be great," admitted Knox, "but to be honest I haven't really thought about it – as long as the team's doing well, that's all I'm worried about.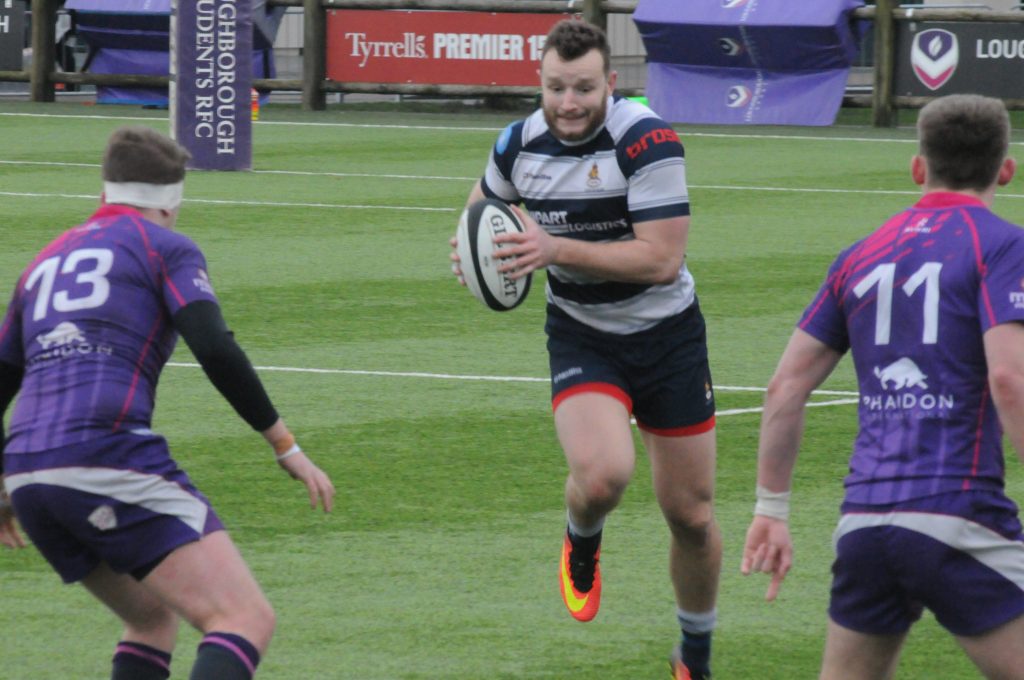 "If I can just keep my head down and keep working hard, then it will come whatever.
"I've been quite lucky this year. I was a bit frustrated in the last couple of seasons, having niggles, but I've been working hard to get rid of them and, credit to Max Hartman and Hannah Walker, the only games I've missed this season were after I broke my fingers in the home game against Bishop's Stortford.
"I feel really good at the moment, I think I'm the strongest I've been in a while, and hopefully I can carry on like this, keep doing the strength and conditioning work, and stay fit."
Knox, who has another season to run on his contract, is revelling in the style of rugby Cov are attempting to play and his role in the side which offers him licence to go and hunt for the ball.
"I'm really enjoying the way we're playing this season," he said. "I know the weather's not been great in the past few weeks, but when we want to throw it around we've got players with the ability to make it count and, as you've seen in over the last few weeks, when conditions have not really been on our side, we can tighten up and still put a performance in.
"Nick (Walshe) and Rowland (Winter) say just get your hands on the ball and have a go, they're great like that. It's the same for Max Trimble or whoever is on the other wing – I don't really mind where or when I get the ball, as long as I can get my hands on it and have a go, I'm happy, and it's the same with all our backs."
Cov had to work particularly hard for their 31-24 win at Loughborough despite the opportunity to play a flowing game presented by the university's synthetic pitch.
"I'm not really sure what went wrong, we weren't at our best and we'll review it over the next few days, but we ground out a good win," said Knox. "Credit to them for coming out and putting in a performance like that, they're a good side and more used to that type of pitch than we are.
"I quite like those pitches, they're especially good for the backs who want to run it around. It's good fun and it did make a nice change after the last few weeks, but as long as the team is doing well and I get the ball, then I'll happily play on any pitch.
"Whatever it takes to get the team a victory, I'll do it."
Is the current squad the best in his time at Butts Park?
"While I've been at the club we've had class players come and go, and it's probably unfair to judge them against each other.
"We've just found some chemistry this year, and with what the coaches and the whole club are doing, it's all building into one.
"We're a very united squad which is great. It's not just train and play, you do all the analysis and meetings, and outside rugby as well we see a lot of each other.
"The analysis is really good, we need to know what other teams are about and how they play, and just as much we need to look at ourselves and where we can keep improving.
"As players we've been given more responsibility in that respect, and I think that's one of the reasons why we're quite a close-knit group. If everyone plays their part from top to bottom, we'll be heading in the right direction"
How does Knox view the step up to the Championship if Cov go on to win promotion?
"If we make it, the Championship would be a good challenge and I think everyone in the club would look forward to it and be ready.
"Playing there is something I would look forward to, but at the moment we can only look at each game as it comes – if we continue to do that and come the end of the season we're there or thereabouts, that will be good."