COVENTRY sit proudly on top of the National League One table with eight wins from eight after Saturday's 36-0 victory over Loughborough Students, a result which also saw Cov's winning run extend to 16 games going back to the middle of February.
A win at Cambridge on Saturday would establish a new club record, but director of rugby Rowland Winter insists that feet remain firmly on the ground and that Cov will continue to take things by week with any records incidental to the cause.
"Records are nice, but in my view they are always there to be broken and once you break them you simply set the bar higher – it can be an anti-climax, and really it's more about getting up to them," said Winter.
"I'm happy to openly concede that we will lose at some point in the season – all good things come to an end and I'm not expecting us to go the whole season unbeaten.
"It might be this week or it might be in five weeks' time, but whenever it is, it's more about whether we can get back on the bike and whether we're able to bounce back and not get a run of bad performances.
"So far we've dealt well with our off days – against Old Albanian and Bishop's Stortford – but what Hartpury did last season by winning every game was remarkable, it's the only one that I've known in my time, and it isn't realistic to expect us to do that."
Cov began the day three points clear at the top and, with Plymouth Albion, Ampthill and Darlington Mowden all failing to win, finished with a gap of six to their nearest rivals, now Blackheath.
"I think the weather played a big part at the weekend, by all accounts it was the key point in most games, and I think that probably makes me more happy and pleased with our own performance," said Winter.
"There were some upsets – Cambridge beating Ampthill, and not many teams go to Plymouth and get any result at all so Old Elthamians should pat themselves on the back for the draw which probably says a bit more about their development and how they're becoming a force to reckon with.
"I wasn't surprised by Darlington's defeat at Blackheath who I think are going to be up there all year.
"It just shows again that on the day anyone can beat anyone in this league, and more so if you chuck in a little bit of wind and rain as well.
"If you look at the league table and look at the teams we've played and the teams we haven't, the teams we're coming up against now are all closer to the top and we've pretty much played most of the bottom sides.
"We have games at both Cambridge and OEs coming up in the next three weeks and both will be tough at their place. These are key games, and as the season goes on, especially in the second half, we've got all the top teams away from home so we almost need to give ourselves more of a cushion at the top so we can handle that.
"If we're in March and going into the last few weeks, having a six-point lead could be really useful, but right now with 22 games to go it's just a case of taking every week as it comes and if we can turn six points into seven or eight, keep the gap creeping up then, definitely, if we get a couple of games clear we will have one in the bag I suppose.
"But if we lose the next two against Cambridge and Caldy, we could be four points behind – although I still wouldn't be panicking."
Saturday's win was built on a powerful first half performance playing into the gale as Cov kept things tight through their forwards, kept the ball in hand and made the hard yards to limit the opposition's possession.
It left some tired bodies by the end, but the reward was a day off from training today.
"You've got to recognise when the players have put in a big shift," said Winter. "We train more than other teams in the league and sometimes we need to recognise that the boys have worked hard.
"On Saturday they probably ran more metres than normal and the effects of that game probably count the same as the effects of a training session, so we have to work out whether it's worth doing another gym session or another rugby session when actually giving them a day off helps them to recover.
"They'll be back fit and fresh tomorrow to do the quality of work we need to do for Cambridge, who keep the ball in play a lot more than other teams and have got a heavily improved pack which will provide another tough test for us."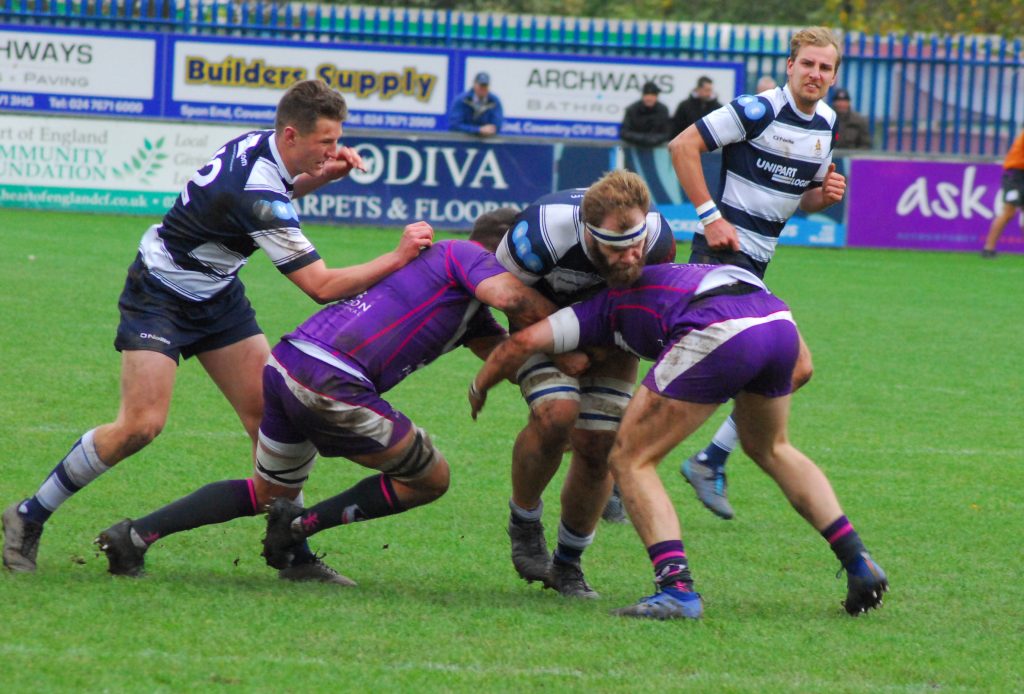 Making the hard yards – George Oram. Picture by Nick Meredith