VOTED Coventry Rugby's Most Valuable Player in a recent poll among supporters, all-action back row forward Jack Preece is the latest to commit his future to the Butts Park club by signing a two-year contract extension.
The 28-year-old England Counties flanker joins Nile Dacres and James Stokes with a new deal running until the end of the 2019-20 season, and couldn't be happier at the prospect with Cov setting a hot pace at the top of National League One.
"I'm really excited to be here for the next two and a half years," said Preece, who has figured in all but one of Cov's 17 games so far in his first season at the club.
"I'm really enjoying it, all the coaches and the players have been great, and the club has great ambitions. From the last six months you can see how much its improved from the seasons before, it all seems to be going in the right way, so I'm really glad to be on board and to have found such a good club."
The result of the supporters' poll, which was revealed across a period of 12 days over the New Year, came as a very pleasant surprise to Preece who says the fans are 'Cov's secret weapon' and made his decision to re-sign so much easier.
"I really couldn't believe it," he said. "When the vote came up and someone explained to me what it was, I thought that with the players we've got it would be good just to make the top 12.
"As the days went by I was thinking 'have I made it?' because some good players were being named early doors and I thought if they're in the bottom half of the table, I'm not going to get in.
"I was absolutely delighted when I got it, it's something else given the squad we have.
"The biggest thing the club has is its fans, the numbers are the best in the league, and it makes this a special achievement for me which I really appreciate.
"You can really hear the fans every time you play, it makes a massive difference when you're getting close to the line or if you're defending your own line – it gives you an extra burst of energy and it's the secret weapon that Coventry has, a good momentum builder.
"Home or away you hear them every week, and it does make a difference when you're tired and there's not long left to play, particularly in tight games."
The fans will have a big part to play when Cov run out at Butts Park this week to face Esher following last week's 61-29 mauling at Blackheath – their first defeat of the season and the first in 25 games stretching back eleven months.
"It was a game when you thought our fans would be quiet, but they were cheering us on to get that fourth try for a bonus point and all the way to the final whistle," said Preece.
"They were really positive afterwards, saying it happens, not to worry and to build for next week. It's easy to get on someone's back when things go wrong, but they didn't.
"All the players are grateful that we have such a good fan base and I'm sure they'll get behind us on Saturday.
"It should be a good game to watch – we need to make up for last week and hopefully Esher will feel the backlash from it.
"There was massive disappointment in the dressing room. We were gutted because it would have been nice to try to go the whole season unbeaten, we had it in us, but there are days when you slip up, you don't get any bounce of the ball, and we just didn't produce the goods. Massive credit to Blackheath, they were really good.
"Those are the games you learn more from than when you're winning, and we've got to shake it off and rebuild.
"Not many teams go through a season unbeaten, we'd done a really good job to go so many games without losing, and we've still got our home record to keep intact and a league to win.
"It happens to the best teams in the world, everyone slips up and you see it n every sport. You have your off day, and unluckily for us Blackheath had probably their best day of the season.
"We probably took it a bit for granted, and even the most experienced players can learn from games like that.
"You become a good side by working hard off the pitch and even harder on the pitch, and that's what we need to keep on doing."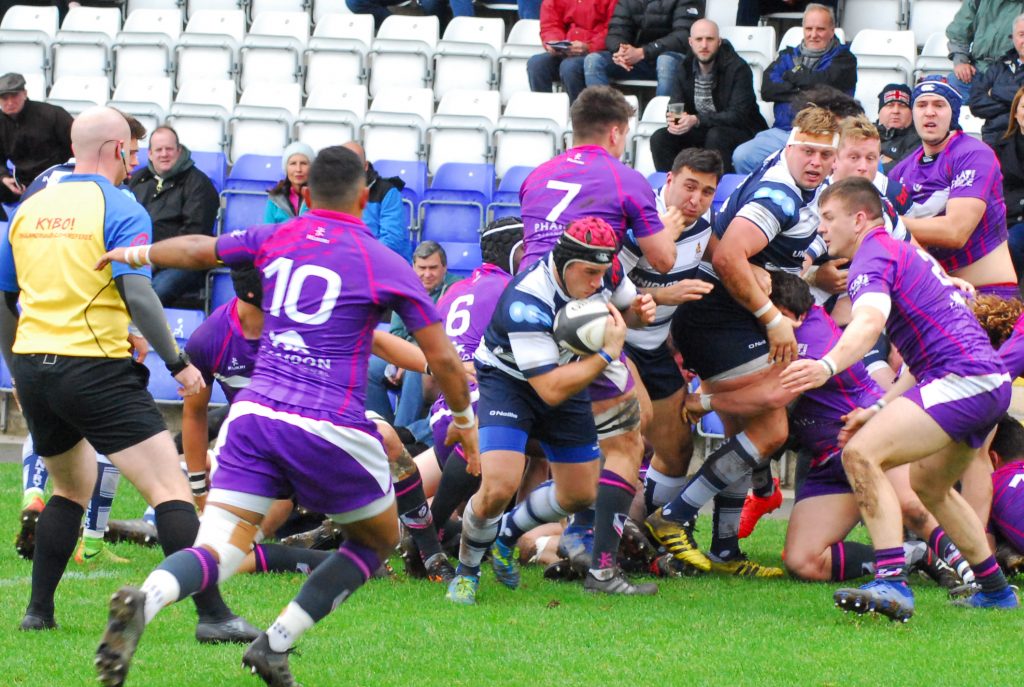 Picture by Nick Meredith