COMPETITION is strong throughout the Coventry Rugby senior squad, and no more so than at scrum-half where last season's England Counties picks, Dave Brazier and Pete White are going head to head.
But it's a situation which Brazier – who joined Cov in the summer from neighbours Birmingham Moseley – says is only bringing out the best in them and is a win-win for both the club and the two players.
"At the end of the day it's about trying to get Coventry in the best position and we're helping each other out as much as possible and working together," said the Worcester-born 24-year-old.
"It's really good for both my game and his game as well, we're pushing each other to get the best out of each other.
"I've roomed with Pete a couple of times when we've been with England Counties, I got to know him a little bit more before I came to Cov, and we have a good relationship."
Brazier spent five seasons in Moseley's senior ranks after graduating from their colts, but has no regrets at making the move down the A45.
"In some way it was hard to leave Moseley, I'd been there since I was a colt, but it's always nice to get experience somewhere different and for my career I felt it was the right time to go," he said..
"Rowland (Winter) sold the club to me pretty well, he told me about the players that they'd got coming in and the ambition, but at the end of the day it didn't matter who was signing, everybody's got to want the same stated aim to make it work and at the moment the general feeling at the club is really good, everyone is one the same page.
"We're taking each game as it comes, but everything is positive and everyone's chipping in where they can.
"We're playing pretty well and I'm really enjoying it – it's been a good move."
A bonus is having a former England scrum-half, Nick Walshe, as head coach.
"Nick's a good coach, he brings a lot to the table not just for me and Pete but for all the backs," said Brazier. "He's got good game management and understanding, and he's a great help on and off the field with his analysis and different ideas.
"He tries to help out me and Pete where he can and it's always good to get another opinion on things from someone who has played in your position.
"We've won our first five games, but it's a long season and a tough league, and I think that all we can do is take each game as it comes. Each week is difficult, we've said that as a team, and we don't look too far ahead of ourselves.
"We try to break it down month by month and we have to be smart. We can't really afford to have any slip-ups – we had a close one at Old Albanians, but we managed to get away with it – just – and we've got to look at the positives out of it. We didn't play very well, but we still managed to win."
Brazier has been playing since the age of six, starting out with Worcester's junior section and going through the age groups with them until the age of 16.
"I left there and went to play at Droitwich going to Moseley colts," he said. "When I was 18 I went out from Moseley on loan to Bromsgrove for a whole season, and the following season I went back there for the last six games to get some game time.
"Going on to play for Moseley in the Championship and then in National One last year, I suppose each season has been pretty different."
Brazier, who made a total of 74 senior appearances for Moseley, has kept the same philosophy for the game throughout his career.
"I just want to play rugby for as long as I can, and I'm a firm believer in playing 'smile on face.' From my point of view there's no real set goals or anything like that – as long as I'm enjoying playing rugby I think that's all I can ask for.
"That's all I really want to do and if I get to a higher level, brilliant. But at the moment I can't really complain – I'm playing a sport that I've loved for so many years, and pretty much every day."
Would he like to go back into the Championship with Cov?
"Absolutely – I'm gunning for that. If I did say I have a goal, that's definitely where I would like to be next year."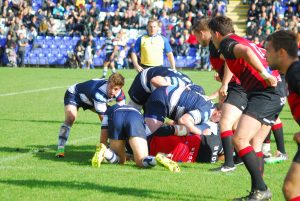 Dave Brazier in action against former club Moseley. Picture by Nick Meredith