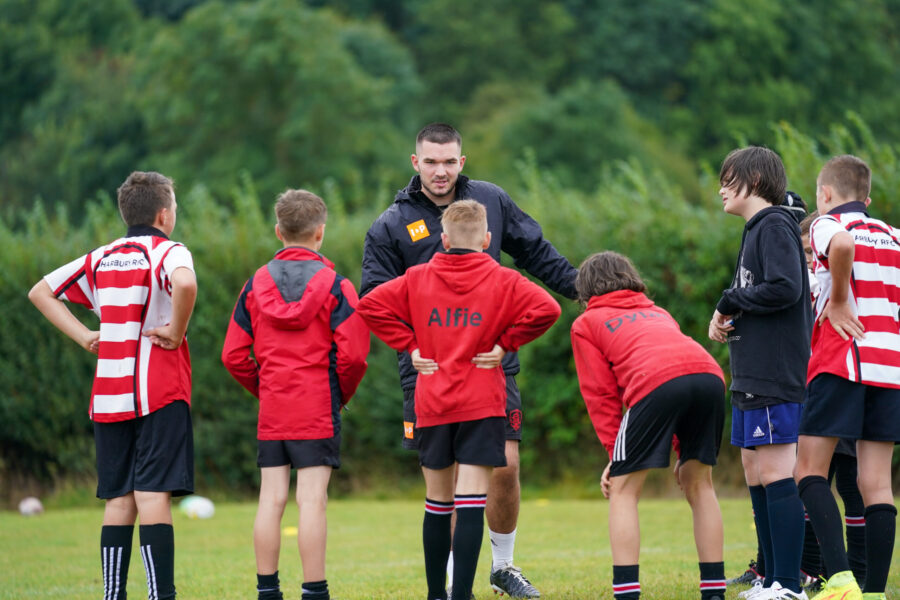 There appears to be no rest for our Coventry boys! The day after a triumphant first round against Doncaster Knights, first team players including; Luc Jeannot, Suva Ma'asi, James Martin, Louis Brown, Jonathan Kpoku in addition to the Development and Academy squad paid a visit to Harbury RFC to run a Coventry Rugby Community Takeover Day for their minis and juniors.
Dividing into different age groups, Coventry lead an array of masterclasses, giving pointers and inspiring the future players of tomorrow.
Great to have the players with us today at Harbury. They were really responsive and keen to help out in any way, running a scrum and backs masterclass. Thanks and well done Coventry RFC.
Before the season started, Keresley RFC minis and juniors joined us at Butts Park Arena for a takeover day, taking part in rugby activities on the pitch before our Nottingham preseaon fixture. Development squad Kit Smith and Liam Stone assisted with coaching as well as taking part in a Q&A.
With Sam McNulty joining Richard Meacham's community department, Coventry Rugby continues to deliver projects among the local community at schools and clubs in the West Midlands. There are lots of new and exciting initiatives in the pipeline so stay tuned and get involved!
UPCOMING OCTOBER CAMPS:
Wednesday 27th October – Rugby Camp at Bedworth RFC
Thursday 28th October – Multi sports Camp at Butts Park Arena
Friday 29th October – Rugby Camp at Earlsdon RFC
There are a number of other new projects being developed, not least those which engage both the younger and older generations in becoming more active.
To find out more email community@coventryrugby.co.uk