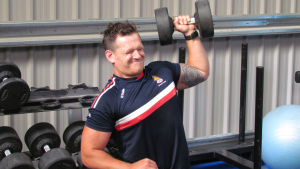 Distinguished Coventry Rugby hooker Darren Dawidiuk is aiming to stake his claim in earning the right to wear the starting number two jersey for the 2018/19 Greene King IPA Championship season.
The 30-year-old spent the last season at London Irish and despite not making an appearance for the exiles, he spent a short amount of time on loan at Hartpury towards the end of the campaign.
"I want to establish a starting place in the team, there is really good competition with Scott Tolmie and Phil Nilsen so I understand that there is going to be a lot of competition between us but that is what we are all looking forward to in training," said Dawidiuk.
"We are really pushing each other and all three of us want to stake a claim to that number two shirt so it's only going to make us better as players and give us more depth in the team as well."
The commanding front row forward admits he has settled in well with the midlands outfit and is looking forward to playing in front of the notorious crowd at Butts Park Arena.
He said: "It's exciting, I've been looking forward to getting started with the boys and we have had a fairly long off season. So about three weeks before we came in I was raring to get in.
"I am looking forward to it, seeing the recruitment that the team have done for this season and also the squad that they kept from last season.
"I am looking forward to getting involved, buying into what this club is about and also the city as well and I am looking forward to the start of the season."
Despite this, the hooker previously played for Gloucester Rugby at the beginning of his career with plush facilities and playing in European encounters and Dawidiuk believes that Coventry has a sense of family and character at the club.
"Obviously it is a little bit different here, it's a bit old school in the gym, it's a bit rocky but I like that, it has got a bit of character. For me, nothing really changes with my attitude towards training and to be fair to all of the lads here, they all train hard, work hard and they don't moan about anything.
"It is what it is, we use what we have got, and we just get on with it which is great, and it just shows the character of the team and the coaches and it shows the maturity of this team."
Last month the club appointed former Blue and White loosehead prop Boris Stankovich as Scrum Consultant to aid the forward pack this season.
The 30-year-old believes the former Leicester Tigers prop will be a valuable addition to the team and has recalled upon some old encounters against his now coach.
He said: "Incredibly beneficial to the boys, he has got a wealth of experience. I have been lucky enough to play against him a few times and he was solid, you weren't going to move him in the scrum.
"The stuff he has brought in over the last few weeks has been great and its already showing in the training sessions. What he is bringing in is hopefully going to put us up there with the top scrummaging teams in the league and that is what you need in the championship, you need a good set piece.
"It's just great to have Boris on board and around and it's great for the young looseheads because they can pick his brains and learn a lot from him."
With Coventry's pre-season encounters just seven days away, Dawidiuk reflects on what has been a "tough" but rewarding few weeks at Butts Park Arena.
He added: "It has been tough but that is pre-season and that is what is expected but everyone is pushing each other hard. Max Hartman is running us into the ground, but we need to get that in the legs and we have had some great unit sessions and team sessions as well.
"Everything is building nicely. The feeling in the camp or the way I feel is that we have made some big strides and we are in a good position, we are going to be ready for those pre-season games coming up in a week's time."
https://www.youtube.com/watch?v=X3p_5b5NCkQ&feature=youtu.be