WHAT a performance by Coventry, and what a result!
Five match points to nil, six tries to nil, and the most impressive nil of all – the zero in the points against column.
This against a team lying second in the National League One table and with a 100 per cent home record until yesterday.
It was earned the hard way through a rock-solid defence which held Park at bay from first to last, stemming wave after wave of home attacks in the opening 15 minutes to keep their line intact and still defending as if their lives depended on it in the closing minutes as their hosts threw everything at them in a vain attempt to take something from the game.
By contrast Cov's finishing was clinical, and with a scrum and line-out that were always on top, it added up to a near-perfect performance.
So a season of records continues with a best-ever 22nd win of the campaign, and with Cov's lead over Darlngton at the top of the table now 26 points and seven games to go, the National League One title is surely in sight.
Kicking-off in bright sunshine in front of a crowd of 1,879 – easily Park's best of the season – Cov went in front in just 98 seconds. Park conceded a penalty 35 metres out, Pete White took a quick tap, and with the Park defence on the back foot Cov opened up the space for Tom Jubb to go over between the posts for a try which Will Maisey converted.
Park responded with a prolonged period of pressure inside the away 22, but Cov successfully defended three close-in line-outs and a five-metre scrum before forcing a turnover and stunning the opposition with an 80-metre break down the left flank for James Stokes to add a second try – his 17th of the season to equal Andy Smallwood's long-standing club record – which Maisey again converted for 14-0 after 15 minutes.
Cov looked totally in control, and when Park knocked on in their 22, the pack forced a penalty at the following scrum and, after turning down a similar chance a few minutes earlier, Cov opted for the kick and Maisey's boot made it 17-0 after 25 minutes.
Park had no answer to Max Trimble's pace on the left flank, and the winger was only denied by a try-saving tackle in the corner before more strong defence at the other end saw Cov again nullify Park's best efforts, and the half ended with another scrum penalty on the home 22 and a successful Maisey kick for 20-0 at the break.
The next score was going to be decisive, and after again applying some early pressure without reward, Park's hopes were killed off by two tries in the space of as many minutes.
Maisey fired a penalty into the right corner, and a training ground move from the line-out saw Heath Stevens scythe through for Cov's third try, converted by Maisey, before Cov returned the restart with a kick which bounced perfectly for Trimble to gather and steam clear on the left for the bonus point.
Trimble closed out the third quarter with his second try, finishing off in acrobatic fashion in the left corner after a defence-splitting break by Alex Grove, and two minutes later Jubb sprinted in for his own second, and fourth try in two weeks, to complete an outstanding afternoon for the side.
To their credit, Park continued to push forward in search of a score, but Cov were in no mood to give anything away on a day when they showed just what they can do.
Caldy, away, to come next in another difficult fixture – but who would bet against Cov now?
Coventry: tries Jubb 2 (1, 61), Trimble 2 (46, 59), Stokes (14), Stevens (44); conversions Maisey 3 (2, 15, 45); penalties Maisey 2 (25, 40).
Darlington MP: Radwan; MacKenzie, Law, Seals, McCartney (Frankland 50); Connon, Dudman; Brocklebank, Wood, Appleby (Payne 47), Craggs (Vaioleti 45), Brady (Preston-Routledge 60), Fisher (Uzokwe 45), Heaton, Hodgson.
Coventry: Stokes; Trimble, Stevens (Matoto 73), Grove, Matoto (Tuitupou 52); Maisey, White (Brazier 56); Brown (Jeannot 31), Nilsen (Tolmie 45), Boulton (Brown 52), Dacres, Jubb, Makaafi (Oram 45), Preece (Nilsen 56), Daynes.
Referee: Neil Chivers.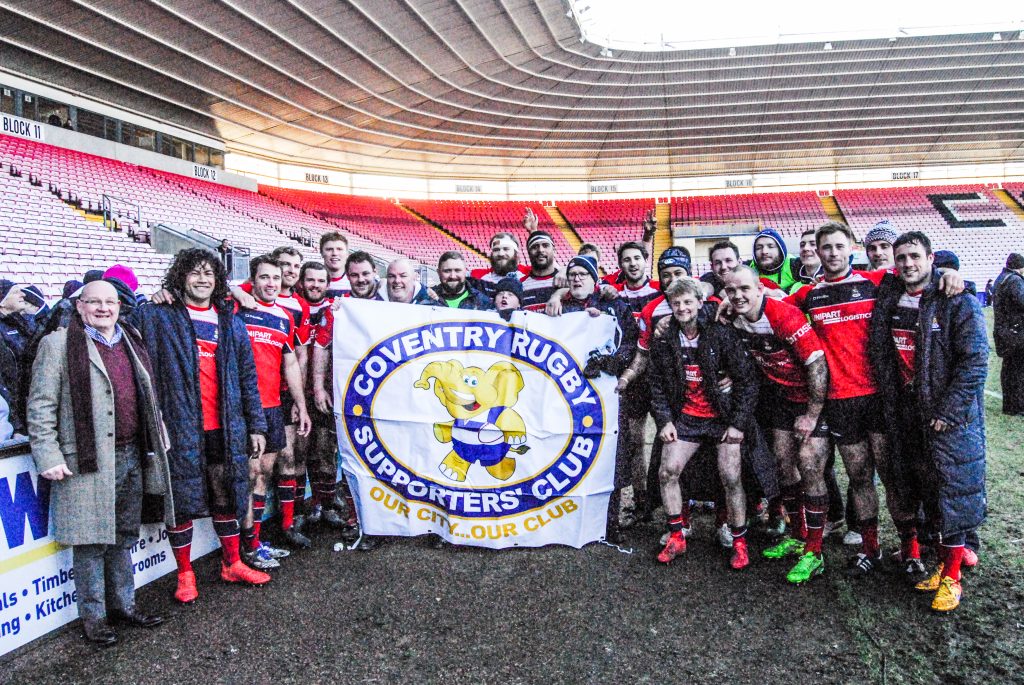 Cov's players and chairman Jon Sharp celebrate the win with their travelling supporters. Picture: Nick Meredith