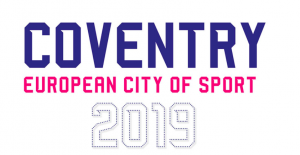 Leaders of the Coventry City Council announced earlier today that Coventry has been named as the United Kingdom's European City of Sport for 2019.
The title has been awarded by ACES Europe, European Capitals and Cities of Sport Federation (ACES Europe) and will mark a celebration of all aspects of sport and well-being across Coventry.
ACES Europe's main aims were met when judges visited the city last month, these being the 'exemplary sports policy' and 'health integration and respect', which the city exceeded in.
An important part of the year will be to celebrate the opening of the new water park in the city centre as well as the new 50m pool at the Alan Higgs Centre and the sports and wellness hub at the University of Warwick.
The year will also focus on encouraging more young people, especially those that live in disadvantaged communities, to enjoy sport and lead an active lifestyle.
This will build on the work that's already achieving success thanks to projects like 'In It Together' and 'Go Swim' which are seeing people across the city return to sport and physical activity.
Coventry Rugby Chairman, Jon Sharp, said: "I was a guest of the Lord Mayor at the annual meeting of Coventry City Council yesterday when the Leader of the Council, George Duggins announced this.
"He went on to specifically thank Coventry Rugby for hosting the judges and the city's representatives at our home game against Rosslyn Park, so it has been very rewarding for the club to have been part of another victory for the city.
"This brings with it great opportunities to source inward investment in sporting facilities in Coventry in 2019 and coincides with our plans for Butts Park Arena. Add to that the fact that the Commonwealth games are coming to Birmingham in 2020 and will need top class stadium in the immediate area, and we are on a wave right into our City of Culture year in 2021. Exciting times indeed".
---
Leader of the Council, Councillor George Duggins, said: "European City of Sport 2019 will be a special year for our city, and the perfect build up to City of Culture in 2021, with investment in community sports programmes and grants and huge investment in new sporting facilities – a £36 million waterpark with gym, health spa and squash courts and a new 50m swimming pool at the Alan Higgs Centre.

"We already do lots to encourage our residents to be active and healthy and we will make sure that we work with partners throughout 2019 and beyond to encourage as many people as possible to get active. I'd like to thank the judges for their fantastic comments and all of our partners and local sports clubs who helped us get this win. I'm looking forward to a wonderful year with something for everyone."

"A city that helps people to build sport and movement in to everyday life will be a better place to live and that's what I want for my city."
---
Councillor Kamran Caan, Cabinet Member for Public Health and Sport said, "Our sports strategy, which builds on the wonderful legacy of London 2012, is helping us to ensure that everyone in Coventry has access to high quality and affordable facilities whilst giving residents as much support as possible to become active".

"European City of Sport will bring together a great year of celebration – showcasing the best of what the city already does, attracting sporting events to the city and supporting grass roots sports clubs in communities. Part of the programme for the year includes a new community grants fund to work with grassroots sports clubs and communities and also creating a number of new satellite sports clubs for 11-19 year olds".
---
John Swanson, Vice President ACES Europe, said: "Having completed a rigorous assessment process I am delighted on behalf of ACES Europe to be welcoming Coventry into our Europe wide network of sporting destinations. Their successful bid means that the city will now hold the prestigious title of European City of Sport in 2019. We are supremely confident that this will bring with it an incredible celebration of sport in the city, showcasing Coventry's many unique and exciting sporting assets and its strong tradition of both participation and spectator sport. Not only will the award have far reaching benefits for the entire city, but designation as European City of Sport in 2019 will also provide a fantastic platform for the city as it builds up towards 2021 and its year as UK City of Culture".
---
Former Olympian Dave Moorcroft and Chair of Coventry Sport Network said: "The announcement that Coventry has been granted European City of Sport in 2019 gives me great pride. It recognises the hard work that we're all doing in Coventry and gives real credit to all those organisations making a difference on a day to day basis be it the new sports facilities being developed or the projects that are getting people active".

"Coventry is having a big impact on people and this award further recognises the many achievements the city has to celebrate. I have seen some big changes to our city but I'm most inspired by local people who make changes to their lives through sport and physical activity. Let's make 2019 a great year and congratulations to all those that helped ensure we won the title of UK European City of Sport".
---