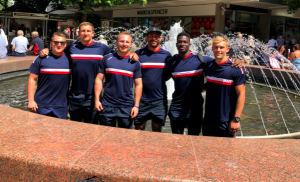 Coventry Rugby's entire 2018/19 squad met up for the first time yesterday and took the city by surprise when they were grouped up and sent to complete tasks in the centre of Coventry.
The players were split into seven groups of six and had the task of taking selfies with some of Coventry's iconic landmarks and the clubs fans to earn points.
The aim was to engage the new signings with the city and their surroundings, as well as using team work and creating a feeling of cohesion between groups to complete tasks.
The squad made their way to the Lady Godiva Statue, James Starley Statue, Frank Whittle Statue, all three Cathedrals, St Michael & the Devil Statue, Coundon Road (street sign), St Mary's Guildhall, BBC Radio Studio, James Brindley Statue and Coventry Boy Statue.
Players would pick up bonus points for taking selfies with any of the emergency services around the city, photos with fans, the whole team standing in water or on ice and the entire group in a tree.
---
Whole squad in a tree
⁦@CoventryRugby⁩ ⁦@Coventry2021⁩ #PreSeasonRace #WelcomeToCoventry pic.twitter.com/QrfPmq3uP3
— Pete White (@PeteWhite_91) June 29, 2018
Bonus pic @CoventryRugby #PreseasonRace #WelcomeToCoventry @Coventry2021 @RowlandWinter pic.twitter.com/0L1B06qwFD

— Phil Nilsen (@philnilsen) June 29, 2018
Up at Tree @CoventryRugby #PreseasonRace #WelcomeToCoventry @Coventry2021 pic.twitter.com/8fNcbB152E

— Ben Nutley (@BenNutley7) June 29, 2018
---
In Water or on Ice
@CoventryRugby #Preseasonrace #WelcomeToCoventry @Coventry2021 pic.twitter.com/RF3upVUHtW

— Kwaku Asiedu (@asiedu7) June 29, 2018
Bonus pic @CoventryRugby #PreseasonRace #WelcomeToCoventry @Coventry2021 @RowlandWinter pic.twitter.com/ulrVHs6ifn

— Phil Nilsen (@philnilsen) June 29, 2018
@CoventryRugby @Coventry2021 #preseasonrace #WelcomeToCoventry #albumcomingsoon pic.twitter.com/1OdAnMEdUH

— Rob Knox (@rknox_) June 29, 2018
⁦@CoventryRugby⁩ ⁦@Coventry2021⁩ #PreSeasonRace #WelcomeToCoventry pic.twitter.com/DIVJTEn395

— Pete White (@PeteWhite_91) June 29, 2018
---
Coundon Road Street Sign
Coundon Road @CoventryRugby #PreseasonRace #WelcomeToCoventry @Coventry2021 pic.twitter.com/YHUcfTjAyY

— Ben Nutley (@BenNutley7) June 29, 2018
⁦@CoventryRugby⁩ ⁦@Coventry2021⁩ #PreSeasonRace #WelcometoCoventry pic.twitter.com/bsJC92tLzE

— Pete White (@PeteWhite_91) June 29, 2018
@CoventryRugby #PreSeasonRace #WelcomeToCoventry @Coventry2021 pic.twitter.com/0izUfQZTew

— Jake Sharp (@jake_sharp) June 29, 2018
---
Photo with Emergency Services
@CoventryRugby #PreSeasonRace #WelcomeToCoventry @Coventry2021 pic.twitter.com/TwZ4FjZmgS

— Kwaku Asiedu (@asiedu7) June 29, 2018
---
BBC Coventry and Warwickshire
@CoventryRugby #PreSeasonRace #WelcomeToCoventry @Coventry2021 pic.twitter.com/7NRJyvClFx

— Kwaku Asiedu (@asiedu7) June 29, 2018
@CoventryRugby @Coventry2021 #PreSeasonRace2018 #WelcometoCoventry pic.twitter.com/xylRBIePyo

— Pete White (@PeteWhite_91) June 29, 2018
---
James Starley Statue
@CoventryRugby #PreSeasonRace #WelcomeToCoventry @Coventry2021 pic.twitter.com/dP4sq3gQEH

— Jake Sharp (@jake_sharp) June 29, 2018
⁦@CoventryRugby⁩ ⁦@Coventry2021⁩ #PreSeasonRace #WelcomeToCoventry pic.twitter.com/JuDa7T3fjy

— Pete White (@PeteWhite_91) June 29, 2018
@CoventryRugby #PreSeasonRace #WelcomeToCoventry @Coventry2021 pic.twitter.com/dwoVSUNs5P

— Kwaku Asiedu (@asiedu7) June 29, 2018
@CoventryRugby selfie with fan at James Starley #preseasonrace #WelcomeToCoventry @Coventry2021 pic.twitter.com/qt6gzEQYic

— Ben James (@BenjiPalm) June 29, 2018
---
Lady Godiva Statue
@CoventryRugby #PreSeasonRace #WelcomeToCoventry @Coventry2021 pic.twitter.com/LqjuH65Uo5

— Kwaku Asiedu (@asiedu7) June 29, 2018
@CoventryRugby #preseasonrace #welcometocoventry @Coventry2021 pic.twitter.com/42gZMN10nF

— Rob Knox (@rknox_) June 29, 2018
@CoventryRugby #PreSeasonRace #WelcomeToCoventry @Coventry2021 pic.twitter.com/O8hiKCcXL3

— Jake Sharp (@jake_sharp) June 29, 2018
@CoventryRugby #PreSeasonRace #WelcomeToCoventry @Coventry2021 pic.twitter.com/K2lczqTaEu

— Tim Bitirim (@timbitirim) June 29, 2018
@CoventryRugby @Coventry2021 #PreSeasonRace #WelcometoCoventry pic.twitter.com/QzjRG87aUg

— Pete White (@PeteWhite_91) June 29, 2018
---
Frank Whittle Statue
@CoventryRugby selfie at frank whittle statue #preseasonrace #WelcomeToCoventry @Coventry2021 pic.twitter.com/H9r7Zj5BTl

— Ben James (@BenjiPalm) June 29, 2018
⁦@CoventryRugby⁩ ⁦@Coventry2021⁩ #PreSeasonRace2018 pic.twitter.com/cbnnZhCcrl

— Pete White (@PeteWhite_91) June 29, 2018
@CoventryRugby #PreSeasonRace #WelcomeToCoventry @Coventry2021 pic.twitter.com/s6UFSMjIxV

— Kwaku Asiedu (@asiedu7) June 29, 2018
---
All three Cathedrals
All the Cathedrals @CoventryRugby #PreseasonRace #WelcomeToCoventry @Coventry2021 pic.twitter.com/krfrfFCnLs

— Ben Nutley (@BenNutley7) June 29, 2018
⁦@CoventryRugby⁩ ⁦@Coventry2021⁩ #PreSeasonRace #WelcomeToCoventry pic.twitter.com/sZtYaRLT26

— Pete White (@PeteWhite_91) June 29, 2018
---
St Michael & the Devil Statue
⁦@CoventryRugby⁩ ⁦⁦@Coventry2021⁩ #PreSeasonRace #WelcometoCoventry pic.twitter.com/bDCusgm6po
— Pete White (@PeteWhite_91) June 29, 2018
---
Selfie with fans
@CoventryRugby #PreSeasonRace #WelcomeToCoventry @Coventry2021 good to meet some fans pic.twitter.com/mbmh8vDel1

— Jake Sharp (@jake_sharp) June 29, 2018
Bonus pic @CoventryRugby #PreseasonRace #WelcomeToCoventry @Coventry2021 @RowlandWinter pic.twitter.com/CD4r4GVKCZ

— Phil Nilsen (@philnilsen) June 29, 2018
---
St Mary's Guildhall
@CoventryRugby @Coventry2021 #PreSeasonRace2018 #WelcomeToCoventry pic.twitter.com/XbxFsxgFLp

— Pete White (@PeteWhite_91) June 29, 2018
@CoventryRugby @Coventry2021 #preseasonrace #welcometocoventry pic.twitter.com/sT5PEHh4va

— Rob Knox (@rknox_) June 29, 2018
@CoventryRugby #PreSeasonRace #WelcomeToCoventry @Coventry2021 pic.twitter.com/6u28wSlYFv

— Jake Sharp (@jake_sharp) June 29, 2018
@CoventryRugby #PreSeasonRace #WelcomeToCoventry @Coventry2021 pic.twitter.com/9gcWX1xe2l

— Kwaku Asiedu (@asiedu7) June 29, 2018
---
Coventry Boy Statue
@CoventryRugby #PreSeasonRace #WelcomeToCoventry @Coventry2021 pic.twitter.com/AQ22HMwtti

— Kwaku Asiedu (@asiedu7) June 29, 2018
@CoventryRugby @Coventry2021 #PreSeasonRace #WelcomeToCoventry pic.twitter.com/9NqmcdGTwa

— Junior Bulumakau (@JuniorBulumakau) June 29, 2018
@CoventryRugby @Coventry2021 #PreSeasonRace #WelcomeToCoventry pic.twitter.com/624VEWyK5j

— Pete White (@PeteWhite_91) June 29, 2018
Coventry Boy @CoventryRugby #PreseasonRace #WelcomeToCoventry @Coventry2021 pic.twitter.com/6stDFh9FS3

— Ben Nutley (@BenNutley7) June 29, 2018
---
James Brindley Statue
@CoventryRugby #PreSeasonRace #WelcomeToCoventry @Coventry2021 pic.twitter.com/u35P91SN2i

— Kwaku Asiedu (@asiedu7) June 29, 2018
@CoventryRugby @Coventry2021 #PreSeasonRace #WelcometoCoventry pic.twitter.com/2KKHnqZsFU

— Pete White (@PeteWhite_91) June 29, 2018