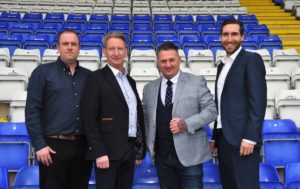 Coventry Rugby has announced that Albie and Lonnie's has signed on to be the club's new Formalwear Partner.
Albie and Lonnie's is one of the area's most recognised and respected formalwear outfitters. Based in Rugby, Albie and Lonnie's has built up an excellent reputation for its high standards of both service and quality and offers a wide range of suits for any occasion.
In 2017 Albie and Lonnie's won the highly-regarded Muddy Stiletto Award as the Best Menswear Store in Warwickshire, and Coventry Rugby Head of Commercial Toby Costar says that they will be an excellent partner for the club going forward.
"Albie and Lonnie's is the kind of partner that ticks all our boxes at Coventry Rugby," he says. "They are local, have an excellent reputation, and are committed to helping us achieve our ambitions of putting Coventry Rugby back to where a club of our standing should be.
"We have had positive discussions for a while, and Dave Hall, Simon Montgomery and their team are well aware of the unique demands they will face working with the wide range of body sizes and shapes we have at Butts Park Arena!
"We're looking forward to working with them."
Dave Hall from Albie and Lonnie's says that both he and his business partner Simon Montgomery are excited by the partnership he has agreed with Coventry Rugby.
"We've been really pleased to see the progress that Coventry Rugby has been making over the past couple of years, winning National League One and then re-establishing themselves in the Championship," he said.
"We believe that the club is going in the right direction and are delighted to be becoming their Official Formalwear Partner."
www.albieandlonnies.co.uk