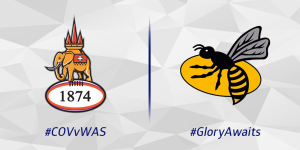 Rowland Winter and his coaching team have made eight changes to the starting XV from their 43-21 win over Leinster Development in Dublin last Saturday.
The Blue and Whites have scored 17 tries in two convincing wins during pre-season and will be looking to make a third successive victory on Saturday as we welcome a Wasps Development side to Butts Park Arena.
This will be the first meeting between the two sides since Wasps' move to Coventry from London back in October 2014 and promises to be a special occasion.
Cov will see James Voss feature in Blue and White for the first time as he is set to make his debut at lock alongside Tom Jubb, who has had an impressive start to pre-season.
James Gibbons and Phil Boulton retain their place and are joined by Phil Nilsen in the front row, the powerful hooker will be looking to make an impact as selection for Jersey beckons.
A new-look back row will feature Adam Peters, who makes his debut in Blue and White, will be joined by the powerful Polynesian Latu Makaafi and crash-ball specialist Ben Nutley.
Quick-ball scrum-half Tom Kessell holds his spot and will make a new partnership with Will Maisey, whilst Sam Tuitupou is joined by captain Heath Stevens in the midfield, who comes back into the starting line-up.
Try scoring machine Junior Bulumakau re-joins the side from the bench as the prolific scorer comes into the back three with James Stokes and David Halaifonua, who will make their third successive starts in pre-season.
Cov have named a strong bench with Scott Tolmie, Charlie Beech Luc Jeannot, Kailus Hutchinson, Jack Ram, Pete White and in-form Tony Fenner all making the matchday squad.
As a supplement to the named squad, there may be further additions following on from this evenings Nighthawks match against Cambridge.
---
Coventry Rugby Starting XV |
15. James Stokes, 14. Junior Bulumakau, 13. Heath Stevens (C), 12. Sam Tuitupou, 11. David Halaifonua; 10. Will Maisey, 9. Tom Kessell; 1. James Gibbons, 2. Phil Nilsen, 3. Phil Boulton, 4. Tom Jubb, 5. James Voss, 6. Adam Peters, 7. Ben Nutley, 8. Latu Makaafi
Replacements |
16. Scott Tolmie, 17. Charlie Beech, 18. Luc Jeannot, 19. Kailus Hutchinson, 20. Jack Ram, 21. Pete White, 22. Tony Fenner.
---
Wasps Starting XV |
15. Owain James, 14. Callum Sirker, 13. Ross Neal, 12. Will Simonds, 11. Ambrose Curtis; 10. Sunni Jardine, 9. Joe Simpson; 1. Tom West, 2. Gaby Oghre, 3. Dave Langley, 4. Tim Cardall, 5. Kearnan Myall, 6. Ben Morris, 7. Kieran Curran, 8 Tom Willis (C)
Replacements |
16. Jake Farnworth, 17. George Thornton, 18. Jack Higgins, 19. Joe Tunney, 20. Lewis Wilson, 21. Will Porter, 22. Colia Louis, 23. Cam Anderson, 24. Taju Atta, 25. Josh Grimes. 26 Harry Davey