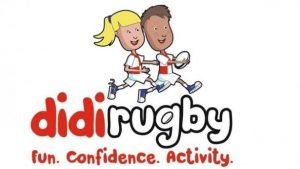 First Team Manager Tony Gulliver and his family are fronting a new kids programme in Coventry called didi rugby, and are welcoming rugby-based activity classes for 18 months – 6 year olds from June.
The didi rugby Coventry team are offering a FREE taster session on the 16th June at the Butts Park Arena, Butts Road, Coventry, CV1 3GE for any families who wish to bring their children along to trial a session.
The launch on the 16th June will also be an opportunity to meet players from our recently promoted Championship side, such as Club Captain Phil Boulton and Nile Dacres.
Vicky Macqueen (BEM) founder of didi rugby and ex-England rugby international said: "I am super excited to kick off didi rugby at Coventry Rugby.
"With the success they have had this year and how forward thinking the club are, Didi Rugby can't wait to link with the Gulliver's and Coventry Rugby to inspire more children to get active and involved in rugby in the area "
The didi rugby Coventry team fronted by Tony Gulliver, who was capped 381 times for his city, believes it is such an exciting time for rugby and the city of Coventry.
We've seen our very own rugby team promoted to the championship, whilst our city has been crowned city of culture 2021 and European city of sport 2019.
Coventry rugby club and didi rugby have a shared vision of introducing rugby to children at a young age. This year also sees the introduction of Coventry's kids and Junior's memberships.
The cost of this membership is £25 and will include the following benefits:
Membership card
Entry to all Coventry Rugby matches for the 2018/19 season which includes 3 pre-season matches, 11 league matches, and the 3 Cup matches in the regional league section
Branded T-Shirt
Complimentary entry to the "Meet the Players" pre-season event
Birthday Card signed by the Coventry squad
Christmas Card signed by the Coventry squad
10% discount on children's club merchandise items
10% discount on room hire at Coventry Rugby for birthday parties
Discount on rugby camps with Coventry Rugby for the "Kids Club" and rugby skills section for the "Junior Club"
Please note* as a result of the introduction of these new club memberships, Coventry Rugby will be introducing a nominal match day entry price of £2 for children who are not members. This applies to children between 3 and 16 years of age.
For details of booking on the launch on the 16th June, please email Sophie.gulliver@didirugby.com to find out which session times are suitability for your children.