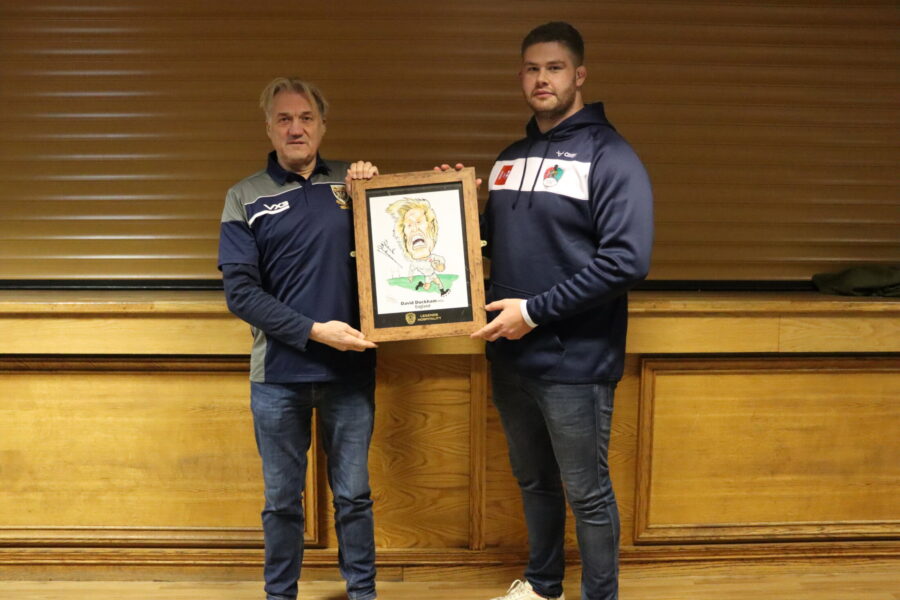 David Hobson is a Vice President of Newport High School Old Boys RFC and was pleased to be representing the president of the rugby club; Mr Geoff Pritchard when visiting Butts Park Arena
David lives in Leamington Spa so you may ask why he's a VP of a club from South Wales. As a Tour Manager for Great Rail Journeys he leads hundreds of people each year on tours which could be local within Britain or to Continental Europe and indeed to potentially anywhere in the world. Geoff was one of his customers on a tour into the Scottish Highlands. They soon spoke rugby and David was delighted to accept the opportunity to become a VP.
David Duckham was held in very high regard in Wales when playing for the British Lions in 1971 and when he played versus New Zealand for the Barbarians in Cardiff. He was affectionately known as "Dai Duckham" to his Welsh team mates.
Geoff was privileged to meet "Dai" a few years ago at a lunchtime gathering when he signed the sketch being presented today.
NHSOB RFC is in the top half of the WRU Division 2 East, playing local teams such as Abergavenny. The club runs 14 teams including the 1st and 2nd XV, an under 18 Youth XV, a Women's XV, 9 Minis and Juniors teams.
This year is the 100th anniversary of the club founding and to commemorate the club is hosting in May a fixture against Crawshays Welsh RFC, an invitational rugby union team similar in ethos to the Barbarians.
Newport HSOB are delighted to receive a plaque with the Cov club crest emblazoned on it and this will be mounted on a wall in the club house in Newport in a suitable place.
"I guess near the bar sounds about right!" – David Hobson