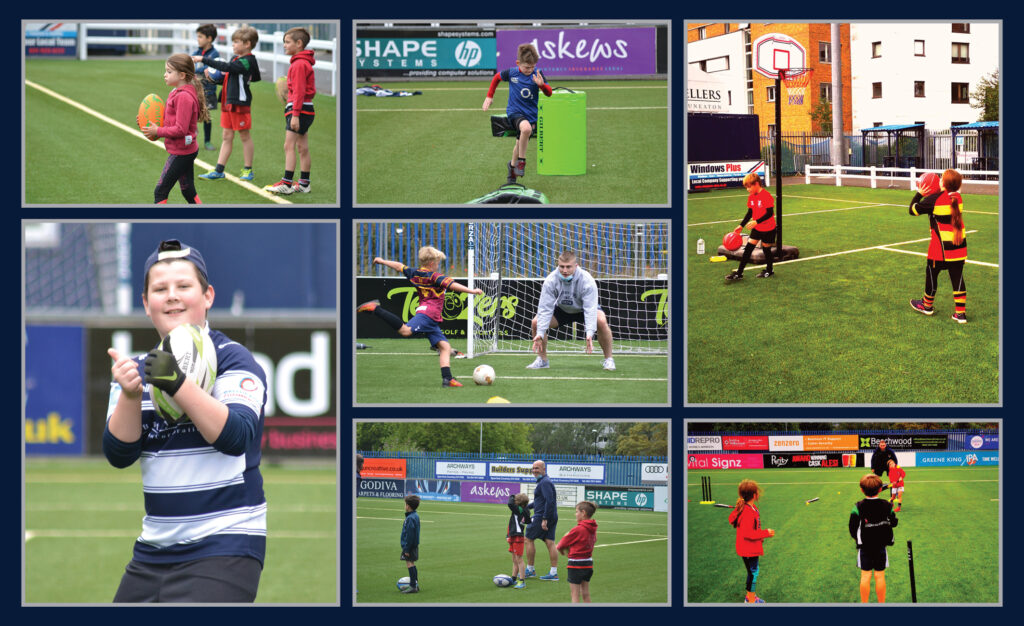 Butts Park Arena has been going back to its roots this summer with a series of Multi-Sport Camps, and now the Coventry Rugby Foundation is set to expand this work across the city with the launch of All Kids Active.
In years gone by The Butts was a hub for many sports within the heart of Coventry, hosting First Class cricket, cycling and athletics, as well as being an early home for Coventry Rugby before the club moved to Coundon Road.
Coventry Rugby returned to Butts Park Arena in 2004, and the installation of a new artificial pitch last summer saw the venue be able to host sports clubs on a guaranteed top-quality surface, including Coventry Bears RL, Coventry United's men's and women's teams, Coventry University's rugby and American Football teams, and a variety of local grassroots rugby and football clubs.
As soon as lockdown restrictions allowed, the rugby club and its Foundation were delivering Multi-Sport Camps, sponsored by Robinson Manufacturing Ltd (RML), to youngsters from across the region, who got active with rugby, football, basketball, cricket and athletics at a series of sold-out weeks throughout August.
The last 12 months have also seen a dramatic expansion of the community work undertaken by the club and Foundation, with schools across Coventry and the wider area making the most of programmes such as Rugby & Reading and Rugby in Schools, both sponsored by Charter Savings Bank, and a newly-established Wheelchair Rugby team winning national tournaments as part of the GB Wheelchair Rugby 5s series thanks to the support of RML, Westway Nissan and a number of other sources.
Meanwhile Project:500 engaged local disadvantaged children with dedicated weeks at Butts Park full of nutritious food and drink, as well as activity sessions on and off the pitch that they would not otherwise have been able to enjoy.
All Kids Active draws together many of these different strands into one coherent programme which will both enhance the work already being undertaken and provide the framework for more projects and programmes. This could include more provision within schools, work with vulnerable groups such as youths outside of employment or education, and utilising Butts Park's city centre location and facilities to improve the health and wellbeing of the broader community.
All Kids Active has already adapted so that Coventry Rugby and the Foundation can work with local schools despite the current health situation. With many unable to welcome external providers Coventry Rugby will host regular after-school clubs at Butts Park Arena instead, working with schools to ensure that their pupils are getting exercise and have access to quality sports coaching.
To help provide the funds to give All Kids Active a strong springboard into the future the Coventry Rugby Foundation has launched a special crowdfunder, which will see monies raised be matched pound-for-pound by Sport England once 50 percent of the £10,000 target has been reached. And thanks to the crowdfunder also being accepted into the Aviva Community Fund anyone who donates could be eligible for rewards from the insurer.
Coventry Rugby's Executive Chairman Jon Sharp says that All Kids Active is an exciting development for the club and its Foundation.
"One of the reasons we decided to install an artificial pitch at Butts Park was to enable us to host a wide range of sports," he said. "This is not just at the elite level; what is more important for all sports is that we get youngsters playing early and having a broad experience of a variety of different activities.
"We've seen throughout the summer at our RML Multi-Sport Camps how much children enjoy the variety and I'm looking forward to seeing this rolled out throughout the year with schools and community groups.
"Coventry Rugby has a unique bond with the community, and with Butts Park Arena in an ideal location right in the heart of the city I've no doubt that we can see this expand quickly as a programme."
Managing Director Nick Johnston says that All Kids Active can lead the way as an example of multiple partners and stakeholders coming together for the benefit of the broader community.
"Hal has done a great job in putting the All Kids Active framework together, and the whole Community team has delivered the RML Multi-Sport Camps brilliantly over the summer," he commented.
"The feedback we've had from youngsters and their parents has been brilliant, and we're really confident that we will have the same from schools and community groups going forwards. Butts Park is uniquely situated in the heart of the city and with the artificial pitch and indoor facilities we're well placed to become the hub of sport, health and wellbeing we want to be.
"Because we don't have the same restrictions as Premiership Rugby and football clubs in terms of their programmes we are able to put together exciting and innovative initiatives, which is exactly what we will have with All Kids Active."
"For me, All Kids Active is exactly the reason why I joined Coventry," added Coventry Rugby Foundation Manager, Hal Sparke. "By bringing the club and Foundation together we're able to create something really special that could make an incredible impact and a strong legacy here in the city.
"The plan is that All Kids Active will give us a cohesive framework which will mean that we will be able to include all young people, regardless of age, gender and socioeconomic background, and offer them a positive and inclusive experience across a range of sports at Butts Park Arena."
Details of the crowdfunder will be released when it goes live on August 26th.
And if you would like more information about All Kids Active or to sign up your school or community group into this fantastic range of programmes email Hal Sparke via hsparke@coventryrugby.co.uk