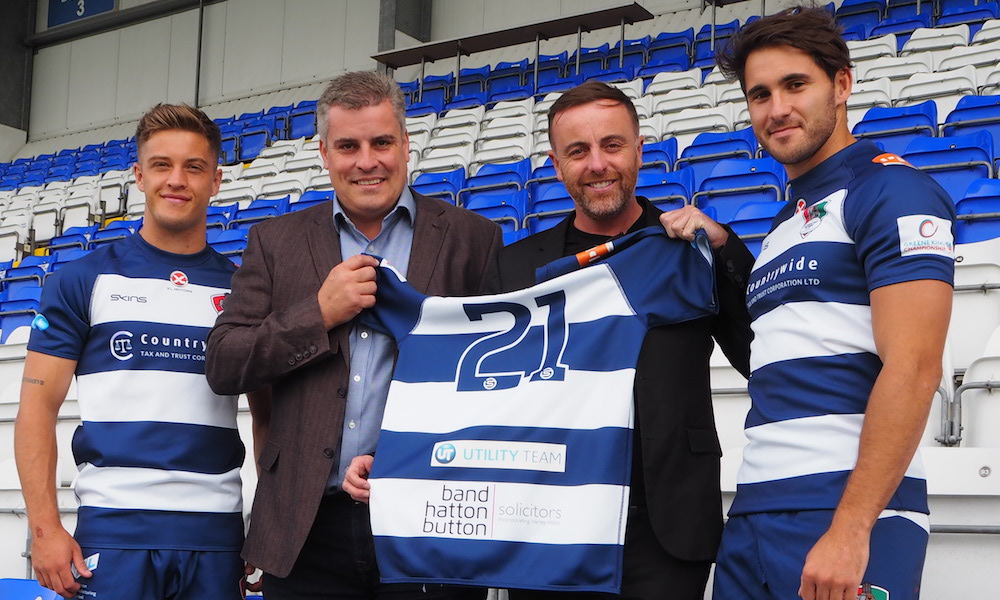 Coventry Rugby and Utility Team have today announced a multi-faceted partnership which will benefit the club, its supporters and the company alike.
As one of the club's key partners Utility Team will benefit from having the company's logo on Coventry Rugby's playing shirts, branding around the stadium, and recognition as the club's Official Energy Partner.
For Coventry Rugby this agreement represents another opportunity to develop a strong relationship with a local company that has a national presence and excellent reputation.
For the club's supporters there will not only be the potential to save money on their energy bills but to contribute to climate change. This is due to the special energy deals which will be on offer from Utility Team and the chosen supplier. Good Energy's mission is to transform the UK energy market by helping homes and businesses to be part of a sustainable solution.
"We believe that this is an outstanding partnership," commented Coventry Rugby's Managing Director, Nick Johnston. "Utility Team is a national company with local roots, and they have approached the agreement with a positive attitude towards our supporters, too.
"We welcome this type of partnership as it brings together the company, the club and our supporters, who can all benefit as time goes on."
Based in Coventry, Utility Team is one of the UK's leading utilities and energy consultants, responsible for over £1 billion of annual spend on energy. Utility Team provides a comprehensive range of support services for its clients and believes in building value through the strength of customer satisfaction and producing superior operating results.
Delvin Lane, Utility Team's CEO, is excited by the new partnership with Coventry Rugby.
"We've been impressed by the recent developments at Coventry Rugby, both on and off the field. On the field the team and coaches are putting Coventry back where it belongs among the leading clubs in the country, while off the field the ambition is just as strong, as we're seeing with the installation of the new pitch and plans for the rest of the Butts Park site.This is an exciting time for the club and we're looking forward to being a part of their journey."
To find out more about how Utility Team might be able to help your business head to www.utilityteam.co.uk