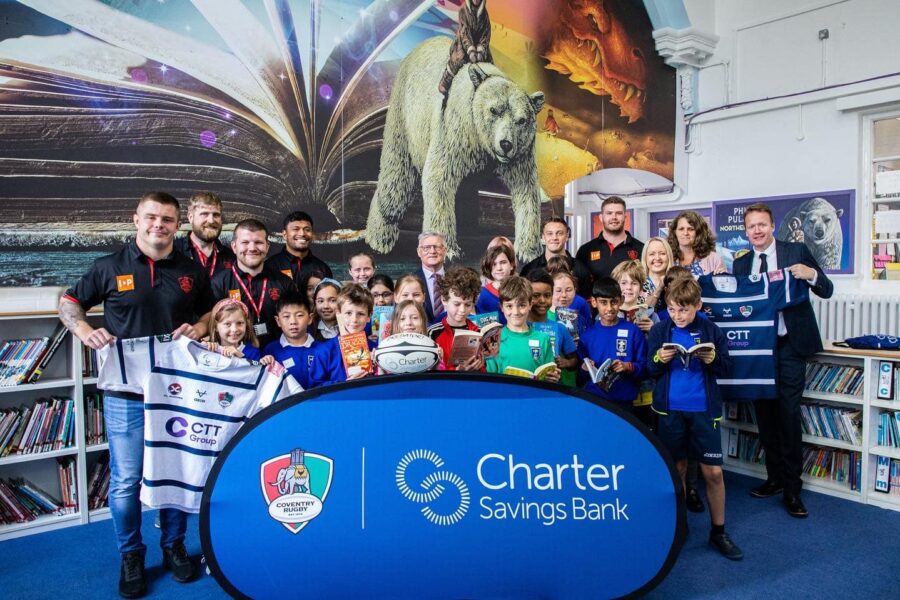 Coventry Rugby players; Jordon Poole, Toby Trinder and Suva Ma'asi accompanied the club's Community Team to Colmore Junior School to aid in the opening of the school's brand-new library or 'Reading for Pleasure Zone' as the school have named it.
Alongside the Club representatives were our partners Charter Savings Bank, who sponsor the incredible community initiative, Rugby and Reading. Thanks to the bank's kind donation, the plans for a new library and a space for kids to get excited about reading, could become a reality at Colmore.
Our players did a fantastic job leading some reading sessions with the children, before the community team ran some fun and exciting outdoor rugby lessons – epitomizing this very special initiative. The school treated our players to a delightful selection of Tea and cakes – to which they obviously politely declined… (not quite).
In attendance was local MP Steve McCabe, who cut the ribbon to officially open the brand-new reading zone. He said: "Language is the basis of all learning. The more you use words the easier it is to tell people what you really think and mean. It's also really enjoyable to just relax and lose yourself in the simple pleasure of reading a book. What you're doing here at Colmore is fantastic, and I really want to thank Charter Savings Bank and Coventry Rugby Club for what you've done."
Watch the full video here.