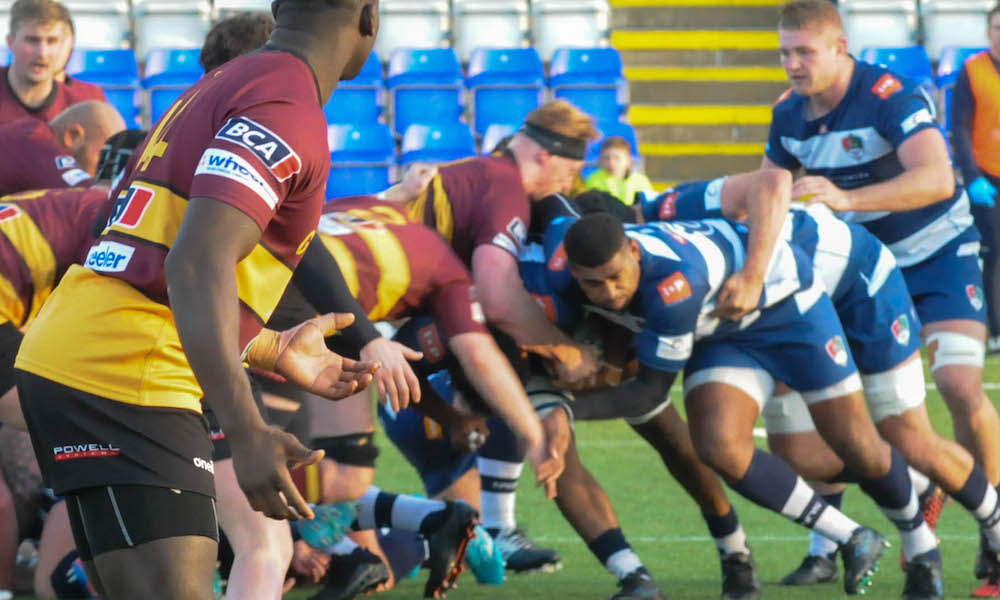 Coventry Rugby took a big step towards confirming a Championship Cup quarter final with an emphatic 10-try win over Ampthill.
As the game wore on Coventry's pace, power and ability to keep the ball alive would put them in a position of dominance. But it was Ampthill who started the game on the front foot, kicking an early penalty to the corner instead of at the posts to test the home maul defence.
Cov held, winning first a lineout and then a penalty at a subsequent scrum, and when they put their own first drive together things looked ominous for Ampthill. However the visitors appeared happy to concede the 20 metres, preferring instead to keep forwards patrolling the blind side and the back three deep to avoid the kick.
It was a thoughtful approach, but when Coventry turned on the style in their next attack it put them in the position to open the scoring through Will Owen. Rob Knox's powerful run put them on the front foot, and after the forwards went around the fringes the centre powered his way over.
This opened the floodgates. Three minutes later they were over again. Knox played an integral part with a straight run and offload to Dan Lewis, who in turn had Ben Nutley in support, but the flanker's try was owed to Will Flinn's patience under pressure on halfway to wait for a ball to bounce and get it away.
Cov were going through the gears now. Debutant Henry Purdy was getting his hands on the ball a couple of times and looking hungry for action, forced into touch five metres out with one run.
The five metre maul was held up, and while Ampthill disrupted the scrum the bouncing ball rebounded to Nutley, who took the final couple of steps to the whitewash unopposed.
To their credit Ampthill remained positive and kicking repeated penalties to the Coventry line eventually paid off with a try for Syd Blackmore.
Competitive in the lineout they may have been but Ampthill were under the cosh in the scrum, and when referee James Clarke finally lost his patience with Luvuyo Pupuma – the tighthead having been penalised repeatedly at the scrum – it opened the space up for Will Flinn to exploit around the fringes, which he duly did.
Already 17 points up at half-time, Coventry started the second half in perfect fashion. They forced a fumble at the kick off, Nutley cut a superb line to run into the 22, and after Will Maisey went close in the corner Tiki Nayalo crashed over.
Flinn got his second almost immediately after that, tapping a penalty quickly to capitalise on wide open spaces behind Ampthill's front line of defence. And try number seven was even better, David Halaifonua stretching the defence before flicking a Barbarians-style behind-the-back flick to Knox, who ran in some 40 metres to the line.
Ampthill showed they were not in town just to make up the numbers when Jarryd Sage burst through to score a 40-metre try, but with three more tries Coventry put the game to bed.
Try number eight was a classic. With a penalty advantage Cov put the ball through the hands deep in their own 22. Owen decimated the blitz to get onto the front foot, with James Gibbons finding James Voss with a lovely offload. The second rower showed good pace to take play into Ampthill's half, but not as much as Purdy, who had too much for the visitors to handle and his run took him all the way to the whitewash.
An irrepressible drive from the forwards earned a penalty try, and it was one of the pack, namely loosehead prop Gibbons, who sparked the 10th and final score with an unbelievable piece of skill to dive and snatch an interception to break up an Ampthill attack on the Cov 22.
Pete White saw the wide open spaces and kicked for half-a-dozen men in blue and white to chase, and when Kwaku Asiedu made a mess of the bouncing ball Lewis was there to dive and score.
Ampthill had a couple of well taken tries for Nigel Baker and Dave Ward in the dying embers, but these were scant consolation for the visitors at the end of a game which was all about Cov.
COVENTRY RUGBY
15 Dan Lewis; 14 James Martin, 13 Rob Knox, 12 Will Owen, 11 Henry Purdy; 10 Tony Fenner (capt), 9 Will Flinn; 1 Toby Trinder, 2 Joe Buckle, 3 Luc Jeannot, 4 James Voss, 5 Alex Woolford, 6 Ben Nutley, 7 Jack Ram, 8 Senitiki Nayalo
16 Jimmy Stevens, 17 James Gibbons, 18 Gareth Denman, 19 Nile Dacres, 20 Ben Adams, 21 Pete White, 22 Will Maisey, 23 David Halaifonua
Tries – Will Owen, Ben Nutley (2), Will Flinn (2), Senitiki Nayalo, Rob Knox, Henry Purdy, Penalty Try, Dan Lewis. Cons – Tony Fenner (2), Will Maisey (4).
AMPTHILL
15 Karim Lynch; 14 Kwaku Asiedu, 13 Jarryd Sage, 12 Sam Hanks, 11 Nigel Baker; 10 Louis Grimoldby (capt), 9 Leon Fukofuka; 1 Soane Tonga'uiha, 2 Syd Blackmore, 3 Luvayo Pupuma, 4 Carl Burgess, 5 Henri Williams, 6 Rob Langley, 7 Facundo Dominguez, 8 Maama Molitika
16 Dave Ward, 17 Aleki Lutui, 18 Ben Christie, 19 Billy Johnson, 20 Sam Hudson, 21 Joe Bercis, 22 Darryl Veenendaal, 23 Serafin Bordoli
Tries – Syd Blackmore, Jarryd Sage, Nigel Baker, Dave Ward. Cons – Louis Grimoldby (3)