by John Butler
IS it possible the Coventry's performance and the final result could have been either better or clearer cut?
One fact is for certain – if you happened to be a Blue & White supporter in another excellent-sized Butts Park crowd of 1,776, then it is difficult to believe it could really have been improved upon.
Before kick-off time Ampthill were fourth in National League One. By half-time, the margin against them was 28-7, with Cov, if one was being super critical, probably missing the opportunity to score two, maybe three more tries.
After a second half of 35-7, there could be absolutely no doubts whatsoever. Ampthill, frankly, by the time the final whistle blew had been blown completely away.
It was, overall, an awesome Coventry performance. If any further messages and statements of intent were needed as far as the rest of the division are concerned, then this was it.
It would be invidious really to single out anyone in the match squad for individual praise. It was a total team effort and performance, but that is not to say it was not embellished with a number of outstanding personal efforts.
It did not take too long for Cov to begin to turn the screw, such were the signs of their domination from the outset. Yes, it took a little time for points on the board to reflect the situation, but with two tries coming in the final five minutes of the half, by then a truer reflection of what was happening had begun to show itself.
Another real plus to add to the overall situation was a 100% goal kicking success rate from Will Maisey and replacement Tony Fenner. To be fair, Ampthill also enjoyed a similar goal kicking success rate, the difference in the context of the contest being the final try count of 9-2.
Cov opened their account after 11 minutes, the excellent Tom Kessell crossing after Rob Knox on the right had done a great deal to set up the position.
With Ampthill seeing little possession and territory, most of the play continued in the visiting half, although it was 27 minutes before Cov added to their score.
After lock George Oram had been held in the visiting 22, Cov's big second row forward was on hand shortly afterwards to claim his first try for the club, and with Maisey tagging on the extras, the margin grew to 14 0.
A slack Cov moment from the resulting kick-off saw Ampthill at last enjoy some territory, two scrums following before scrum-half Kevin Barratt scooted over, James Pritchard converting on 32 minutes.
Within the last five minutes of the half, though, Cov rubbed in the superiority that had been building.
Firstly, after Kessell had been held up close-in, Jack Preece was on hand to pick up the loose ball and score, followed three minutes later by a second try for Kessell after the impressive Sam Tuitupou made some 45 metres with a surging burst. Maisey converted both and a score of 28 -7 was by now a truer reflection on proceedings with the important bonus point tucked away as well.
Little did the home crowd really know what was to follow – or perhaps more to the point, the extent of it.
A half which produced, one feels, the best rugby this impressive squad has produced so far in this season. It could not be described in any other way other than awesome, and certainly not frivolous. Ampthill on numerous occasions simply had not answer to the power and dexterity of Cov's play with five more tries coming at regular intervals.
The first of them, on 45 minutes, was an absolute gem. James Stokes displayed real power and pace before setting replacement Max Trimble free on the switch, the winger powering over.
Kessell was soon to complete his hat trick, followed on 58 minutes with replacement Brett Daynes ploughing his way over.
A brilliant catch and drive from the forwards was only just held up before, after 64 minutes, the forwards produced a fine five-metre scrum allowing Daynes to control the pushover try.
A rare Ampthill incursion saw winger Sam Baker cross in the left hand corner after the visiting forwards had set up a series of catch and drives with Pritchard converting from wide out, via the crossbar.
Cov were far from finished and after some slick handling, Maisey, now back on as a replacement himself, crossed for try number nine. To continue the successful goal kicking in the half, Maisey landed two more conversions and Tony Fenner three.
Next up, second-placed Darlington Mowden Park away and unbeaten at home. Cov will travel to the north east with a 13-point cushion at the top of the table and with confidence sky high after such an awesome performance.
Coventry: tries Kessell 3 (11, 40, 49), Daynes 2 (58,,64), Oram (27), Preece (37), Trimble (45), Maisey (77); conversions Maisey 6 (12, 28, 38, 40, 46, 50), Fenner 3 (59, 65, 78). Ampthill: tries Barratt (31), Baker (73); conversions Pritchard 2 (32, 74).
Coventry: Stokes; Knox, Matoto (Maisey 69), Tuitupou, Emery (Trimble 18); Maisey (Fenner 51), Kessell; Titchard-jones (Litchfield 21, Titchard-jones 32), Nilsen, Higgins (Litchfield 55), Dacres, Oram, Makaafi (Daynes 51), Preece, Narraway (Tolmie).
Ampthill: Lynch; Pritchard, Hanks, Sterling (Sharp 24), Baker; Rayner, Barratt (Liebenberg 80); Trinder (Thornton h-t), Lutui, Garside (Dawson h-t), Gulliver, Burgess, Johnson, Bercis, Molitika (Allman 54, Molitika 55).
Referee: Neil Chivers.
Attendance: 1,776.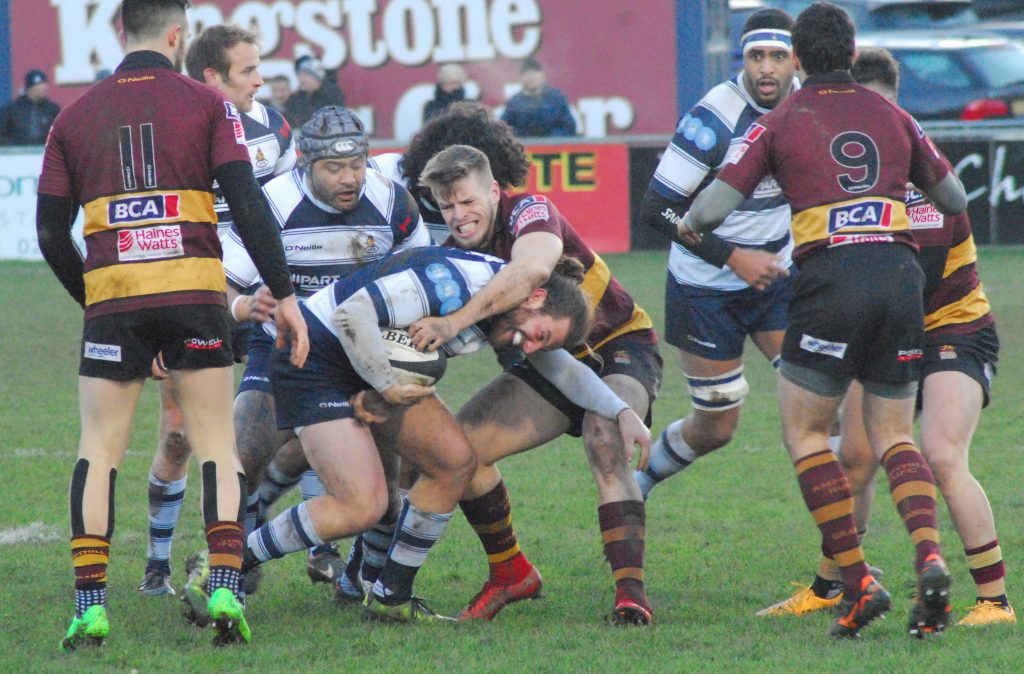 Picture by Nick Meredith