by John Butler
COVENTRY produced a performance full of power and authority to seal a very emphatic league double over Esher.
Having conceded nine tries over each of the two encounters, Esher could be forgiven for thinking they had now seen enough of Cov this season!
The visitors were very much second best, despite their best efforts, on a pitch which, understandably, cut up badly after all the wet weather and with two matches played upon it in the space of 18 hours.
The first task for Cov in such conditions was to make sure of a win, with a bonus point. That was never in doubt from the outset.
Secondly, after the disappointments all round of seven days earlier, pride and confidence needed restoring and both of those were achieved.
Overall, it was another positive benchmark statement to the rest of the division.
The crowd support given to the Coventry squad continues to be immense, another excellent 1,626 turning out despite the foul weather.
They were not to be disappointed for, hard though Esher battled, the longer the match progressed, the greater superiority of the Cov forwards became more and more evident.
Conditions were clearly going to be a real tester for both sides, limiting how much running rugby could be produced. The stage was soon set, however, with Cov, having faced the kick off, racing into a second minute lead.
After a penalty to the visiting 22, the forwards produced what was to be the first of many catch-and-drives and when the ball was finally released, Anthony Matato had space wide to crash over. With Will Maisey missing the conversion, there was early evidence of how tricky kicking would be.
The returning Rob Knox made excellent ground down the right, before Cov produced try number two on eleven minutes. With an Esher clearance half charged down, Max Trimble chased the ensuing loose ball to hack on for the try, well converted by Maisey for 12-0.
Esher then came into the match for really the first time, an excellent Niall Saunders kick to the Cov 22 seeing the Surrey side camp there for the first time and pressure told with the scrum-half crossing under the posts. Stephen Boatman converted, cutting the deficit to 12–7.
It was to be the closest Esher came with Cov adding their third try on the half hour. A shrewd Pete White grubber kick through set up the position and from there, lock forward Nile Dacres crossed for his third club try with Maisey adding the extras with another excellent kick.
It was to be only another four minutes before Cov sealed the bonus point. With Esher again under pressure, another charged-down clearance saw Matoto cross for his second of the game and eleventh of the season, the conversion this time failing.
24–7 to the good, Cov began the second half in spotlessly clean, changed Blue & White jerseys, conditions deeming they would not stay that way for long.
It was to take Cov just one minute to score try number five.
A superb diagonal kick from the telling boot of Maisey saw Stokes fully alive to it to claim the ball in full stride before crossing for his 14th of the season. Maisey again converted with a fine kick before being in action straight away, tidying up loose possession.
There was little Esher could do by now to stem the tide against them for long, with Cov gaining two penalties and creating more attacking positions.
The visiting cause was not helped after 65 minutes with replacement forward Hugo Seccombe yellow-carded for a technical offence, Cov meantime being awarded the penalty try following the offence for 38-7.
With Cov in complete charge, Trimble crossed tight in on the left hand corner as the Blue & Whites worked more line-out ball, the conversion failing.
Over the next ten minutes, Coventry's forwards were to produce two more catch-and-drive tries, totally fitting in the grim conditions.
Knox, coming from the right wing to join in, was the recipient of the first, the sponsors man-of-the-match, hooker Phil Nilsen ten claiming his side,s ninth, this time converted by Maisey for 57-7.
Although now totally beaten, Esher, to their credit, did produce one last effort, pressure from the visiting forwards allowing former Covhooker Devlin Hope to cross wide out for a final score of 57-12.
The Coventry squad will surely have been delighted with their overall efforts.
After the disappointments suffered down at Blackheath, it was important there was a firm response and that certainly came.
A further nine tries taking the season's total to an impressive 117, just 13 short of equalling the club league record of 130 in a season set 12 months ago.
With 12 games to go and 774 points amassed already, the highest number of league points in a season, 1,001 achieved in 2014/15, is also now coming into sight.
Another record, the number of league tries scored in a season, 17, by Andy Smallwood set 21 years ago, is also now under pressure, most notably from Stokes, currently on 14.
Interesting times, with Cov's lead at the top of National League One climbing back to 15 points after this victory.
A few words, finally, for head groundsman Eric Richardson, who faces a very daunting task with the pitch following all the inclement weather.
Coventry: tries Matoto 2 (1, 34), Trimble 2 (11, 59), Dacres (20), Stokes (41), penalty try (55), Knox (66), Nilsen (70); conversions Maisey 5 (12, 31, 42, 67, 71). Esher: tries Saunders (26), Hope (80); conversion Boatman (27).
Coventry: Stokes; Knox (Matoto 77), Grove, Matoto (Fenner 60), Trimble; Maisey, White (Brazier 54); Titchard-jones (Jeannot 31), Nilsen, Boulton (Titchard-jones 60), Dacres, Oram, Makaafi (Tolmie 54), Preece (Daynes 49), Narraway.
Esher: Monks; Murley (James 77), Brown, Rowland, James (Beckett 49); Boatman (Brooks 39), Saunders; Furey, Harding (Hope 62), Zeiss (Lowes 56), Edwards, Marriott (Seccombe 4), Whitehurst, Gossington, Collins.
Referee: Alex Thomas.
Attendance: 1,626.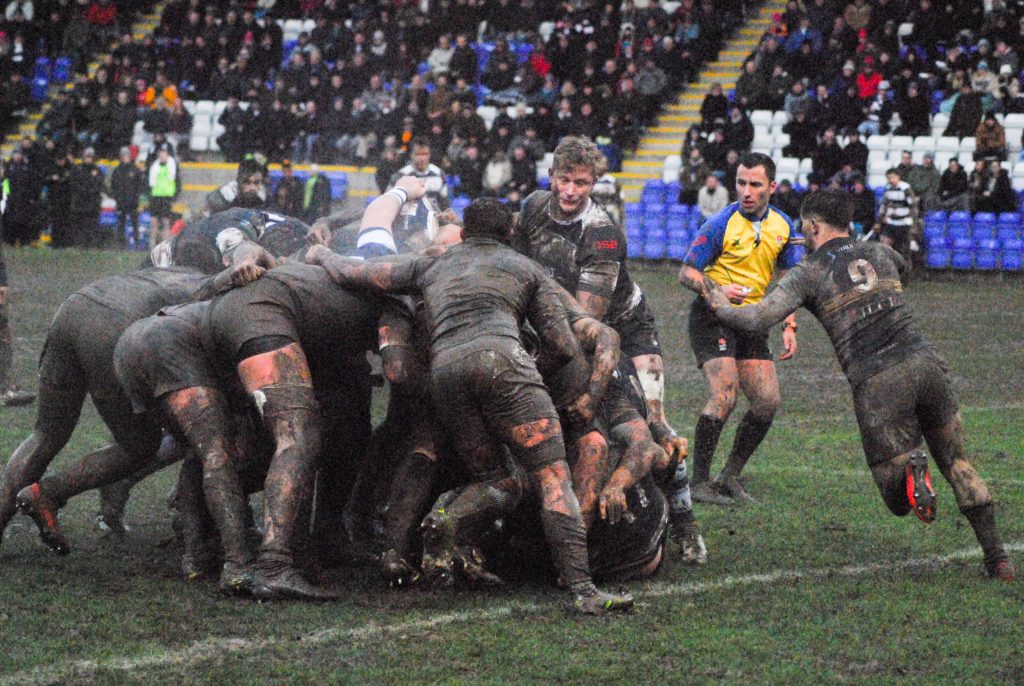 Picture by Nick Meredith